Managing high feed costs
Feed costs increased dramatically last year, and the US futures markets indicate they will remain high throughout 2022.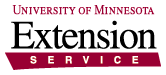 Alfalfa prices remain stubbornly high. Grain, by-product and protein prices have increased. Fat and vitamin and mineral prices have dramatically increased. Luckily futures prices indicate that milk prices will be considerably above their long-term average. It is still important to manage feed cost since it's 40% to 50% of the total cost of production.
Below are some practices that may help lower feed costs without affecting performance:
Minimize waste and shrink
This is the biggest and likely the easiest way to reduce feed costs on many farms. For forages stored in bunkers or piles, this is an insidious cost because you don't write a check for it.
The table below shows the effect of two different shrink levels on actual daily feed cost using an example diet and current feed prices. In a year, a 100-cow dairy can save $58,400 by reducing the shrink from high shrink to low shrink. It is not uncommon to have shrinkage of 30% on forages with bunkers and piles and 10% shrinkage on concentrates in commodity sheds.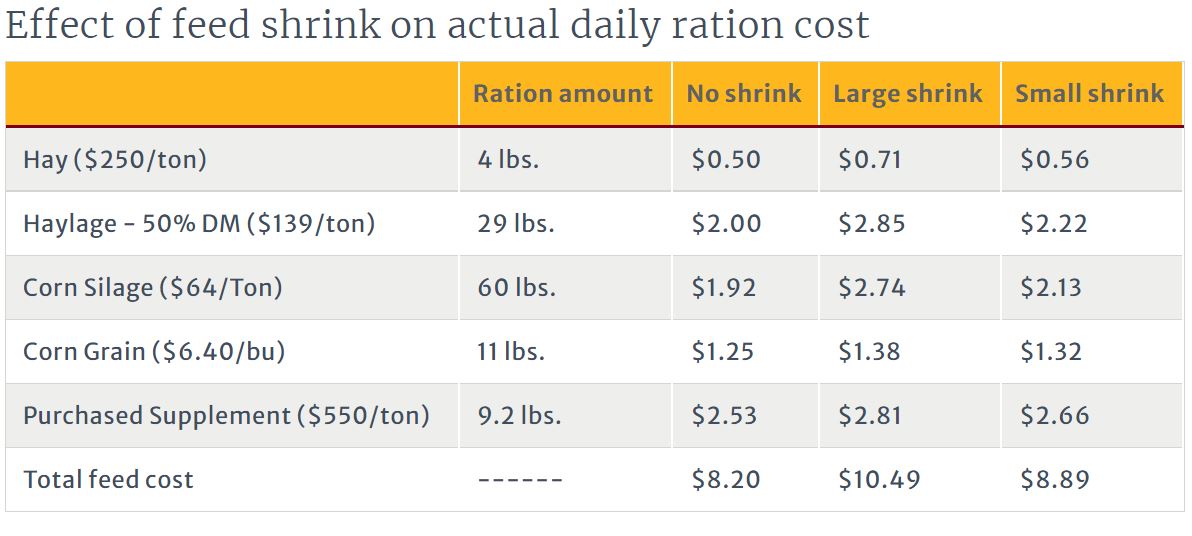 No shrink = actual ration cost; large shrink = 30% shrink on forage and 10% shrink on concentrates; small shrink = 10% shrink on forages and 5% shrink on concentrates.
Maximize the use of homegrown feeds
If you raise most of your own feeds, work with your nutritionist to maximize the use of homegrown feeds.
If you are feeding purchased dry hay, consider reducing the amount and increasing the corn silage in the diet if adequate inventory is available. Even with a higher purchased protein cost, the total diet cost likely will be lower.
Optimize bunk refusals in cows and heifers
With excellent bunk reading and feed management, many farms have been able to successfully reduce bunk refusals to 2% or below for lactating cows. This feed can be fed to replacement heifers or the low group in a freestall barn. But this is not low-cost heifer feed.
If no moldy or unpalatable feeds (such as thistles) are fed to replacement heifers the goal should be a refusal level of zero for replacements. As the level of refusals is reduced it is important to have high-quality feeds, frequent pushups, strategies to maintain feed along the entire bunk, and consistent feeding times.
Fifteen minutes is one percent of the day so it is easy to end up with an empty bunk with fluctuating feeding times with low refusal levels.
Avoid overfeeding nutrients
All classes of animals should be fed at recommended nutrient requirements, but not much above. Heifer diets balanced considerably above national research council recommendations are a waste of nutrients.
Research shows that feeding at recommended levels is adequate for excellent growth.
Review additives and determine if they are cost-effective in the diet.
Cull non-productive cows and heifers
Research shows that heifers treated for respiratory disease early in life were more likely to never have their first calf. Cull heifers early if they have multiple treatments for pneumonia and save the rising cost and later disappointment in performance.
Don't raise more replacements than needed.
Make smart treatment and cull decisions on cows. Higher cull prices mean it may be more profitable to cull a cow early instead of treating her.
Minimize nonproductive days
Cows dry longer than 60 days (research supports cows can even be dry considerably fewer days than this) and heifers older than 22-24 months at first calving constitutes non-productive days. Work to minimize the percent of animals in these categories.
Feed costs are not likely to decrease anytime soon. Examine the practices listed above. These recommendations can be implemented with minimal effects on performance in most herds.
TheCattleSite News Desk