A year of challenges for red meat exports
The year 2020 was extraordinary, full of numerous challenges and unique circumstances, many of which were driven by the outbreak and rapid spread of COVID-19 around the world. However, the prominent influence on Australian red meat exports was the contraction in livestock supply, rather than the virus.
Constrained herd and flock numbers, combined with a turn in the season early in the year led slaughter to run mostly below 2019 levels, particularly for cattle and sheep.
Export volumes contract
In 2020, Australian beef exports reached 1.04 million tonnes shipped weight (swt), a decline of 15% on 2019 levels. While global markets reeled from the impact of COVID-19, for the year-to-November, Australian beef export prices averaged 7% higher than 2019 levels, with tight cattle supplies supporting record prices through the year. High prices weighed on demand, particularly in price-sensitive markets.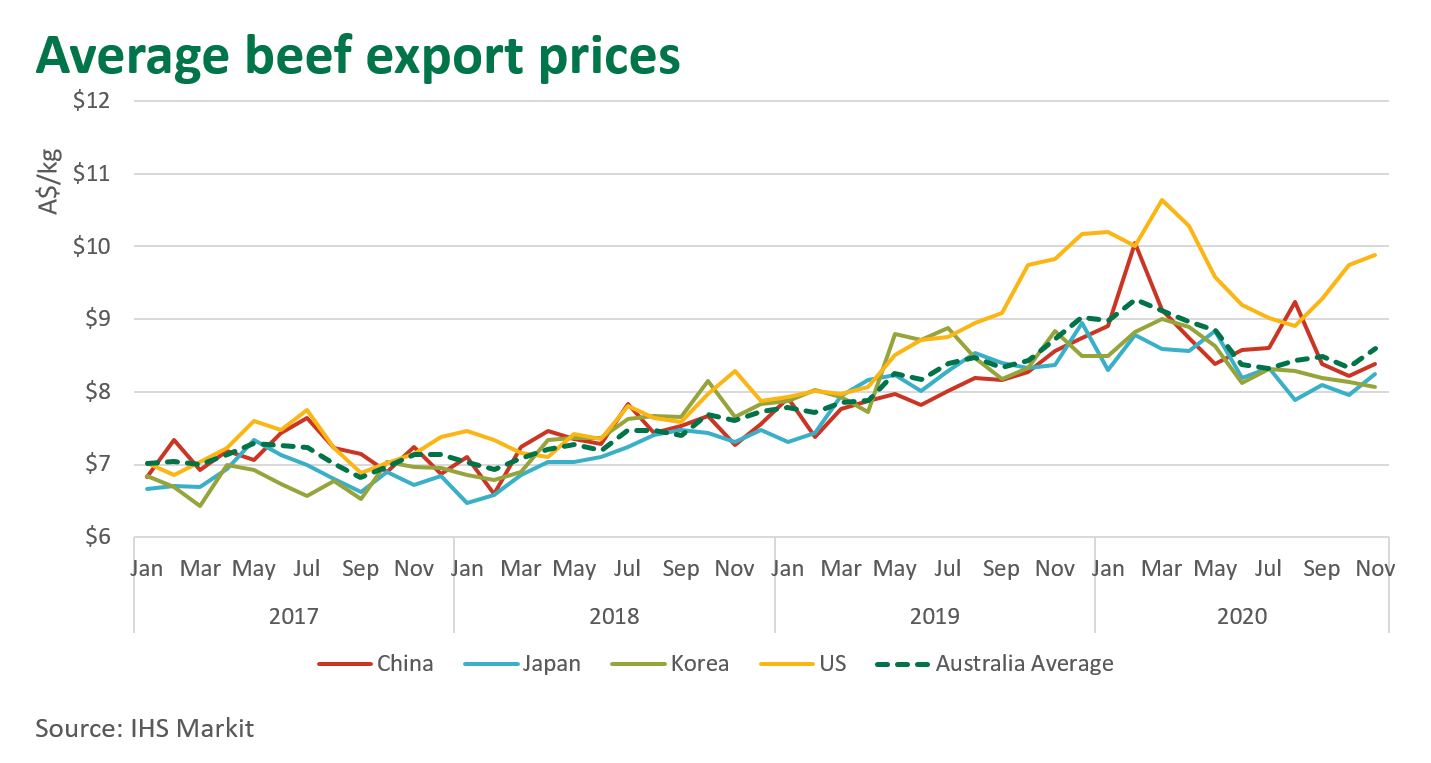 Australian lamb exports reached 264,000 tonnes swt, back 6% on 2019 levels, and mutton exports reached 140,000 tonnes swt, a greater decrease of 24% on the previous year, with the contraction of livestock supplies following the 2018–19 drought impacting trade volumes. Export prices for lamb and mutton were particularly elevated for the first few months of the year but cooled off through the second half of 2020. For the year-to-November, the export price of lamb remained even with 2019, while mutton prices were up 7%. Overall, demand for Australian sheepmeat was fairly robust through the year.
Japan
Japan was the top destination for Australian beef in 2020, taking 269,000 tonnes swt, down 6% on 2019. Relative to some of the declines in other markets, a drop of just 6% shows the resilience of this long-term, stable buyer of Australian beef, particularly amid the supply and demand challenges presented through 2020. Japan remains Australia's largest destination for grainfed beef, accounting for 45% of all Australian grainfed exports in 2020, with retailers absorbing more products that were commonly used in the foodservice channel during the 2020 pandemic.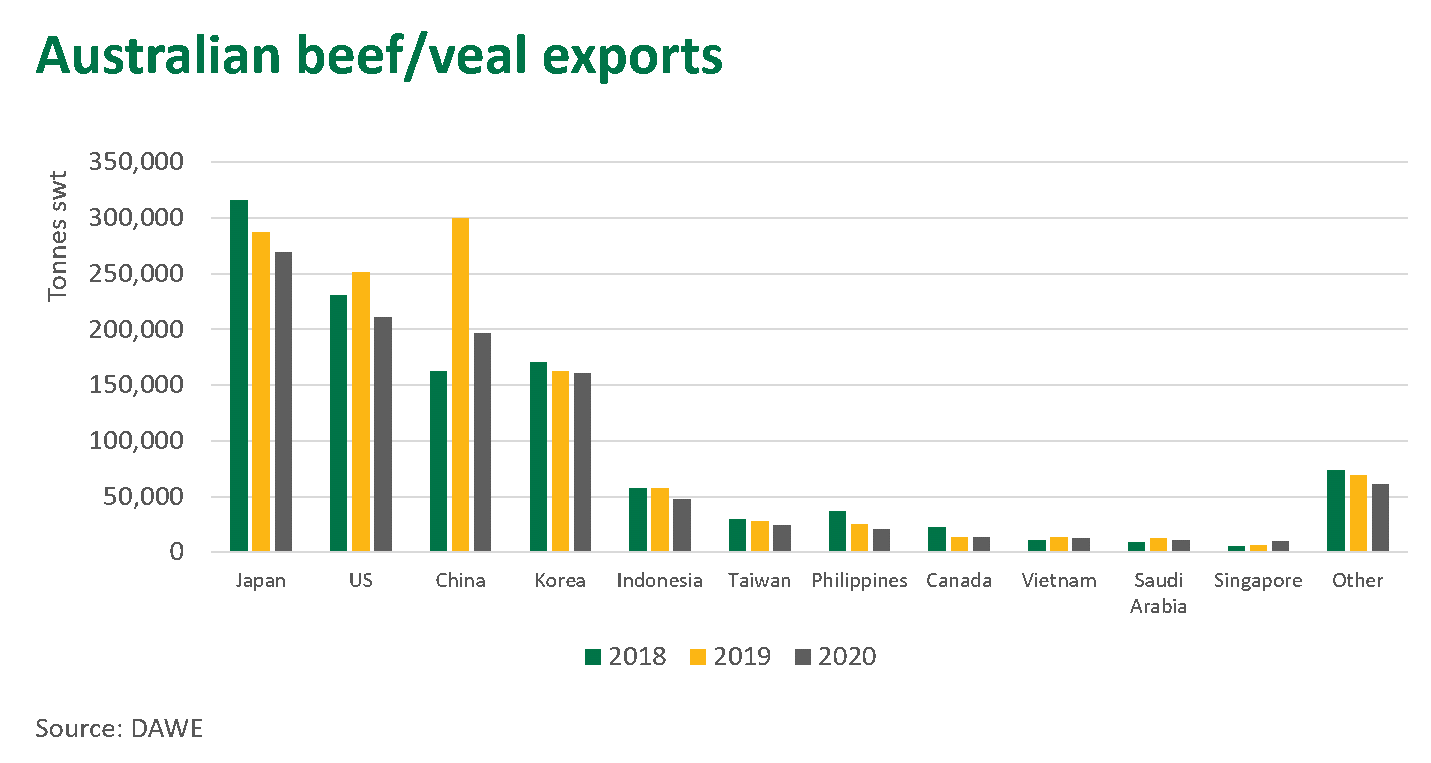 United States
The US was Australia's second largest market in 2020, taking 211,000 tonnes swt of beef for the year, a 16% decline on 2019. The 2020 average Australian beef export price to the US rose 11% on 2019, with tight domestic supplies combined with the increasing value of the AUD driving prices upwards late in the year. The COVID-19 outbreak has impacted the US foodservice industry, with restrictive dine-in regulations becoming a challenge for the sector. Dining in will remain a concern in the near future, however, the fast food industry has managed the impact reasonably well.
The US remains a pivotal market destination for lamb, with export volumes reaching 60,000 tonnes in 2020, an increase of 4% relative to 2019. Chilled lamb remains a key category for the US, with demand holding up well amid the complications of COVID-19, particularly through retail channels. Prices received for imported lamb were mixed through 2020, with high-value cuts – such as racks –struggling, while prices for retail products such as shoulder and leg, performed well. For overall value, the US remains Australia's highest value market for lamb, with exports worth A$691 million for the 2020 year-to-November.
China
Australian beef trade with China faced difficulties in 2020, largely related to trade suspensions involving five plants. China was the third largest market for Australian beef in 2020, taking 197,000 tonnes swt. Export volume of frozen beef was down 39% on 2019, with heightened levels of competition from South American nations. Despite trade suspensions, Australia's chilled beef exports grew 9%, with grainfed chilled increasing 61%. With chilled imports still comprising a small proportion of China's beef imports, Australia's overall market share fell from 19% in 2019 down to 13% for the 2020 year-to-November.
China was the top destination for both Australian lamb and mutton in 2020. Australian lamb exports to China totalled 63,000 tonnes swt, down 11% on 2019, while mutton volumes contracted more severely, reaching 55,000 tonnes swt, back 32% on the previous year. However, short- and long-term import demand for red meat remains positive.
South Korea
Beef exports to South Korea reached 161,000 tonnes swt in 2020, trailing just 1% behind 2019 levels. Considering the tight levels of Australian cattle slaughter last year, beef exports to South Korea performed relatively well, particularly off the back of subdued demand from China. While the US will likely increase competitive pressure in the market, Korean preference for Australian beef is expected to remain unchanged as it is regarded as the most superior, among the safest to eat and a family favourite (MLA Global Tracker, 2019).
South Korea has potential as a budding market for lamb, with 2020 exports up 10% on 2019 to reach 15,000 tonnes swt. The recent increase in demand has been largely driven by the growing popularity of Chinese-influenced lamb barbecue/skewer and hot pot restaurants, along with Genghis Khan-style, Japanese table-top sheepmeat barbecue.
Middle East
Trade with the Middle East eased in 2020, impacted by COVID-19, a steep decline in the price of crude oil, disruptions to typical airline pathways and the departure of expat residents. In MENA markets, where competitive pressure has been weaker, demand for Australian beef was soft due to foodservice shutdowns in the first half of 2020, but rebounded as foodservice and tourism began to re-open. Beef exports in 2020 were 28,000 tonnes swt, down 8% on 2019.
For the Middle East, lamb exports were 52,000 tonnes swt in 2020, down 21%, with the economic impacts of COVID-19 unfavourable to demand. Mutton exports were back 32%, impacted by competition from Asia and tight Australian supply. If crude oil prices continue to rebound, demand for Australian sheepmeat could see a recovery through 2021. Premium lamb consumption and import demand are forecast to continue increasing, driven by growing disposable incomes, young populations and ongoing urbanisation and Westernisation.
South-East Asia
As a result of COVID-19, tourism in South-East Asia – which is a significant contributor to the region's economies – is among the most affected industries, with this also impacting Australian red meat exports. Beef exports to South-East Asia declined 12% on 2019 levels, reaching 108,000 tonnes swt for the year. This was marked by decreases to the majority of all major markets, with Indonesia, Philippines and Vietnam contracting by 17%, 20% and 10%, respectively. The continued spread of COVID-19, weakened purchasing power and increased costs resulted in the sharp drop in exports.
Sheepmeat exports also eased, with trade down 7% on 2019 to reach 39,000 tonnes swt. Despite COVID-19 challenges, the SEA region has solid fundamentals for consistent growth in the next five years, primarily driven by increasing household incomes.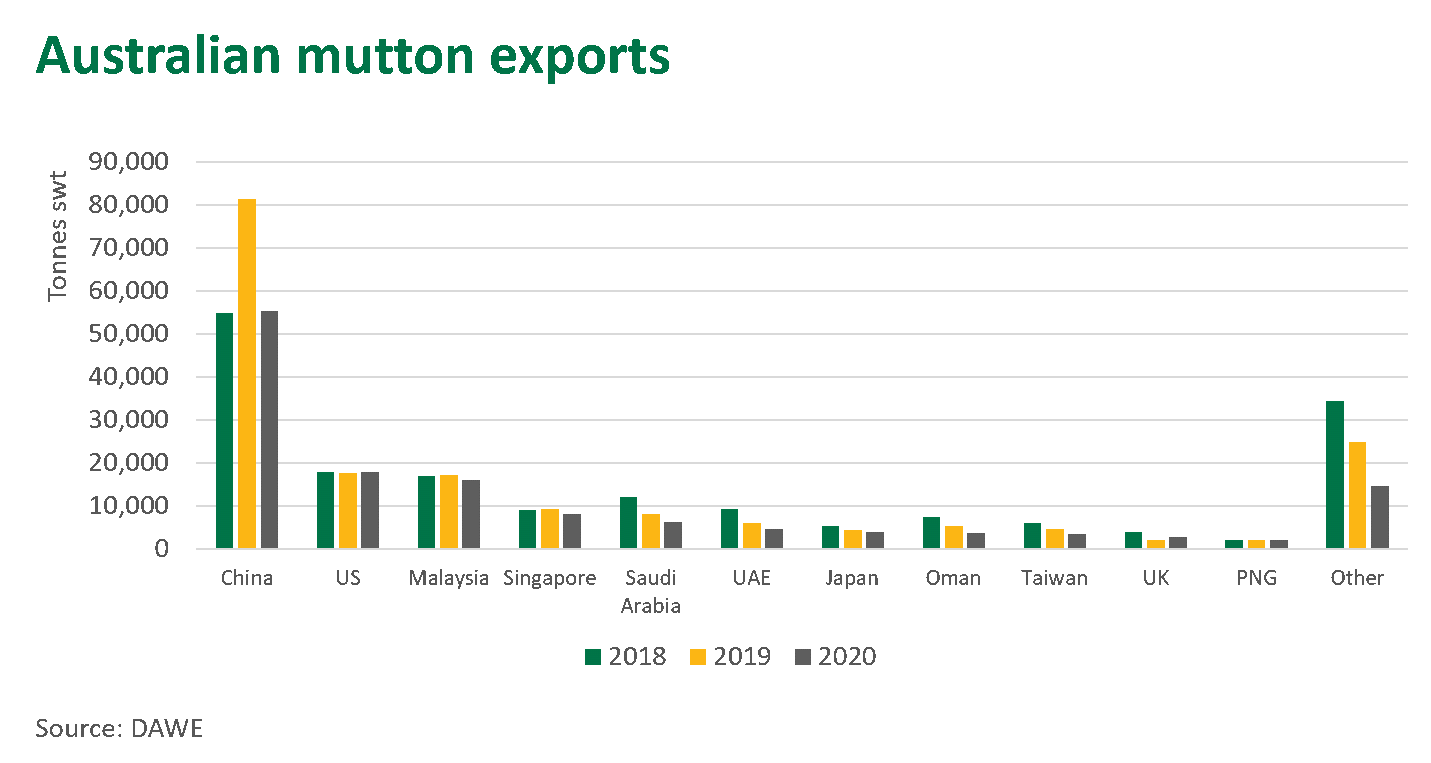 Outlook for 2021
Looking ahead, the foodservice sector is forecast to begin recovering across global markets, pending the distribution of vaccines, as diners resume eating out locally and travelling domestically. With slight increases in beef, lamb and mutton production expected this year, this additional volume should flow through to exports and help to drive further value for Australian red meat trade.
TheCattleSite News Desk