Reduced Reliance on Promotions Adds Value to Milk Market
UK - A shift in the frequency and type of promotions over the past year has led to growth in the value of the retail liquid milk market.
While total sales have declined slightly in the year to 1 January 2017, the total value of the market increased by £26m (0.8 per cent).
The value growth has been driven by higher average retail prices for pasteurised milk, which dominates the market.
The higher prices can be attributed to a reduction in the amount of milk sold on promotion.
In 2016, the proportion of milk sales which were on promotion fell considerably from the previous year.
In addition, promotions moved away from 'temporary price reduction' types to those requiring a multiple purchase to obtain a discounted price (Y for £X).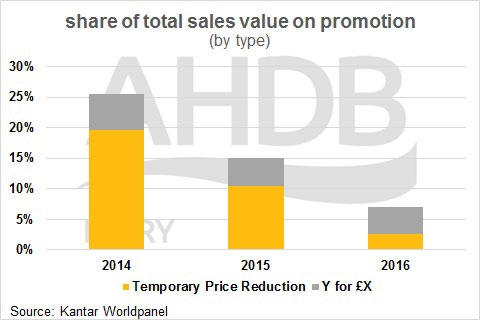 Further Reading
You can find out more information on the GB Liquid Milk Market by clicking here.
TheCattleSite News Desk