Herd sire selection requires preparation
Cattle producers may be feeling they're back in school again, given the amount of homework required to determine what they need in a new herd sire.

"Purchasing a new bull is one of the most important choices a cattle breeder makes in terms of operational profitability," said Paul Beck, Oklahoma State University Extension beef cattle specialist. "Before attending a sale, the producer needs to determine his or her operational goals and come up with criteria about the type of herd sire required to accomplish these objectives."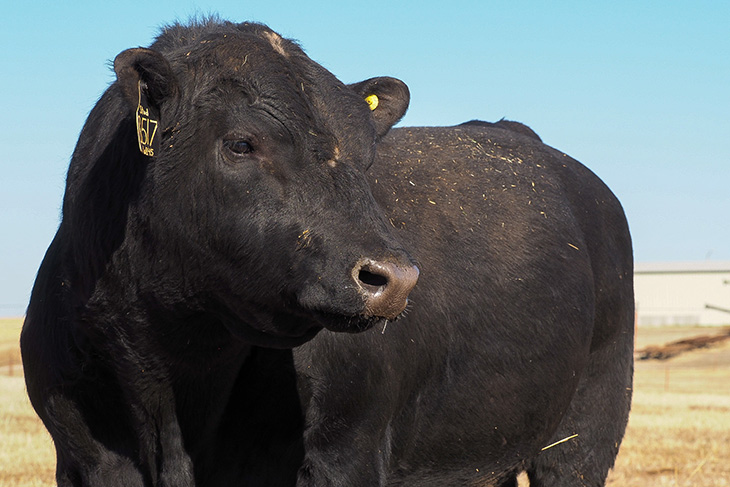 Key questions to ask will include:
Is there a particular genetic change that needs to be instilled in the herd?
Are the daughters of the bulls going to be kept as replacement heifers?
How much growth rate will be desired in the calf crop?
What bull sellers have already produced the type of herd sires desired?
When will the calf crop be marketed?
What economic and management resources will be required?
Breeders may narrow down their bull purchase options by reviewing sale catalog information such as Expected Progeny Differences, or EPDs, a calculated estimate of a bull's future offspring value relative to another sire within a breed. The buyer should make the breed choice first and then study performance data.
Mark Johnson, OSU Extension beef cattle specialist, recently provided insights into the use of EPDs in selecting the right bull on the agriculture television show SUNUP. Beck and Johnson are faculty members in the OSU Department of Animal and Food Sciences.
"Many sire summaries provide information on about 20 genetic predictors, ranging from calving ease and maternal performance in the bull's female offspring to factors that impact carcass traits such as marbling, ribeye size and fat thickness," Johnson said. "While almost all of the predictors will have an effect on a herd, only a relative few will have a significant impact on operational profitability."
Biometric indexes are a key part of most sire summaries. These are a selection of traits that inform the buyer of potential profit and loss expectations should the producer retain ownership through the finishing aspect of raising cattle.
Additional OSU Extension recommendations are to:
Look for uniformity in EPDs.
Do a visual appraisal of the potential herd sires selected from the catalog.
Speak with the bull's breeder. One of the best ways to enhance quality assurance beyond the numbers is by asking questions directly.
Remember that a breeding bull has a prime period of life. They need to be sound, fit and athletic to cover terrain and settle cows and replacement heifers. Bulls past the age of 6 are more likely to suffer physical breakdown.
Research indicates a general rule-of-thumb for the number of cows and replacement heifers a bull should be expected to cover in a breeding season:
A 12-month-old bull – about 12 females in his first breeding season.
An 18-month-old bull – about 18 or 19 females.
A 2-year-old bull – up to 25 cows or replacement heifers.
A mature bull – 25 to 35 females per season.