Has the Last Dairy Trade Provided Stability?
Global dairy trade results applied the breaks to a free falling market last week. Dairy Australia analysts analyse the latest result and discuss other big talking point in Europe and the US.
There had been speculation that more stability would be seen in the market with this week's GlobalDairyTrade (GDT) event 126, and the auction concluded 1.4 per cent higher (for an average of $2,640/t, up from $2,599/t two weeks earlier).
The index found some support from WMP (up 3.1 per cent): Fonterra announced last week that they plan to reduce their offering of WMP sold on GDT over the next 12 months by 7 per cent.
Increases were also seen in AMF (+7.4 per cent), butter (+3.9 per cent) and Sweet Whey Powder (+4,3 per cent), while SMP bucked the trend, falling a further 3.6 per cent. Product sold totalled 50,816 tonnes (down from 55,057 at the previous event), and, while the number of participating bidders remained unchanged, the number successful fell, resulting in a slight increase in the average sold quantity per purchaser.
Full results at www.globaldairytrade.info While the EU as a whole was under quota for the 2013/14 production year, eight member states were fined over €400 million for exceeding their individual quotas.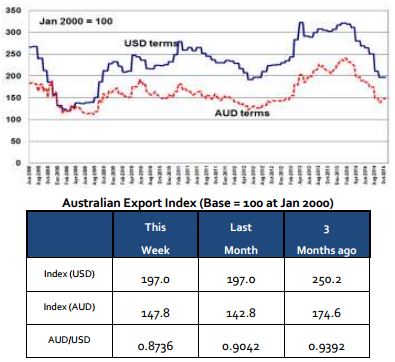 Germany incurred 40 per cent of this (local analysts suggest the country is on track to nearly double its overrun in the current year), while the Netherlands accounted for around 30 per cent.
Following the trend of recent years, United Kingdom production was well under quota, and several rounds of farmgate price cuts have already been announced this season, attributed by processors to falling dairy commodity prices.
At least one UK farmer group has recently staged protests in response to the most recent reductions. Those concerned about declining US milk to feed price ratios will have taken note of the latest WASDE (World Agricultural Supply and Demand Estimates) report released on October 10th, which reduced the estimate for 2014/15 world wheat ending stocks.
Despite recent wet weather in the US Midwest slowing the US corn harvest, pushing prices up from recent lows, the WASDE global maize production estimate was increased.