Controlling Birds on Dairy Farms
Every year, dairy farms lose out on hundreds of dollars of feed through local bird populations, but with appropriate bird proofing, poisoning or trapping, money can be saved, say experts from Dairy Herd Management, edited by Kim Schoonmaker.
According to a U.S. Department of Agriculture Wildlife Services fact sheet, 1,000 starlings can eat about 36 to 40 pounds of food per day.
If you're tired of sharing your cows' chow with a bunch of avian invaders, you have several bird-control options at your disposal. Find out which one might best suit your needs.
According to a survey of commercial dairies in Pennsylvania, New York and Wisconsin, bird-control measures vary in terms of their effectiveness. The table "Efficacy and cost of bird-control methods on dairies"breaks down how survey respondents ranked the effectiveness of some common bird-control strategies. It also puts a price tag on those strategies.
This table shows the effectiveness and average cost of various control strategies used on commercial dairies in Pennsylvania, New York and Wisconsin in 2009.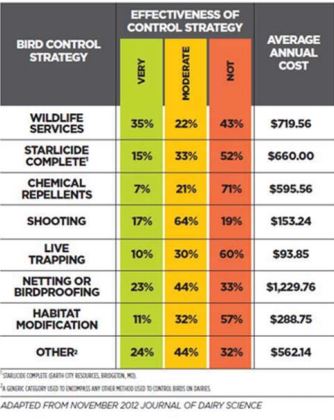 A look at the data shows that bird-control measures implemented by Wildlife Services received the highest rating (35 percent) in the "very effective" category. Chemical repellents received the lowest rating (7 percent) in this category, followed by live trapping (10 percent) and habitat modification (11 percent).
The survey results, published in the November 2012 Journal of Dairy Science, also show that the cost of bird control differs substantially, with bird netting being the most expensive and live trapping the least.
Meanwhile, some other points of interest from the survey include:
• Survey participants said lethal methods (for example, shooting and poisoning) were more effective thannonlethal control measures such as live trapping and chemical repellents.
• Respondents said "exclusionary devices" (such as netting or bird-proofing buildings) worked, too.In fact, netting was the only nonlethal control method shown to be moderately effective, eventhough it was the most expensive option cited.
• No method is without its drawbacks. The study's purveyors say that factors such as economics ("It costs how much?") can stand in your way, and some strategies are just plain hard to implementwithout disrupting normal activity on the farm:
"There's so much netting in here, I can't drive into the barn to feed the cows!" Remember, too, that certain strategies come with unpleasant or annoying side effects: "Sure, it scared the birds off, but now the cows are so jumpy."
Options for bird control on dairy operations fall into two general categories: lethal and nonlethal. Lethaloptions include those already mentioned, such as shooting and poisoning. Nonlethal methods can bebroken down a bit further into these categories:
• Repellents – This category includes options such as electronic bird control, which uses sounds(for example, digital recordings of distressed birds) to frighten away their pesky peers. It also includeschemical repellents and scare tactics such as propane cannons.
• Exclusion – Options such as bird-proo?ng buildings and bird netting fall into this category.
• Other things such as live trapping and habitat modi?cation (practices that limit birds' access to feed and water) fit here.
For more help, tap into Wildlife Services. It is a program in the USDA's Animal and Plant Health Inspection.
To read more from Dairy Connection - Click Here