UK Milk Statistics
This publication, published on 23 June 2008 according to the arrangements approved by the UK Statistics Authority, brings together various sources of statistics relating to the production and supply of milk and milk products.

Wholesale milk deliveries
In May 2008, daily production was 1.0 million litres lower than in May 2007 at 39.6 million litres. The graph below illustrates the average daily production of milk.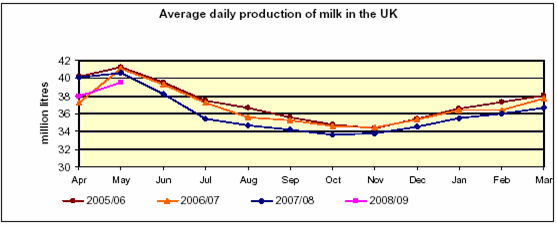 Wholesale milk deliveries were up in May, from 1,139.4 million litre in April to 1,226.2 million litres. However, in comparison with last year, deliveries had fallen. In May 2007 milk deliveries were recorded at 1,258.4 million litres.
Composition of milk in the UK
The average content of butterfat in May was 3.91% an almost identical rate to May of 2007. Protein rates have not yet been given, but in April they stood at 3.26%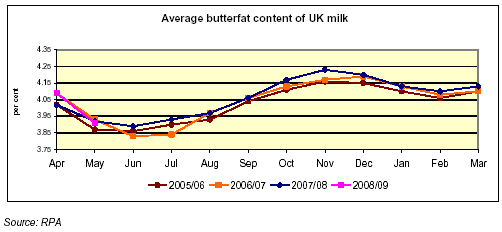 UK farm-gate milk prices
Milk prices were up. They rose by almost seven and a half pence in comparison to April 2007, to 24.91 pence, but prices are still down on their highest level of over 27 pence in November. As bonus payments are often not paid until the end of the financial year, prices including bonus payments in 2008/09 are not directly comparable with those in previous years.

The chart below illustrates the monthly farm-gate milk prices, excluding any bonus payments, from April 1995 onwards, together with a 12 period moving average trend line, and a comparison of recent milk prices with those 12 months earlier.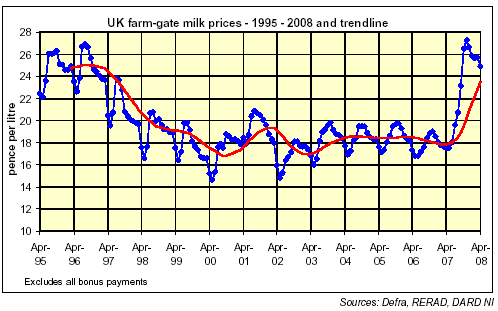 Availability of raw milk to UK dairies
The availability of milk to UK dairies stood at 1,091 million litres in April and a total of 1,139 million litres of wholesale deliveries were made.
Manufacture of milk and milk products by dairies in the UK
In April liquid mil manufacture fell to 565 thousand tonnes, Butter was up from nine to ten and cheese was also up from 33 to 34. Manufacture of cream feel, from 22 back down to 21.
UK cheese production by type (excl farmhouse manufacture) 2007(p)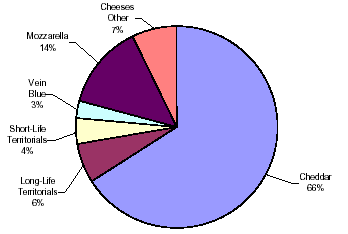 Further Reading
June 2008