UPDATED: UK Chief Vet Officer negates suspicion of FMD in UK
On Friday British officials reported suspicion of foot-and-mouth disease in pigs the the UK, but they have now ruled out FMD and suspect swine vesicular disease.
Per www.gov.uk: "Following official testing at the UK national reference laboratory, the UK Chief Veterinary Officer has negated suspicion of foot-and-mouth disease in pigs at a premises near Feltwell, Kings Lynn and West Norfolk, Norfolk. The 10 km Temporary Control Zone (foot and mouth disease) has been revoked. Suspicion of vesicular disease in pigs remains and a new Temporary Control Zone (swine vesicular disease) has been declared."
According to the OIE, swine vesicular disease (SVD) is a viral disease affecting only pigs that was included in the list of diseases notifiable to the OIE because of the similarity of its lesions to those produced by foot and mouth disease (FMD); however, SVD is often mild in nature and may infect pigs subclinically. Due to this and to the current ease of laboratory differential diagnosis, it is no longer a listed disease.
See map of the current Temporary Control Zone below.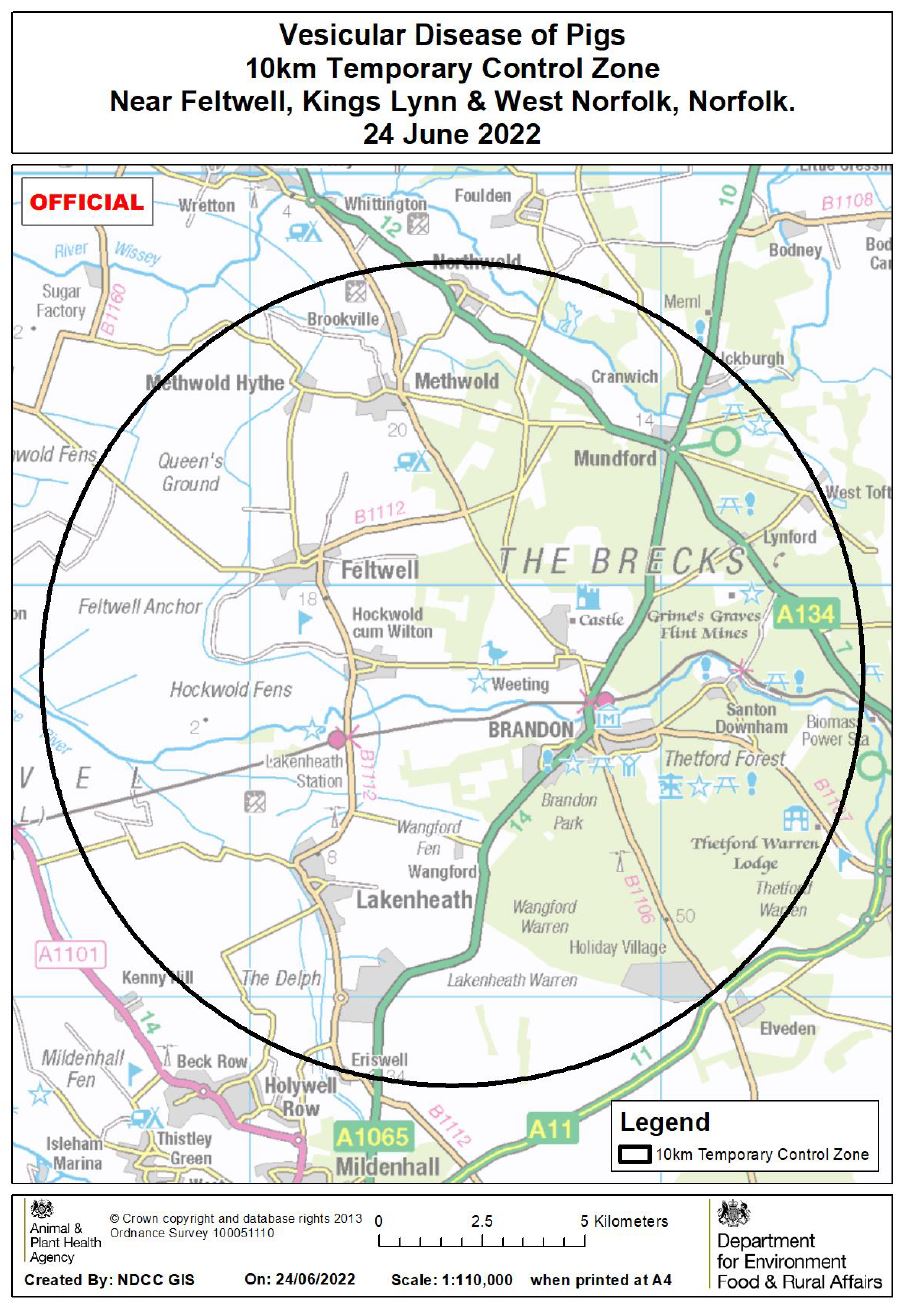 Per the UK government website, the last outbreak of FMD in Great Britain was in 2007. The last British outbreak was in 2007, but a particularly severe outbreak occurred in 2001, which culminated in the slaughter of more than 6 million animals.
Foot and mouth disease (FMD) is a severe, highly contagious viral disease of livestock that affects cattle, swine, sheep, goats and other cloven-hoofed animals.
According to the World Organisation for Animal Health, FMD is not readily transmissible to humans and is not a public health risk.
Source: Reuters