Indonesian researchers visit rural Queensland to learn best-practices, see how Australian dairy farmers operate
Indonesian researchers recently visited rural Queensland to learn industry best-practice and see first-hand how Australian dairy farmers operate.
Indonesia is a country on the rise. With 265 million people, Australia's largest neighbour is on track to become the world's seventh-largest economy by 2030.
Despite the growth, 72 million Indonesians continue to live below the poverty line and the country's burgeoning agricultural sector is yet to achieve its full potential.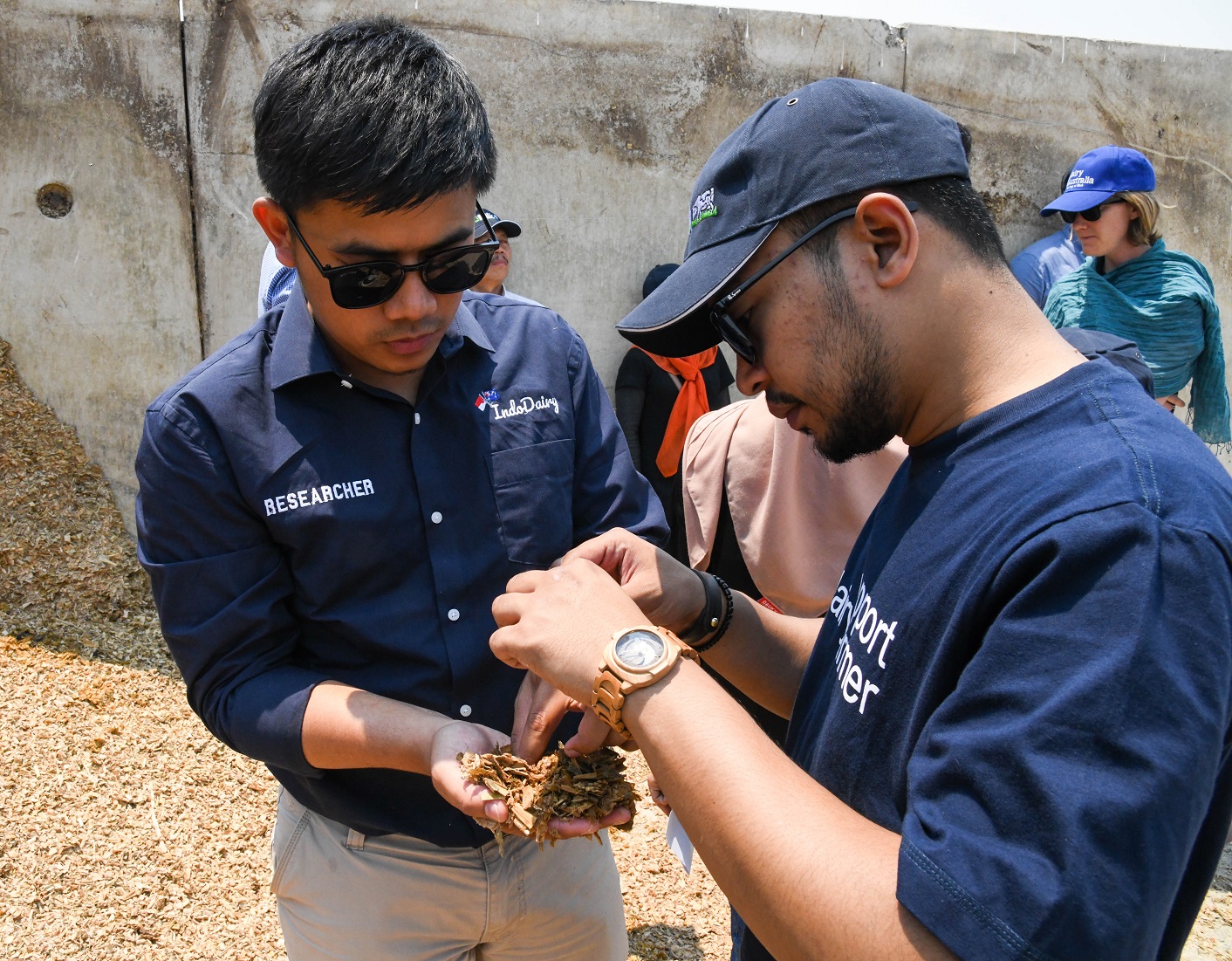 Indonesia's dairy farmers are also struggling to meet the growing domestic demand, accounting for only a fifth of milk products consumed locally. With a growing middle-class and thriving café culture, demand is only set to increase.
On the world's most populous island of Java, almost all milk is produced by smallholder farmers typically owning three to four cows. Poor economies of scale, limited forage availability and a general lack of farmer knowledge in animal husbandry and business operations are restraining the growth of the industry.
Indonesia's Government has invested heavily in the dairy sector, not only to bolster the quality and quantity of domestic milk production to help fuel the booming population but also to improve the livelihoods of dairy farming communities.
Since 2012, the Australian Centre for International Agricultural Research (ACIAR) has been funding research through the University of Adelaide's Centre for Global Food and Resources (GFAR). Led by Professor Wendy Umberger at GFAR, the project is collaborating with Indonesian partner organisations to improve milk quality and quantity for 3000 smallholder farmers throughout Java and Sumatra.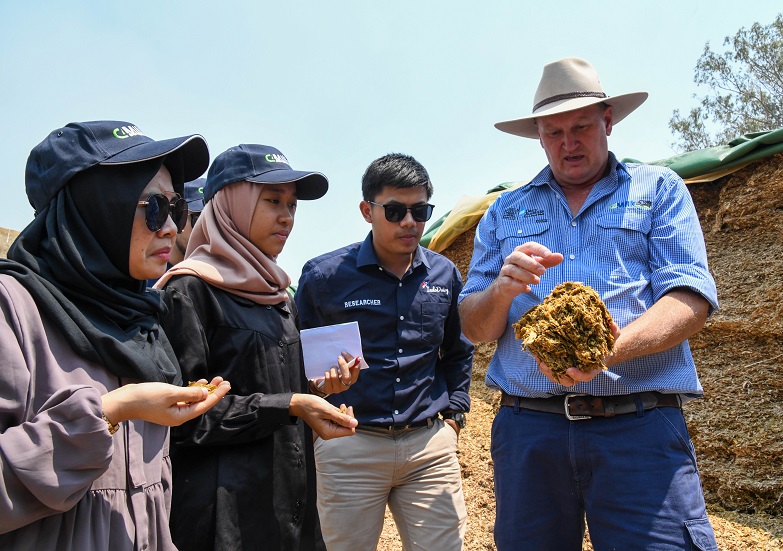 Dr Brad Granzin from Australasian Dairy Consultants and Subtropical Dairy Manager at Dairy Australia, has been involved with the project, Improving milk supply, competitiveness and livelihoods in smallholder dairy chains in Indonesia, affectionately known as 'IndoDairy', since its inception 2012.
'Milk quality is a major issue in Indonesia, especially in smallholder systems,' says Dr Granzin. 'With an emerging middle-class looking to buy more protein, one of the primary requirements is to make sure milk is safe to drink. More affluent consumers also want safe, nutritious food for their children, so the project has a strong focus on milk quality, particularly from bacterial contamination.'
'Whether it's a dairy cow in Australia or a dairy cow in Indonesia, the fundamental barriers around getting milk from cows and getting them in-calf and dealing with heat-stress and disease is quite common across different countries.'
The project has various focal points, reflecting the many different aspects that go into making money from producing milk. These include government policy and strategy intervention, supply-chain policy and on-farm research and development.
But while the project team was able to identify obvious improvements at an early stage, changing the behaviour of 3,000 smallholder farmers presented its own challenge.
Focus on extension
With many farmers continuing the practices passed down from previous generations, agricultural extension—applying the outcomes of scientific research through farmer education and engagement—was quickly identified as being central to the project's success.
'There are a lot of easy wins in how we can improve productivity. But the farmers [in Indonesia] aren't adopting some of these practices,' says IndoDairy project coordinator Jack Hetherington. 'So, we are trying to understand what these barriers are and implement different approaches to extension and training.'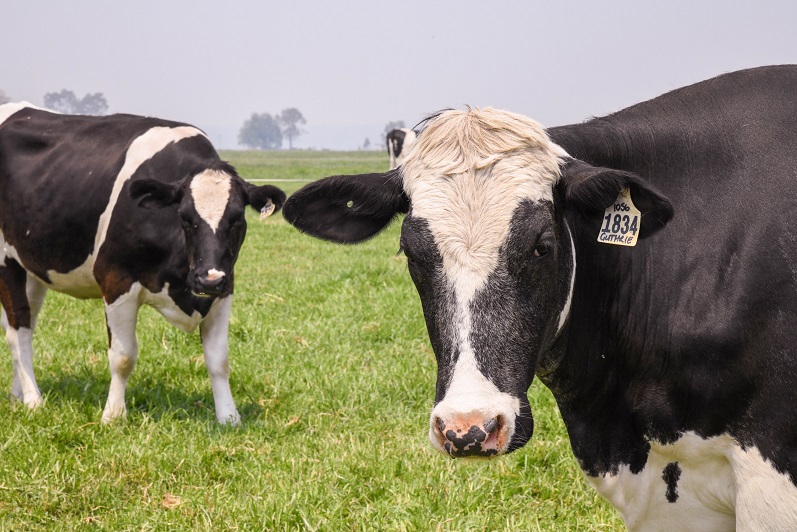 Enter the village-level researchers (VLRs); five young, dedicated researchers recruited by the project to lead extensions efforts throughout dairy communities across West Java and Sumatra.
'The village-level researchers are really the interface for our project working with the farmers,' says Hetherington. 'They're living out in the village, working with the cooperatives and interacting day-to-day with the farmers and collecting some of the data for our research, but also delivering the training as well.'
Building the knowledge, expertise and research skills of the VLR's has become a key focus for the IndoDairy team, with the opportunity to visit rural Queensland and learn first-hand from Australian dairy farmers seen as a valuable capacity-building opportunity.
From Java to Gatton
'The trip is about getting our research team to Australia to get an understanding of the tropical dairy industry here,' says Hetherington. 'While the scale is a lot different, some of the practices and strategies to improving productivity are transferrable, particularly around the forage and animal management in a tropical environment.'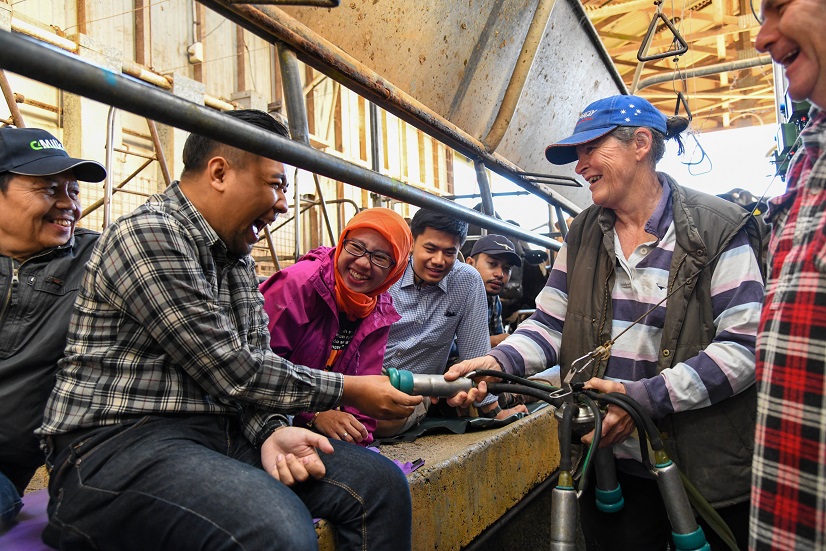 During the tour, the IndoDairy team visited several different dairy farms and setups, experiencing first-hand how farmers took varied approaches to feeding systems, milk quality, herd management and business management, depending on their goals and objectives.
'For the village-level researchers and their extension activities in the field; what we are trying to see is a change in the approach to training delivered to farmers,' says Hetherington.
'Rather than having a top-down approach where a technology is developed and pushed out to a number of farmers, we have taken a different approach in IndoDairy. Firstly we have researched what the fundamental barriers to adoption are, developed options to overcome these, and then supported the development of VLRs to implement these novel approaches in local farming communities.
Among the group from Indonesia was Vyta Hanifah, a researcher from the Indonesian Centre for Agricultural Technology Assessment and Development (ICATAD) in the Ministry of Agriculture, has been conducting extension with the project since 2016.
'During this project, I really learn about extension,' says Hanifah. 'How we transfer knowledge to farmers, but also understanding what farmers need in the first instance. It's not only about producing technology, but we have to make sure the technology really benefits farmers.'
'I'm so grateful to be a part of the IndoDairy team. I learned a lot during this trip, particularly from the farmers. The different practices, their perception, their knowledge, their willingness to accept the technology. I can learn a lot from the farmers here.'
As the eight-year project enters its final 12 months, the knowl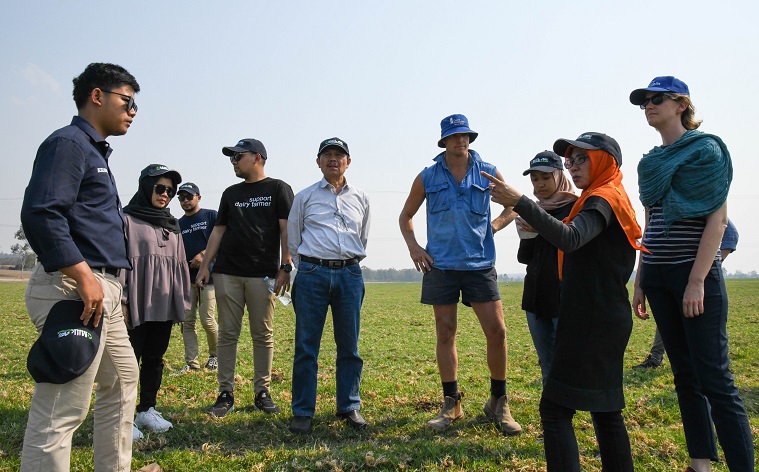 edge gained from the trip will prove invaluable to the project's impact long-term.
The researchers attended the Northern Australia Dairy Innovation Days (NADID)-the regional dairy industry forum-in the Atherton Tablelands, which involved dairy farm and business tours, and technical specialist presentations, including from University of Queensland and Dairy Australia.
The team then travelled to South East Queensland to continue the tour of dairy farms, processing facilities and research stations in Gatton and Maleny.
Into the future
It's hoped the long-run benefits of the trip will complement each team member's role within the IndoDairy project and contributing to the knowledge and capacity of Indonesian researchers working in the dairy industry.
'The investment we've made in our village-level researchers— young graduates coming through and training them up to be extension officers or research officers—that has been the best investment so far,' says Dr Granzin. 'We'll go home and the project will end or go to a second phase, but that investment in staff will live on for the next thirty years.'
'We've seen impacts on farms where we have helped farmers, and that's been great. But that investment in staff and developing that resource has been a fantastic addition.'