New US poll sheds light on farmers' COVID-19 concerns
Nearly 90 percent of farmers surveyed indicate they are at least somewhat worried about the impact COVID-19 will have on their business. More than 50 percent are very or extremely worried about the potential impact, according to a US farmer survey conducted last week by DTN and Farm Market iD.
More than half of farmers polled are worried about the impact of COVID-19 on their business.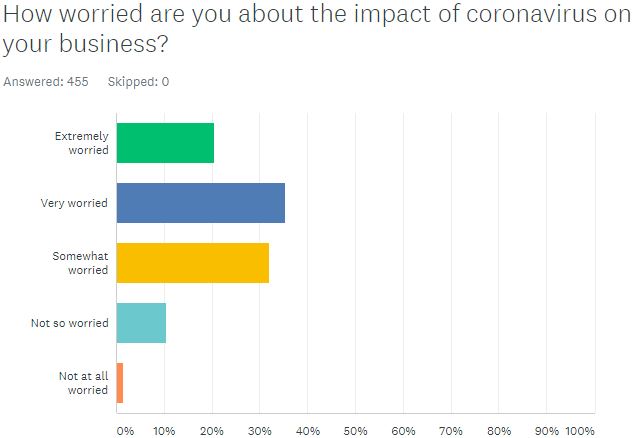 "We know that COVID-19 is taking a toll on populations around the world," said John Teeple, DTN senior vice president-agriculture. "Our farmers are entering a stressful planting season and now have to contend with the challenges associated with this global pandemic. They are on the frontlines of ensuring that our world has food to eat."
As many farmers across the United States start planting crops, they are making changes in their business in an attempt to lessen the impact on COVID-19.
"The survey results indicate that farmers are delaying large purchases and instituting conservative farming decisions," said Steve Rao, CEO of Farm Market iD. "Agribusinesses should take notice to the challenges this presents their businesses. Surveyed farmers voiced changes they want from their agribusiness partners including open communication about the situation, reduced pricing or discounts and delayed payment structures, among other solutions."
The survey, conducted between March 25 and March 27, 2020, revealed that 70 percent of farmers surveyed are satisfied with how the current administration is handling the COVID-19 pandemic in the United States. "This may be an important and early indicator for the 2020 presidential election as we found that 90 percent of respondents plan to vote in the fall," said Steve Matthesen, CEO of DTN. "If they were pressed to vote today, more than 80 percent would vote for the current administration."
DTN and Farm Market iD routinely survey farmers to stay on top of trending topics. In a recent DTN/The Progressive Farmer Agriculture Confidence IndexTM report, results pointed to similar levels of support for the current administration.
"We believe that farmers across America continue to support President Donald J Trump and his administration. Their support of how the COVID-19 situation is being handled at the highest levels strengthens that commitment," Matthesen said.
In support of rural communities dealing with the impacts of COVID-19, both DTN and Farm Market iD have each announced a $1,000 donation to Feeding America.
"We're proud to support this important organisation who is helping keep our rural communities fed during this challenging time," said Teeple.
For more information and to view poll results from the DTN and Farm Market iD survey, visit www.dtnpf.com.
TheCattleSite News Desk