FoodBytes! Chicago 2019 Winners Showcase Upcycling Dairy Waste, Sustainable Salmon & Cactus-Based Foods
Sustainable food and agriculture entrepreneurs showcased solutions to improve the way we grow food and feed the world at FoodBytes! Chicago, a live pitch competition and business mentorship platform presented by Rabobank, the world's largest food and agriculture bank.
The 15 selected startups each had three minutes to pitch on stage before a panel of judges, which included investors and executives from leading, global food and ag companies.
Tia Lupita® Foods (Tiburon, Calif.) won the Consumer Packaged Goods (CPG) Award for its use of drought-resistant cactus; LocalCoho (Chicago) won the Food and Agriculture Technology Award for sustainably producing fresh Coho salmon, and Capro-X (Ithaca, N.Y.) won the People's Choice Award by upcycling dairy food waste. Following the event, the entire group of selected startups will receive ongoing opportunities for networking and mentorship as part of the FoodBytes! alumni community.
"All of the startups we watched at FoodBytes! Chicago showcased some of the most innovative solutions we have seen yet when it comes to building a more nutritious and sustainable food supply," said Darren Streiler, investment director, ADM Ventures, who served as a judge on the panel. "The key trends that emerged among our pool of applicants this year centered on plant-based and functional foods, climate-resistant crops, food waste and precision agriculture."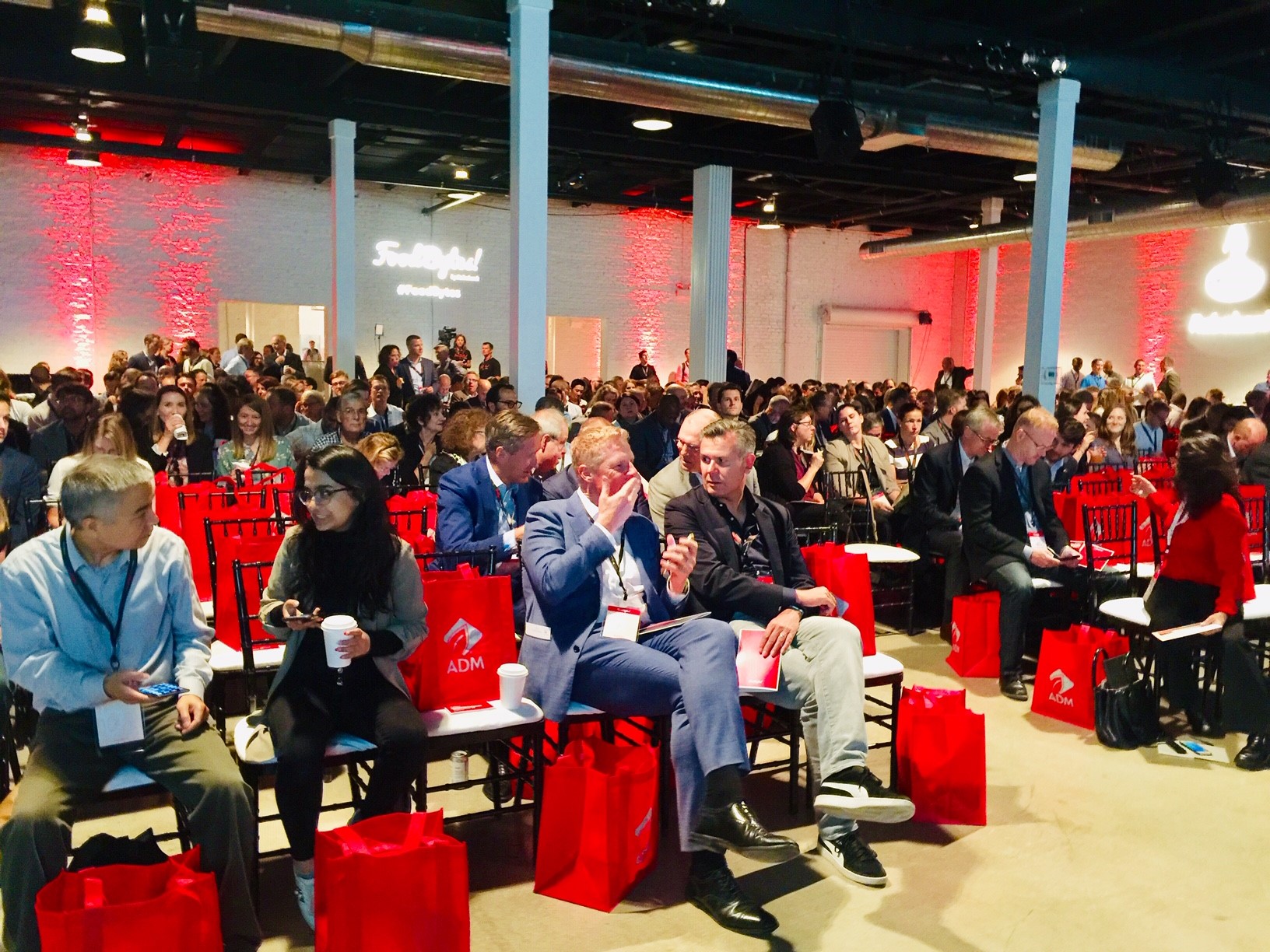 Here is a closer look at some of those trends on display at the event and the startups behind them:
Climate-Resistant Crops & Sustainable Food
With major crop yields decreasing by 5 to 10 percent because of warming temperatures around the globe, Tia Lupita® Foods has created tortilla chips using drought-resistant, nutrient-dense nopales (cactus), while Yolélé Foods is creating a supply chain for fonio, an ancient supergrain that grows prolifically in Africa year-round. Each food was ranked 12th and 16th, respectively, by the UN as some of the most sustainable foods of the future. LocalCoho presented its innovative, MxCell® Recirculating Aquaculture System (RAS) technology to create one of the most energy-efficient, close-loop aquaculture systems in the world.
Alternative Proteins & Functional Foods
The Better Meat Co., Higher Steaks, and Spira are driving innovations in the alternative protein and ingredient space, which captured 13 percent of all food and beverage startup investment in the past year. These companies, respectively, produce plant-based proteins for blended meat products as well as cellular pork and spirulina-based, functional ingredients for foods in place of animal compounds. TeaSquares presented superfood snacks made with green and black tea for natural, sustained energy throughout the day, while Start Right Foods showcased its line of protein-packed, gluten free waffles and waffle sliders for a better-for-you breakfast to fuel active kids and adults. Journey Foods introduced its AI-powered software platform—a virtual food scientist—that food manufacturers can leverage when researching and developing new, healthy food products that they want to ensure will sell.
Food Waste & Upcycling
With Greek yogurt production generating 2 million metric tons of acid whey in 2015 alone, much of which cannot easily be discarded, Capro-X introduced its WheyAway technology that ferments and distills whey on-site for natural bio-oils that can be reused in food and beauty products as a replacement for unsustainable palm oil derivatives. Shameless Pets also focuses on upcycling discarded food manufacturing byproducts like egg shells and apple pulp for dog treats. Evigence Sensors showcased its color-changing sensors that indicate when produce, meats, seafood are not held to proper temperatures to reduce spoilage and improve food safety.
Animal Welfare & Precision Agriculture
Based on the global concerns about antimicrobial resistance and the need to reduce antibiotic use in animal production, Cytophage Technologies has developed natural bacteriophages to treat and prevent infections in livestock without the need for dangerous daily doses. Agremo introduced its cloud-based, AI-powered imagery analysis software platform to help growers improve yield and protect soil health without chemical inputs. And, SeedLinked showcased its web platform that connects sustainable plant breeders with seed sellers, farmers and gardeners to regenerate the specialty seed market using locally-adaptable seeds.
FoodBytes! Chicago is supported by presenting sponsor ADM along with official sponsors Printpack, Polsinelli, Land O'Lakes SUSTAIN, FoodSpace® and JBS USA, as well as supporting sponsors Agropur Cooperative, Germin8 Ventures, Creative Alignments, TIG, Boulder Food Group, DLL and The Food Foundry.
Up next is FoodBytes! London which will be held on November 7 at Victoria House Basement.
Keep up with FoodBytes! by joining the newsletter and following on Twitter, Facebook, Instagram and LinkedIn, or via #foodbytes.
What is FoodBytes! by Rabobank?
Rabobank is a leading global food and agriculture bank, providing sector expertise, strategic counsel and tailored financial solutions to clients across the entire food value chain. Rabobank first launched FoodBytes! in San Francisco in 2015 as part of its Banking for Food (B4F) strategy and believes that sustainability and innovation are critical in promoting a thriving food and agricultural industry that will feed the increasing global population, expected to reach 9.8 billion by 2050. Since launching in 2015, 280 startups have pitched on the FoodBytes! stage, more than 1,900 startups have applied from 70+ countries and more than 5,000 people have attended events in Europe, North America and Australia.
For more, go to www.foodbytesworld.com or www.rabobank.com.
Headline photo courtesy of
Kassie Borreson
TheCattleSite News Desk