New Era for Dairy Herd Improvement
AUSTRALIA - The first annual general meeting of DataGene last week (16 December), heralded a new era in herd improvement for the Australian dairy industry.
In reporting to the meeting, CEO Dr Matt Shaffer said DataGene presented a rare opportunity for the industry to shape its future by participating in an independent and collaborative organisation that would drive genetic gain and herd improvement through research, development and extension activities.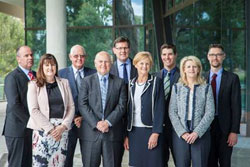 DataGene was formed in July 2016, with the purchase of DataGene Centre, the software that runs most herd test centres (formerly Mistro Centre). DataGene's second key function is genetic evaluation, which became operational with the acquisition of the Australian Dairy Herd Improvement Scheme in November.
Mr Shaffer said that DataGene's mandate was to make herd improvement easier, faster, smarter and better, for both farmers and the industry organisations that provide supporting services.
"While the past six months have involved a lot of ground work, we have reached some important milestones in recent weeks and a number of exciting products and services are scheduled to roll out in 2017, including the first stage of the much-anticipated centralised data repository," he said.
The AGM saw election of four additional directors to the DataGene board, adding to the existing directors who were nominated by the three foundation member organisations: Dairy Australia, Australian Dairy Farmers (ADF) and the National Herd Improvement Association of Australia (NHIA).
DataGene's board comprises: Ross Joblin (Chair), Graeme Gillan, John Harlock, Simone Jolliffe, Craig Lister, Lucinda Corrigan and James Smallwood.
The AGM also saw 15 industry members join DataGene, including herd test centres, AB companies and breed societies. DataGene's ownership structure allows for additional industry organisations to become members with Dairy Australia, ADF and NHA collectively retaining 65 per cent membership rights.
Chair, Ross Joblin, welcomed new member organisations. "Your participation reflects strong support for a collaborative approach and we look forward to delivering a platform for innovation that will make data more complete, accessible and useful," Ross said.
"The construction of a unified system including genetic evaluation, a centralised data repository and herd test software also creates new opportunities for farmers and service providers.
"For decades, the dairy industry has dreamed of a collaborative approach to the collection and use of herd improvement data. DataGene provides the frame-work and resources to make that a reality," he said.
TheCattleSite News Desk