venture | dairy Initiates Cattle Hub in Nicaragua
ANALYSIS - venture | dairy, the Illinois-based impact investment organization, is embarking on a new enterprise-focused initiative to help small-holder dairy farmers in emerging markets advance milk yields through knowledge, technology and capital, writes Sarah Mikesell, TheDairySite senior editor.
"venture | dairy was founded to empower dairy entrepreneurs to establish sustainable business practices that can improve their lives, the lives of their families, and their communities," said Trevor Tomkins, Ph.D., recently retired chief executive officer of Milk Specialties Global. "This is the driving force behind our organization."

Structured to make an impact and produce measurable outcomes, venture | dairy is both a not-for-profit organization and a social impact investment fund. The not-for-profit operation prepares dairy enterprises to thrive by supporting technology advancement and training in dairy production, and coaching those involved through the fundamentals of business and value-chain development.

The organization's inaugural project in Nicaragua includes the formation of a Cattle Hub that will provide products and services to farmers and work with them to improve milk production and farm profitability.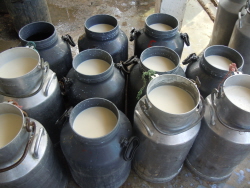 Nicaragua's Dairy Situation
Nicaragua is a country with deep roots in the dairy industry, and milk plays a significant part in the culture in Central and South America. People drink milk, and most often it comes from their own herd, which is likely 2 to 5 cows.

"Many of the farms lack access to modern equipment, technology or knowledge," Tomkins said. "One of the reasons is that there has never been an Extension service due to a lack of government funding. But there's a large market for milk, and three large milk processing companies are buying milk from farmers every day."

venture | dairy has partnered with Centrolac, a milk processor headquartered just outside the capital city of Managua, as well as Industrial San Martin, a major Nicaraguan beef processor, to truly connect the entire dairy value chain; dairy cattle in Nicaragua are considered dual-purpose. Centrolac has built an ultra-modern processing plant and is selling milk, including flavored milk, in small, affordable containers.

"But Centrolac is short of milk, particularly during the 5-month dry season," Tomkins said. "Nothing grows during this period, there's no rain and the cows don't have anything to eat unless there has been some conservation of crops for this period. But the issues are much more complex than just seasonality."
Cattle Hub Offers Knowledge
---
*


"Small-holder farmers, whether they are in the dairy sector or other sectors, produce about 70 per cent of the food that's eaten every day, and industrial agriculture produces the balance. One of the solutions to feeding the world today, and to feed the two billion more that are coming, is to improve the productivity of the 650 million people who are providing 70 per cent of the food."
Pierre Ferrari, president and CEO of Heifer International
---
Hundreds of small farms don't have access to basic information, technology, or products and services meaning they don't know about proper feeding or balancing rations, or the types of feeds to be purchasing, Tomkins said. Farmers generally have their cows out on small pastures and some walk them down the side of the road to graze, and then take them back at night.

"Following the incredibly powerful model that Tetra Pak Laval set up in Bangladesh, we have formed a Cattle Hub," he said. "The Cattle Hub is an organization that involves and benefits both the processors and the farmer. It will be owned more like a business."

venture | dairy is currently developing the Nicaraguan Cattle Hub and a general manager has been tasked with setting up several model farms. The idea is to demonstrate to farmers and the local farming community that by utilizing appropriate technology and learning to milk cows properly, vaccinate, worm, and feed them, milk yields will increase, conservatively, by four or five times. The farmers will be able to purchase feeds, animal health products, equipment and machinery, feed analysis and other services from the hub.

"Remember, they're starting from a base of four liters a day, so four liters up to 16 or 20 liters is still a far cry from the US, for example, where cows are producing 60 liters a day," he said. "But it's possible. To improve further, they also need access to better genetics, which means they've got to use artificial insemination (AI), which requires more education on recognizing cows in heat and learning how to do AI and availability of a veterinarian who can pregnancy check."

Right now, farmers don't have access to that kind of technology, but with knowledge comes a thirst for more. The Cattle Hub offers farmers a path to improved milk yields and improved lives.

The current Cattle Hub is made up of about 50 farms with herds of two to 10 cows each, in a relatively tight geography. The key is to start to manage all these smaller farms as one herd, meaning for example that all of the cows would be vaccinated at the same time with the same type of vaccine, so you know they're not continually passing diseases back and forth to their neighbors, he said.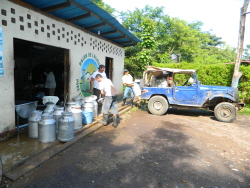 "The thing that drives the Cattle Hub is how you market the milk," he said. "Centrolac is what we call the 'anchor farm.' Through the Cattle Hub, we will be able to provide loans to farmers so they can afford to buy feed. The loans will be paid off as they ship their milk, so they're not going to be out cash. Essentially, the loans will be paid off as they produce more milk."
Impacting the Community
Cattle Hubs won't just impact milk yields, they'll impact the community as a whole. First, farmers will be learning more and earning more money. In developing communities, more money often equates to spending money within the community, buying a new pickup, for example and for educating children.

"So many developing communities really focus on how they can better educate their children, because they know the only way that these struggles and cycles will end is with a strong education for their children," he said. "The hope in Nicaragua is that this will ultimately become the equivalent of the dairy Extension services that the developed world takes for granted."
Record-keeping Technology
Record-keeping is also a big part of the Cattle Hub, Tomkins said, particularly for things like feed analysis and production cycles. Ultimately, venture|dairy will be adding a feed analysis laboratory in Nicaragua.

Feed analysis is relatively straightforward, provided you can link electronically with a big laboratory. A sample of feed is analyzed using infrared technology, and then the data will shoot back to a laboratory in the US.

"In literally minutes, an analysis of the feed is available," he said. "All of this will be totally revolutionary for these farmers."

This nutrition information is critical for success because to get milk out of cows, and to get them pregnant, you have to feed them properly to build up their body condition, Tomkins said.
Government Support
The current government in Nicaragua understands that stabilizing the economy is in part about generating robust agriculture, Tomkins said. As a result they've been supportive of the Cattle Hub concept.

"I think the government understands that this is a more sustainable approach than some of the aid models that have poured huge amounts of money into Nicaragua," he said. "The problem is that the aid is short-term. While the programs have made some differences, they frequently are not enterprise-focused. Where aid programs have contributed most are for things like building roads - solid infrastructure.

"When you're going into a community and building things like milk collection centers on short term aid programs, and then you disappear after three years, that's not sufficient. A big difference for us is that we see an opportunity to take these projects and continue to infuse them with not only access to capital, but also real business knowledge."
The BIG Picture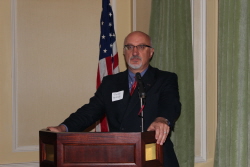 Pierre Ferrari, president and CEO of Heifer International, one of the leading NGOs in community development, and who spoke at the launch of venture | dairy in Chicago, said the goal is to have an impact on smaller farmers and the poverty that's endemic to small-holder farmers all over the world.

"We're going to have to find ways to mobilize not only small-holder farmers with their productivity and efficiency, but also mobilize a large amount of capital that can connect these small-holder farmers with increased productivity to markets," Ferrari said.

He said the combination of philanthropy and market-rate capital that would come from a private equity group or a venture capital group, offers an opportunity to create an efficient and sustainable dairy value chain.

"Dairy value chains can be highly productive and nourish not only the hundreds of millions of people today that are hungry, but the two billion more that are coming over the next years," he said. "We have to improve efficiency and effectiveness, but that doesn't mean we have to go industrial agriculture."

The FAO's research on small farmers indicates there are between 600 and 700 million small-holder farmers in the world today.

"Small-holder farmers, whether they are in the dairy sector or other sectors, produce about 70 per cent of the food that's eaten every day, and industrial agriculture produces the balance," Ferrari said. "One of the solutions to feeding the world today, and to feed the two billion more that are coming, is to improve the productivity of the 650 million people who are providing 70 per cent of the food."

If small-holder farmers can improve productivity by 60 per cent, which Ferrari said is very possible, "then we have a better chance to feed the world."

This article is the second in a three-part series. To read the first article which details venture | dairy, click here.

Watch for the final article about venture | dairy's plans for a dairy processing plant in Rwanda.

To go to the venture | dairy website, click here.