The Global Economy: No escaping this slowdown in 2023
The global economy is expected to sputter in 2023
After two years defined by a strong economic rebound from the pandemic, the global economy will sputter in 2023, according to CoBank's report titled The Year Ahead: Forces That Will Shape the U.S. Rural Economy in 2023. A persistent energy crisis in Europe, China's messy exit from zero-COVID, and higher interest rates globally will reduce world economic growth to a crawl. Improvements in global supply chains will ease trade frictions, however. Europe, likely already in recession, will muddle through the winter with sufficient energy supplies.
But higher interest rates needed to subdue double digit inflation – along with weak industrial activity and sluggish consumer spending – will lead to flat or slightly negative GDP growth in 2023.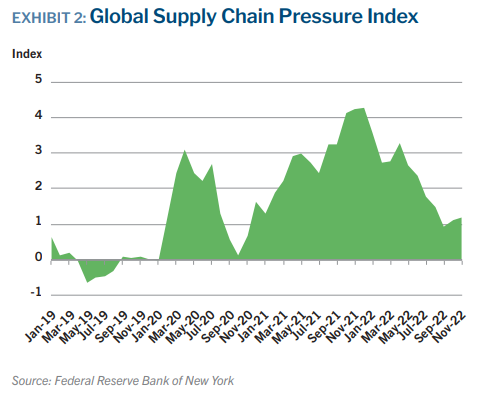 Energy prices are off their peak, but still 35% higher than Q4 2021, and will remain elevated through 2023. That increases the risk that high inflation and high interest rates will persist, creating a drag on businesses and consumers. The risk of cold winter temperatures and the need to replenish gas supplies again later in 2023 will keep energy prices volatile and their effect on Europe's economy high.
China, much less impacted by Russia's invasion of Ukraine, will continue to struggle with the fallout of COVID. Beijing is beginning to relent on its zero-COVID policy, but its shift from strict lockdowns to more free movement will lead to widespread infections and unpredictable supply chain disruptions for the world. China is one of few major economies in the world not experiencing excessive inflation, but that is largely because of domestic economic weakness. China's GDP growth could reach 4% in 2023, but unpredictable COVID policy and potential waves of infection point to a very uneven year ahead.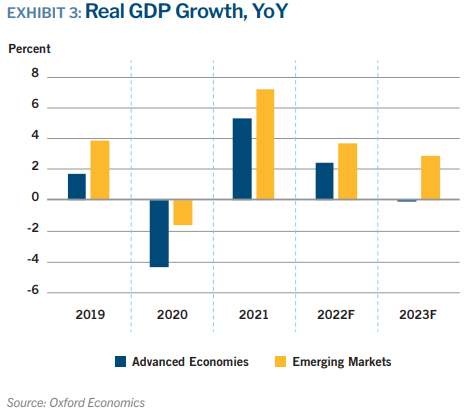 China's young workers are reeling from the slowdown, with 20% of them unemployed. And the drag of China's demographics will continue to intensify. As China's population begins to shrink in 2023, it will be surpassed by that of India. Xi's consolidation of power and increasingly concerning rhetoric about Taiwan does raise the prospect of conflict in the region. Though we believe a Taiwan invasion is relatively unlikely in 2023, the global economic impacts would be devastating. Greater Asia will be negatively impacted by sliding global demand for goods. Fewer semiconductor sales will hurt suppliers in Taiwan even as auto sales rebound and benefit Japan.
Beneficiaries of the pandemic-induced binge on goods purchasing – Vietnam, Indonesia, and others – will experience a hangover in 2023. India, though, appears poised to rise in economic prominence. As it benefits from investments in offshoring and manufacturing, India will likely overtake Japan and Germany as the world's third-largest economy later this decade.
Heading into this slowdown, emerging market economies broadly are much better positioned compared with past cycles. Disciplined fiscal policies, proactive monetary tightening, and less severe inflation problems than in the advanced economies should enable most emerging markets to grow moderately next year, despite a strong dollar that makes borrowing more expensive. Emerging markets will keep the global economy growing in 2023 as advanced economies collectively stagnate, and possibly even shrink.