RaboResearch: Various supply chain players focused on reducing dairy emissions
New Rabobank report explains complexity of reducing emissions in the dairy value chain, outlines reduction strategies
The dairy industry faces increasing demand for sustainable production and emissions reduction. Despite differences in farming systems, most emissions originate on the farm. These are direct emissions for farmers, but they also contribute to the scope 3 emissions of dairy processors and retailers. A new Rabobank report explains the complexity of reducing emissions in the dairy value chain and outlines some of the reduction strategies left untapped.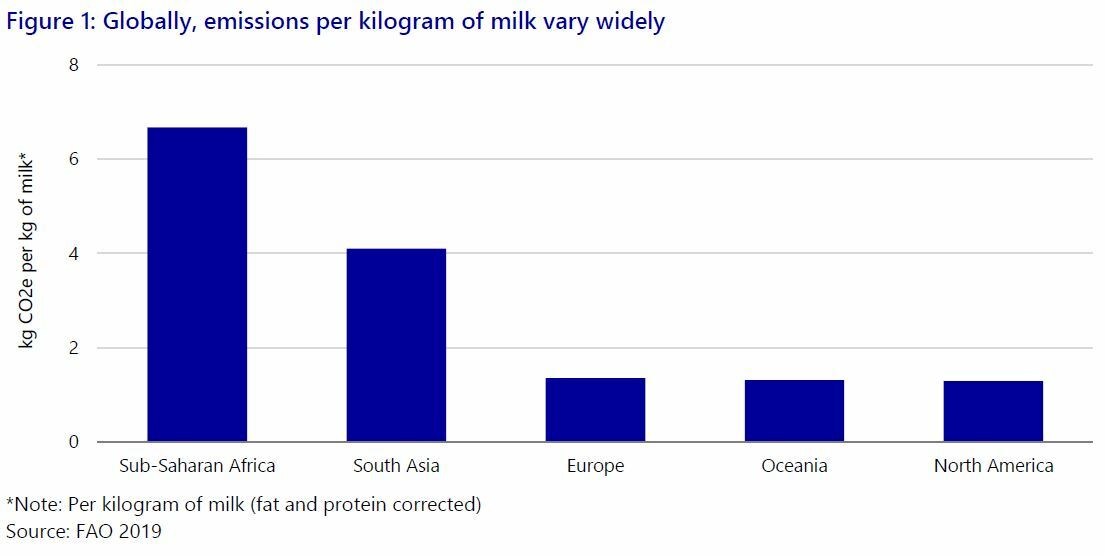 On-farm emissions account for the largest share in the value chain
At the farm level, the combined methane emissions from enteric fermentation and manure roughly account for 75% to 85% of direct on-farm emissions. The remaining emissions are largely made up of nitrous oxide – mostly related to soil management and the storage and application of manure.
"This suggests that the feasibility of successfully implementing mitigating measures in the large exporting regions is comparable, despite the differences in environment, climate, and farming practices," says Richard Scheper, Analyst – Dairy at Rabobank. "For dairy processing companies, this means that most of their emissions sit in scope 3 and are outside their direct control."
Complexities of scope 3 and misalignment complicate target setting
However, the difficulties aren't limited to measuring and reporting scope 3 emissions in the dairy value chain. Reduction targets vary in alignment, ambition, and scope. In practice, this means that stakeholders throughout the value chain are exposed to different targets. This situation creates multiple layers of complexity. Dairy companies want to set targets, as they are receiving pressure from off-takers to reduce their emissions, but the lack of alignment between national government and industry standards adds to the complexity, which could, in turn, hinder the rate of progress. In the absence of common national guidance, many individual companies have set their own requirements and targets.
There are many pathways to achieving targets, but each has obstacles
There are already numerous greenhouse-gas-reducing measures being brought forward, some of which are in the late stages of development or are being used in the dairy sector today. These include efficiency and productivity gains, manure management, and feed additives.
While these levers, in theory, offer strong mitigation opportunities, they vary in technical reduction potential, as well as adoption rate and current commercialization, which can make it difficult to predict their overall reduction potential in the coming years. Likely, the largest obstacle to reducing on-farm dairy emissions is not the technical potential but, rather, the feasibility of adopting mitigation practices. Some mitigation levers require little to no investment. In contrast, others have large theoretical reduction potential but also require a large upfront capital expenditure or increase operational expenditure, restricting the adoption rate.
Increasing momentum requires three things
According to the report, three important steps need to be taken to increase momentum. First, alignment between governmental and industry targets is required to overcome layers of complexity. At the same time, the dairy industry must embrace the need to accelerate greenhouse gas emissions reduction.
"By increasing ambitions and targets, the industry has already taken the first steps in this direction" says Scheper.
However, to gain momentum in the adoption rates of on-farm mitigation levers, farmers also need to be incentivized by the industry, through options like carbon tokens or premiums, on top of the milk price.
"If mitigation doesn't gain momentum, the dairy industry could face the risk of government-enforced mitigation regulations that could be capital-intensive or even include herd reduction," concludes Scheper.
Rabobank clients can read the full report here.