Berry farmers put dairies' plentiful waste products to use
Dairy farmers in Whatcom County generate nutrients in the form of cattle manure. Neighboring raspberry and blueberry farmers import nutrients in the form of fertilizer to maximize production.
To improve the nutrient loop in Northwest Washington, Washington State University assembled a team of scientists to study how berry growers can put dairies' plentiful waste product to a use in their fields.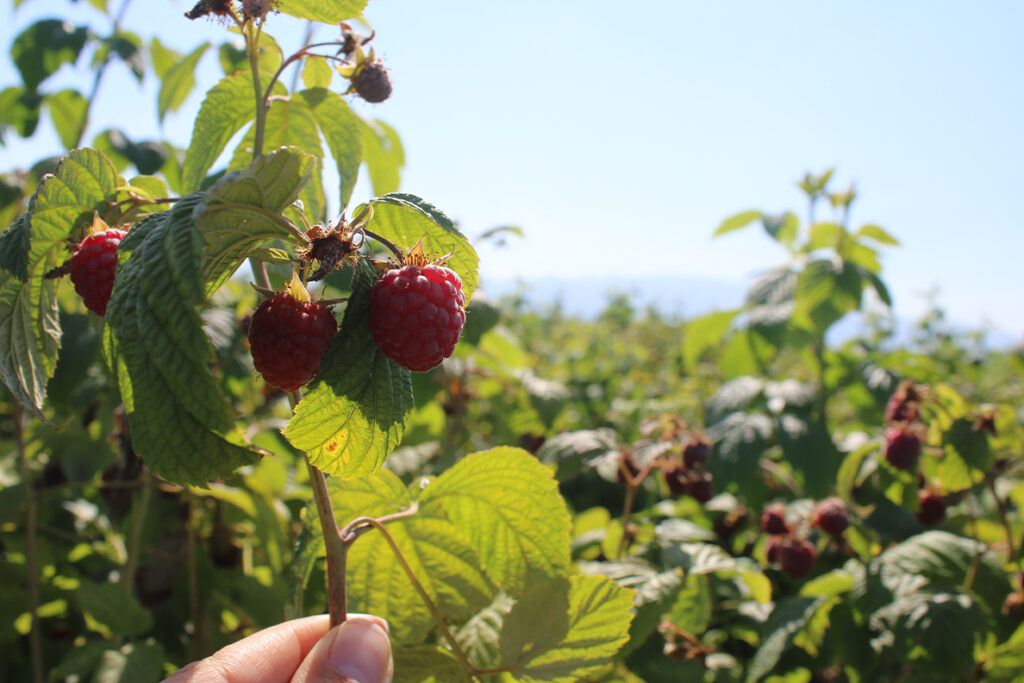 "We want to connect those industries," said Chris Benedict, a WSU Extension specialist. "If it works, then that will lower the risk of nutrients entering into the environment, encourage farmers in different industries to work together closely, and hopefully help everyone economically."
The project required scientists who are familiar with fertilizers, as well as food scientists, economists, and small fruit specialists. WSU has experts in every field, and the team came together to do the work. The results of the project can be found on WSU's Center for Sustaining Agriculture and Natural Resources (CSANR) web site.
The main concern about using biofertilizers on food crops is the potential of introducing foodborne pathogens. Dairy manure is a good source of nutrients for crops, but could potentially carry foodborne pathogens. To prevent illness, dairy manure is subjected to different treatments prior to field application to reduce pathogen levels and meet safety standards.
"There has to be zero risk for berry farmers," Benedict said. "We were pretty sure the process is safe, but we needed to prove that. So working with food scientists was key. And we had to make sure the cost/benefit worked out, since farmers are running businesses."
Meijun Zhu, professor in the WSU School of Food Science, performed food safety testing, while Joe Cook, associate professor in the WSU School of Economic Sciences, examined economic feasibility.
Benedict works with small fruit producers and has collaborated with dairy farmers on projects focused on anaerobic digestion, as well as nutrient recovery technologies that generate biofertilizers derived from dairy manure. The combined processes have shown a significant reduction in foodborne pathogens in previous research.
Considering the economic impact
Biofertilizers are a relatively new product, so there isn't much market research available, Cook said. The economics team designed a survey for local berry farmers to find out who would use them and how much they would be willing to pay.
"Not surprisingly, cost was a major factor, the less the cost the more likely farmers were to switch," Cook said. "The survey also instructed growers to assume the product is safe for food crops in the hypothetical, but they still commented on that aspect repeatedly. Clearly people are very concerned about that aspect of the project."
Keeping people safe
To ensure human safety, researchers had to test the biofertilizers in the field. Benedict collaborated with local small fruit farmers who donated parts of their fields for testing plots. The team applied multiple different biofertilizers to raspberries and blueberries.
"We're lucky, we have really great collaborators who were willing to sacrifice a full season of crops in several fields," Benedict said.
Then the berries in each test plot were carefully harvested and sent to Zhu's lab in Pullman.
"This was a big project and teamwork was very important," Zhu said. "Everything had to be coordinated, so we talked with Chris Benedict's team about how to properly and randomly collect samples in multiple berry fields."
Pathogens can spread unevenly in a single field, so truly random sampling is required to make sure the data is correct, she said.
Zhu's team didn't find any pathogens harmful to humans in their testing. The processed biofertilizers are safe to apply to food crops, hopefully leading to a closing of that nutrient loop in Whatcom County and benefitting farmers and consumers around the country.
In addition to Benedict, Zhu, and Cook, the WSU team also consisted of Betsy Schacht, Karen Hills, Chad Kruger, Georgine Yorgey, Lina Sheng, and Xiaoye Shen.
Check out a video explaining the research on YouTube:https://youtu.be/EpnHj0ExNB8