Criteria for evaluating bulls
As bulls come off the summer breeding pastures, producers have several criteria to consider when making culling decisions, according to experts at the Kansas State University Beef Cattle Institute.

In a recent CattleChat podcast, they debated whether fertility or genetics of the bull is more important.
"Fertility is the most important because bulls need to be able to breed lots of cows," said veterinarian Bob Larson.
But beef cattle extension specialist Bob Weaber countered: "I would argue that there is a genetic effect on the bull's libido and willingness to settle cows."
Larson advised producers to conduct a sire test to know which bulls fathered the most calves. He credits fertility to the bull who sired the greatest number of calves.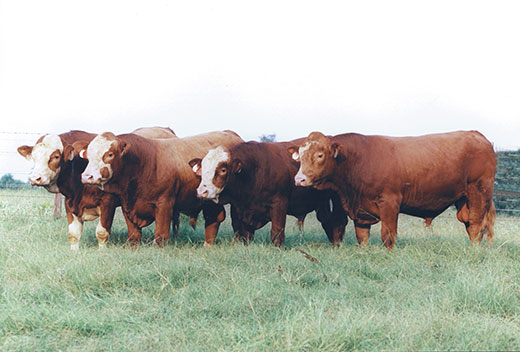 As an example, Larson said if Bull A sired 28 calves averaging 450 pounds at weaning, and Bull B sired 12 calves averaging 500 pounds at weaning, some producers might put a higher genetic value on Bull B because his calves weighed more.
"I say Bull A has more value because he sired more total pounds of weaning weight by having more of his calves in the herd," Larson said.
Another consideration is the breeding rotation. Weaber said if bulls are used on heifers and those heifers are retained in the herd, then a sire will be more limited on the years of service.
"If producers retain too many daughters from a bull, they will have to be careful to avoid in-breeding by limiting the sire-daughter matings to reduce the risk of genetic complications," Weaber said.
When bulls come off the summer pastures, Larson advised producer to conduct a complete breeding soundness exam.
"It is more than just a semen quality check, but also an evaluation of his physical characteristics, including his feet, legs, penis and scrotum as well as his temperament," Larson said.
Weaber added that temperament is critical especially in smaller herds where the bulls have close contact with people.
Another factor for producers to consider is the cost of the bull relative to the years used in the herd.
"If a producer spends $5,000 on a yearling bull and he is only used for one breeding season, it has a significant economic impact on the operation," Weaber said.
The experts agreed that the final criteria to consider is how the bull worked in the herd.
"As much as I would hate to trade him out economically speaking, if he isn't getting the job done then it is time to make a change," Larson said.
Here are the experts' top 5 reasons for culling a bull:
He no longer fits with the current breeding goals
His actual genetics don't align with the expectations
He has too many daughters in the herd
He has an undesirable temperament
He fails the breeding soundness exam