'Impressive' Beef Imports to Slow For China
China's beef prices have been consistently strong through the second and third quarter with strong importing activity expected to slow under pressure from high prices.
Tight supplies characterise the current market, according to Rabobank market analysts writing its beef quarterly summary.
Rabobank analysts write that, at present, the retail price is CNY 63/kg, 6 per cent higher than the same period in 2013 (see Figure 9). As the peak season for meat consumption starts in Q3 with the arrival of festivals and cold weather, beef prices are expected to increase further throughout the remainder of Q3 and Q4 2014.
In terms of profitability spreading along the supply chain, Chinese beef farmers' margins in August increased to CNY 1450/head (each head equals 500 kg), up 16.7 per cent compared with Q2. Slaughtering margins decreased to CNY 410/head (down 44 per cent compared with Q2), while retail margins increased to CNY 1699/head.
China's beef imports reached 183,000 tonnes in the first seven months of 2014, up 20.3 per cent YOY, write Rabobank analysts. Although this is not high compared with the astonishing 380 per cent import growth in 2013, the import volume is still historically high.
The average import price of frozen beef in the first seven months of 2014 was 4,329 USD/tonne, up 3.4 per cent YOY. During this same period, Australia remained the biggest beef supplier to China, with the volume up 17 per cent YOY.
China's Retail Beef Price 2007-2014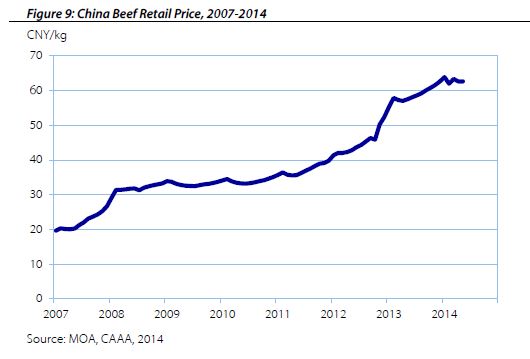 However, Australia's share in China's total beef imports decreased from 53 per cent in 2013 to 47 per cent in 2014, due to the impact of China conducting inspections of beef for hormone growth promotants (HGPs).
Meanwhile, shipments from Australia to Hong Kong continued to be much higher than historical levels. Uruguay still ranked as the second-largest supplier, but experienced stronger growth, with the volume rising 33 per cent YOY, to 51,000 tonnes. Rapidly growing imports from Argentina have been impressive.
Despite only making up a small percentage of the total Chinese beef supply, imports from Argentina in the first seven months increased from 2,500 tonnes in 2013 to 7,700 tonnes this year.
In general, the astonishing growth seen in 2013 is not expected to be sustained into the remainder of 2014, as expectations of higher international beef prices will limit China's ability and willingness to pay for more expensive beef.