Contract Dairy Heifers for the Beef Sector
Dairy heifers will be seen on beef farms as Europe's dairy sector expands post quota removal contract heifer rearing grows, predict Irish advisors.

An upturn in contract heifer rearing will occur. This is when a dairy farm pays a set fee per day for an agreed time to rear its heifers.
According to Ireland's Agriculture and Food Development Authority (Teagasc), it represents an opportunity to work for profit.
Profit and Cash Flow
Contract heifer rearing can deliver the same or a better profit than cattle farming, write Teagasc experts.
It will depend on your stocking rate and your costs along with the rate paid (see Table 1). One significant advantage is that there isn't a need for dramatic investment as the stock remain in the ownership of the dairy farmer. A big advantage is that you know how much you are getting paid and can have the money paid into your account each month.
Lifestyle?
This comes up time and again. Many suckler farmers feel that there is a low return from suckling and that the labour input is high, particularly at calving. Many farmers feel that dairy-bred, bucket-fed animals are easier to handle and safer for children on the farm.
Disadvantages to Contract Rearing
All joking aside, working with another farmer is a different way of working. Where contract rearing has worked well is where both farmers are on the same page and are attempting to get the heifers reared in the best possible way. Neither farmer should feel like they are being squeezed for the last penny!
Assumptions
Heifers arrive as weaned calves on May 1 and leave the rearer's farm on November 1 of the following year (549 days). Each heifer unit includes a calf and a yearling heifer. So, 2.4 heifer units/ha on 40ha is 96 calves and 96 yearling heifers. 300kg of meal (€250/t) is fed to each heifer (1kg/day for two weeks after turnout and 1.5kg/day for six weeks pre housing, then 1.5kg/day over 92 days of first winter).
What Rate for Each of the Heifer Rearing Stages?
Each farm will be different but, as a rough guide, the stages can be broken down as follows (where all costs are borne by the rearer):
calf rearing (drop calf – three months) €2.00/day
calf grazing €0.80/day
weanling winter €1.80/day
yearling grazing €1.05/day
in-calf heifer winter €2.10/day
How to Stock Your Farm Fully?
This is a real issue for contract rearers. Some contract rearers have stock from more than one dairy farm, or have their own stock along with dairy heifers. Another viable option is for the rearer to take all of the calves, including bull calves, from the dairy farmer. TB testing should be carried out in the summer to ensure time for retesting should an animal go down in the test. Should a dairy farmer or rearer be locked up with TB, the Department will allow transfer of animals from one farm to another, but both herds will be locked up.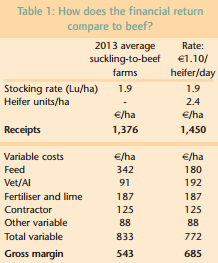 Dairy Farmer's View
Contract rearing of heifers will be attractive to dairy farmers if:
labour is short on their farm
land can be freed up to carry more cows by moving the replacements off
What Will a Dairy Farmer Look For?
They will be looking for a farmer with good grassland and livestock skills so that key animal performance targets will be achieved. They will be looking for someone that they can trust to take care of the future of their dairy herd. Set out clearly in advance how the targets are going to be monitored and what is to happen if they are not being achieved (how often will the stock be weighed?). In general, the weight targets are very achievable where grassland management is good.
Key Targets (Table 2)
Heifers need to gain 22kg per month from birth to calving if calving at 24 months. If calving younger than this, they need to gain more per month
All heifers have to be submitted for breeding in the first three weeks of breeding
All heifers must calf down in the first six weeks of calving