New Year New Goal - Monthly Milk Recording
Benchmarking cows is made easier with strong data sets, allowing herd health to be monitored closely, according to Teagasc, Ireland's agriculture and food development authority.

If you make just one New Year's resolution, make it monthly milk recording! Over 6,000 herds now milk record, generating invaluable data for 550,000 cows. Regular milk recording will give much better information than ad hoc individual cow testing, and doing it monthly gives you even more bang for your buck.
It allows you to react quickly to cows with elevated SCC – these may have no visible signs of infection, but they will spread infection within your herd and raise your bulk tank SCC.
Start early – do you milk record in the first month of lactation? If not, start this spring. With the new CellCheck Farm Summary Report, milk recording your cows within 60 days of calving will measure how effective your dry cow treatment has been. It will also highlight if new infections during the dry period are an issue.
Early lactation mastitis is a high risk. An early milk recording will give you an indication of any cows that need prompt attention.
Heifers – recent research has highlighted that high SCC in heifers may be more prevalent than you think. An early milk
recording will identify any of these that need careful attention. It will also identify high performing animals straight away.
It costs less than you think. At approximately €2.10/cow/milk recording, this is great value for money – nine milk recordings is an investment of €18.90, which is 63 litres of milk at €0.30 per litre.
Further information on milk recording is available in Guideline 23 of the CellCheck Farm Guidelines for Mastitis Control.
Benchmark Financial Performance
Benchmarking extends beyond individual cows whole business analysis. Teagasc give some targets to measure 2013 performance against retrospectively.
These targets are based on applying the estimates of 2013 dairy farm performance from the Teagasc National Farm Survey (NFS) to the 'best' 2012 Profit Monitor figures. The NFS analysis, published at the Situation and Outlook conference in early December, indicates that 2013 was a good year for dairy farmers, despite the poor growth conditions in March and April.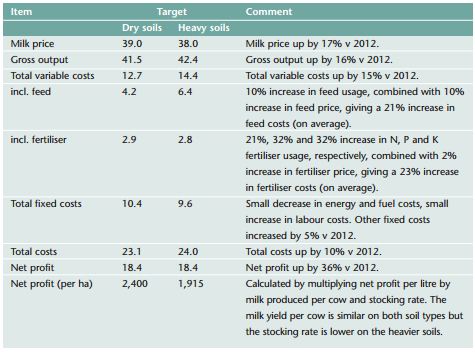 Net margin per litre increased by over one-third, while family farm income (net margin from dairying plus other farm income plus direct payments) increased by 15 per cent to €58,000 for the average dairy farmer in 2013. The only way that you can analyse your financial performance for 2013 is to complete your Profit Monitor now.
This will allow you to benchmark your performance against 2012 and also against the targets outlined above. Contact your Teagasc adviser now to get an input sheet and aim to have the analysis completed before calving starts.