Turnips, Kale and Other Greens Used to Extend Grazing on Georgia Pastures
Hardiness through winter and quick spring recovery makes Brassicas an ideal plant to turn to for winter forage, but watch out for the high sulfur content, warns a University of Georgia forage specialist.
Greens are on everyone's menu these days: from braised turnip greens and collards to kale juice and Swiss chard slaw.
So it may be no surprise that Georgia cattle farmers are even adding kale, turnips and other greens to their pastures to help reduce the amount of hay they have to feed their cows over the winter.
Greens — known as brassicas — stay hardy throughout the fall and early winter and reemerge in early spring. This provides cattle a nutrient dense forage source after their traditional forage, bermudagrass, has turned an unappetizingly brown.
"Brassicas give us high quality forage in the time of the year when not much else is growing well," said Dennis Hancock, a University of Georgia Extension forage specialist. "Forage turnips, rape, kale and hybrids of these brassica species have a great fit in Georgia."
Mr Hancock learned more about the benefits of feeding these hardy greens to cattle while on a trip to New Zealand, where most farmers practice intensive rotational grazing practices.
The producers there use it to fill a gap in pasture production that lasts just a few weeks, but Mr Hancock recognized that these brassicas would fill a bigger hole in Georgia forage systems.
While the low fiber content and high sulfur content can cause problems in cattle if this was the only pasture available, the high protein and carbohydrate content of these alternative forages make them a perfect nutritional supplement or tool for stretching hay supplies, Mr Hancock said.
Cattle on forage diets, including brassicas, can gain between 1.8 to 2.6 pounds a day during the winter and early spring, he said.
There are brassicas on the market that were bred to be used as forages, including pasture ready varieties of turnips, rape, kale and swedes. All varieties need well-drained soils and no competition to thrive, and should be planted with a seed drill for best results.
In Georgia, cattle farmers will need to add brassicas to their pastures between September and early October, so they will be ready to graze in about 60 to 75 days. This practice can extend the grazing period well into late winter.
In addition to their benefits to cattle, brassicas — with large fibrous roots — can also help old, compacted pastures. They aerate the soil; trap nitrogen and release it slowly; and provide natural nematicides.
Mr Hancock recommends turnips or turnip hybrids like 'Appin' or 'Pasja' for use in Georgia. While there are brassicas bred specifically for pasture use, many cattle farmers have seen results by incorporating traditional garden variety turnips, like 'Purpletop.'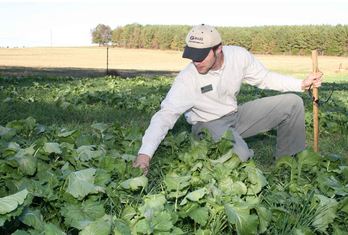 Madison County Extension Agent Adam Speir Inspects Turnip Tops
All photos courtesy of Merritt Melancon - University of Georgia
Terry Chandler, a Madison County farmer, now has his cows grazing pastures studded with the same turnips that grace many Southern dinner tables.
For farmers looking to introduce brassicas into their pastures next growing season, Mr Hancock recommends moving slowly. The brassicas should never make up more than 75 percent of the cattle's diet because of their low fiber content. Also, cows should be moved into a brassica field slowly, since changing their diets too quickly can cause digestive upset.
For more information about brassicas and incorporating them into pastures visit http://georgiaforages.com.