Fall in Milk Prices, Increased Feed Prices Puts Pressure on Dairy Producers
Dairy producers have experienced volatility with decreased milk prices and sustained high feed prices so far in 2012, writes Kristen Schulte, Extension Farm & Agribusiness Management Specialist with Iowa State University.
Milk production has outpaced demand on both the national and global levels causing dairy product prices to dip and cold storage to climb. Demand of dairy products has lost some steam in early 2012 compared to the record export levels of 2011.These factors have led to tight margins in mid-2012 for producers which could lead to rebalancing of supply and demand.

Milk Supply: Favorable weather at the start of 2012 has attributed to increased milk production by 4.71 percent for January through April over 2011 (Figure 1). Rolling annual milk production is up 2.34 percent at the end of February at 198 billion pounds. Rolling herd average at the end of April is at 21,888, up from 21,600 at the end of 2011 for the 23 selected dairy states.

Figure 1 U.S. Milk Production, Billion Pounds
MILK PRODUCTION
US Total, Monthly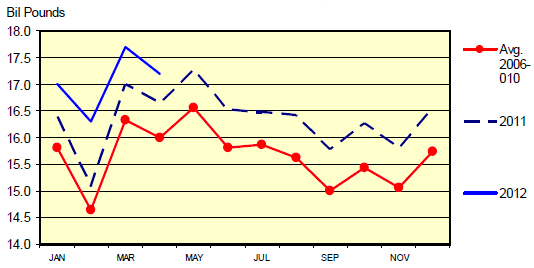 The total number of milk cows in the U.S. is just over 9.27 million cows at the end of April, up 49 thousand cows from the end of 2011. The U.S. milk cow herd has maintained stable growth at or just less than one percent so far in 2012.

However, in the past year the industry has a large replacement heifer inventory and stable percentage of cows leaving the herd. Growing cow inventory and a mild winter and early spring has resulted in a larger than normal spring flush of milk on the market. Excess milk has oversupplied the market causing processors run at plant capacity and increase storage stocks.

Iowa milk production continues to increase per cow on a rolling annual basis; production increased 745 pounds per cow when comparing annual production at the end of April. When looking at the increase of milk production per cow among the 23 dairy states, Iowa continues to be a leader behind Texas. The number of cows in Iowa has increased by four thousand head since December 2011 to 207,000.

Young milk cow herd, strong heifer inventory, and favorable weather conditions has increased U.S. milk production from 2011. However, tightened margins in early summer months may encourage producers to take advantage of favorable beef prices, and anticipated above average summer temperatures may cause milk production growth to slow for the remainder of 2012.

Milk Product Demand: Export sales helped to drive dairy product demand in 2011. Total exports have subsided slightly in early 2012, with a reduction of 0.8 percent of total milk production in export products, 12.5 percent for January through February down from 13.3 percent for 2011. However, this level of exports so far in 2012 is stronger than expected. Global dairy prices continue to soften as world supply of milk is up and storage of butter and milk powder is growing. A growing global supply, increasing stocks in storage, and existing insecurities in the global market have contributed to the declining product prices. Continued development of product markets that are nutrient enriched and meet demand of those in the middle class of foreign markets is key for long term strength of the U.S. dairy industry. A newly built plant in Nevada will process Whole Milk Powder, a product specifically for the export market; this is the first processing plant for this product in the U.S.

Dairy Profitability: The U.S. All Milk Price for May was $16.40 per hundredweight, down from $19.00 at the start of the year. Iowa producers saw an additional $0.50 on All Milk Price at $16.90 in March. Iowa producers typically see about a $2.00 positive basis between All Milk Price and Announced Milk Price, based on CME closing futures price. Figure 2 below displays the All Milk Price for producers in Iowa from 2009 forward on a monthly basis. As shown in the chart below, producers have seen decreased prices from the start of 2012 with expected prices closing out the year around 2010 level prices.

Historical Iowa All Milk Price (2009-2012)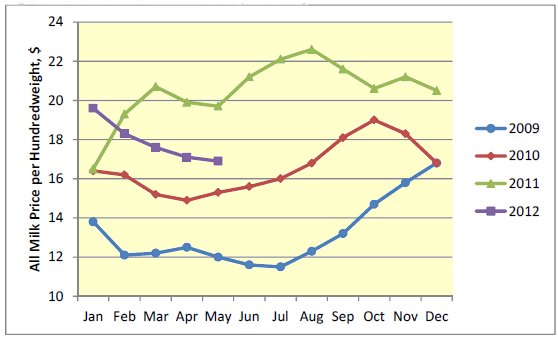 Milk Prices: Class III milk prices on the Chicago Mercantile Exchange have regained strength from May holding at $15.50 to $16.50 for the next year. Current feed prices remain high with current corn above $6.00 and high quality dairy alfalfa hay moving down or below $200 per ton. Although milk prices may settle at levels close to 2010, feed price outlook for the 2012/2013 marketing year are giving producers a hope for improved margins. Income over feed cost measures and increasing variable costs, other than feed, over time may cause decisions to be made concerning longevity of operations over the next few months. However, the period of tightened margins are not expected to last or reach the levels of 2009 due to continued, retained global demand and slowing production in the coming summer months. Financial viability, working capital, net worth, and debt load should be closely monitored with dairy operations moving ahead with the current and short-term tight margins.
June 2012