Dairy Farming in Lithuania
Stuart Lumb writes for TheCattleSite about a recent visit to Lithuania, where he visited the Litagra Group.
It's surprising what history can tell us - Lithuania was the biggest country in Europe in the 14th century but times have changed and Lithuania now has a population of just over three million, with many Lithuanians now working abroad, travel being relatively cheap thanks to the low cost budget airlines.

Lithuania is the biggest of the three Baltic States and shares her border with Poland, Belarus and Latvia. Lithuania was invaded by the Germans and the Russians during the 2nd World War and was the first Soviet Republic to declare independence in March 1990.
Liagra cows feeding
Litagra Group
My trip had been arranged by a Lithuanian colleague although I spent most of my time with a local livestock specialist who works with the Litagra Group.

Litagra is one of the country's largest feed companies, plus also has large arable and dairy divisions as well.

The countryside is quite flat and very fertile, growing excellent crops of wheat, barley, rape, sugar beet and grass, with much of the arable production being exported. Non nationals can't own land but there are ways round this and young Danes are coming to farm in Lithuania as they can't get on the farming ladder back home.

The country has a typically continental climate and so has very cold winters and hot summers. The last two winters have been very cold. Usually the snow comes before the frosts and so the winter crops are protected, but latterly the frosts have come before the snow, killing off a lot of the winter rape and wheat. The frost kill had been so bad in places that the fields had to be re- sown in the spring. This has got to be quite a problem with many farmers moving to spring sowing despite the lower yields.

Lithuania used to have 500,000 dairy cows but this has dropped to 350,000 as the smaller farmers have gradually left the industry. The average herd size, in common with most other countries, has increased, although ironically there are many subsistence farmers who have just one or two cows. When the Russians left Lithuania the state farm employees were given land in proportion to the number of years worked on the farms. Most of this land was sold off with just a small area being retained, sufficient for one or two cows which are tethered when grazing.

In contrast many large herds are housed in the former Russian state farms. These farms are immediately recognisable as they all have the same style of water tower, plus drab Soviet style buildings built of white bricks invariably with flat roofs – hardly practical in a country that gets substantial snow falls each winter.

The Litagra Group has over 2000 dairy cows and the farm that was visited was 2000 ha in size plus had a total of 900 females with 800 in milk.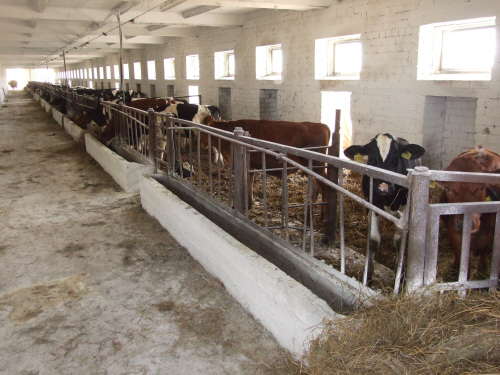 Old housing
Thirty staff work with the cattle whilst a similar number work the arable operation. Litagra bought the farm in 2002 which at that time housed 600 cows which were all tied up.

New stock was bought in, with the cows being a combination of Holsteins and local Lithuanian Red, zero grazed and now housed in cubicles, in batches of 80. The dung passages are solid and manure is removed by scrapers.

A large new cow house has blinds down the sides and being made of clear material double as windows and make the shed light and airy. The Lithuanian Red is a lower yielding breed but less prone to lameness. Even so all the cows are periodically run through a copper sulphate footbath, with contractors being employed to trim the cows' feet twice per year.Semen is sourced from Worldwide Sires and imported from the USA. Local vets are used to check pregnancy by means of a manual examination.

Maize and grass silage is fed to the cows using a Keernan feed wagon and rape straw has been used as a feed ingredient for the last three years. Grass is cut four times a year, in May, June, August and early October. Cows are milked twice daily through a side-by-side double 20 parlour, with the milk tanker making daily collections.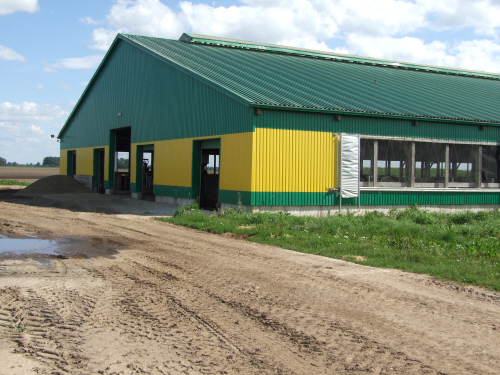 New housing
The Black and Whites average 8000kg per lactation whereas the Lithunanian Reds produce less milk (7500kg ). The somatic cell count stands at 250,000, which is considered satisfactory. (In comparison family farms which have around 150 cows average 11500kg per lactation).

There is a 40 per cent replacement rate at the Litagra farm, which would ideally be 30 per cent.

An even calving pattern is in place with cows calving on a regular basis the year round. Last summer was very hot and there were problems getting the cows back in calf and hence calvings this April and May will be lower than normal.

Calves are fed pasteurised milk with the bull calves being shipped to Holland and even Israel.

With concerns being expressed by the EU Welfare committee about animal transport, in future these calves may end up being shipped much shorter distances.

March 2012