Reducing SCC Delivers
High somatic cell counts (SCC) and clinical mastitis are costing dairy farmers money through a combination of co-op fines, losses in milk production, treatment costs and potentially higher culling rates. The Mid-Monaghan Dairy Discussion Group, centred on Ballybay, has 12 members who jointly decided to reduce their SCC levels, writes Trevor Dunwoody, Business and Technology dairy adviser for Teagasc.

"In December 2010, we decided to start a project addressing milk quality," says chairman Colm Quinn. "We formed a sub-committee to drive it and set an average monthly target of less than 200,000 cells/ml for the group in 2011."

With group average SCC under 200,000 cells/ml in six of the nine months from February to October and the average for May at 165,000 cells/ ml, the project was a success. So, how did they do it? "Working with Trevor and Padraig O'Conner, we agreed 10 key areas for members to focus on and a section of each monthly meeting was assigned to improving milk quality," says Colm Quinn.

Mid Monaghan Discussion
group SCC 2009-2011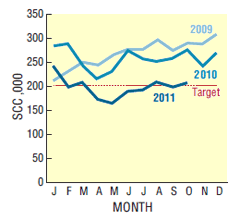 1) Annual milking machine service
The milking machine should be serviced and tested by a qualified technician at least once per year. This task should be completed in January, before calving starts in spring calving herds.

The machine test report is analysed and retained on farm for reference in the event of future problems. The test report should always include the vacuum level, vacuum reserve and pulsation graphs.

Machine earthing should be checked regularly to minimise stray voltage.

In addition, the milking operators have committed to completing some regular checks.

Daily check of vacuum gauge (47 to 50kPA for mid-level plants);
Daily checks to ensure claw air bleeds are free of dirt;
Daily check of rubber ware for leaks;
Weekly check of oil level in vacuum pump;
Weekly check of belt tension – should be 12mm (1/2 inch) play with firm thumb pressure;
At eight-week intervals, remove filters at vacuum regulator and wash in warm water;
At eight-week intervals, flush long pulse tubes with warm water.
2) Liner change interval
The group agreed to change liners no later than 2,000 milkings.

Deterioration of liner condition reduces the speed and completeness of milking, increases teat end damage and increases the spread of bacteria. The example used was for a herd of 84 cows milked twice per day in a 12-unit swing over parlour.

In this case, there are seven rows per milking or 14 rows per days.

On this farm, liners should be changed every 143 days (2,000 milkings/ 14 rows per day).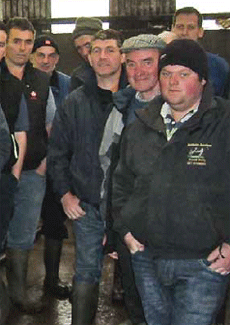 Group members include: Alo Duffy, Colm Quinn, John Coyle, Alan Nicholson, Billy Elliott, Cecil Forde, Michael Kerr, Martin Elarney, Peter Duffy, Patrick Corrigan, Seamus Brennan and Stephen Brennan.
3) Dry cow therapy
Members agreed to a detailed 10-point protocol on managing drying-off and dry cow therapy.
4) California Mastitis Test (CMT) kit
In January 2011, only one of the 12 group members had a CMT kit. All group members were encouraged to obtain and use a CMT kit. This is a 'cow-side' test, which can be used to identify sub-clinically infected quarters. The CMT estimates the SCC of milk by measuring the degree of thickening when a reagent is added to the milk sample. A positive reaction indicates a high SCC in that quarter. This kit is used in conjunction with milk recording reports to identify infected quarters and prepare a treatment plan.
5) Cow hygiene
While outdoors, entrances/exits to and from paddocks and all roadways are kept as clean and dry as possible. When indoors, a dry lie is maintained at all times. Cubicle beds are cleaned daily and new bedding applied as necessary. At calving, cows have a clean dry environment at all times.
6) Milking routine
The group members underwent milking routine training with Padraig O'Connor, Teagasc Grange. At this training session, he outlined best practice for cow preparation and cluster changing.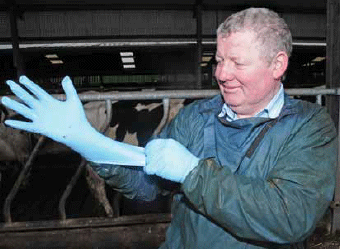 Preparing the cow:
Where teats are clean a dry wipe is sufficient;
Where teats are dirty, they should be washed with tepid water from a running hose and dried with disposable paper towels;
Draw two to three squirts per teat to check for mastitis;
The ideal lag time from the start of the milking routine to unit attachment is 60 seconds;
Prepare cows in batches of four/ five at a time and then put the clusters on those four/five cows;
Pre-dipping is a very useful way to reduce SCC – allow 30 seconds contact time and dry wipe. Avoid iodine-based dips, if pre-dipping.
Cluster changing:
Work from the front of parlour to the back of the parlour;
When putting on the cluster, make sure to have the long milk and pulse tubes at the cow exit side of you, so they are not in the way when moving to the next cluster;
Hold the cluster with the hand that is nearest the dairy. This means you will alter the hand holding the cluster, depending on what side you are putting on. This will help to avoid repetitive strain injuries and will also give you better reach;
Kink the tail of the liner when putting it onto the cows teat and also guide the teat into the liner with your finger;
Put the teat liners on in a circular motion;
Make sure the cluster hangs on the cow evenly – liner slip is minimised;
Remove cluster properly - (no air blasts and less mastitis);
Milk mastitis cows last, if possible, - to avoid cross infection.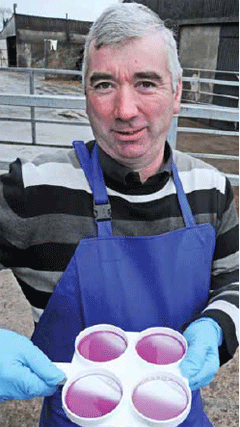 John Coyle with a CMT test kit.
7) Wear gloves
Nitrile disposable gloves can help reduce the spread of bacteria from milking operator to cow. Eight of the 12 group members were wearing gloves at milking. All are committed to do so in 2011. Gloves should be washed and disinfected regularly during milking. Used gloves are disposed off as waste after each milking.
8) Teat disinfection
Teat disinfection is one of the most effective cell count and mastitis control measures available, but only works if done thoroughly. Eleven of the 12 group members have used teat disinfection regularly. After milking, bacteria multiply on the teat skin and may extend into the teat canal. If the whole surface of the teat is disinfected immediately after milking, the establishment and spread of these bacteria can be minimised. Spray all teats of all cows as soon as possible after every milking. The recommended use level is 20ml per cow per application. Ensure the entire circumference of all teats is covered. A drop should be observed at the end of the teat (but this alone does not ensure that teats are sufficiently covered). If using a teat disinfectant that is not 'ready to use', then dilute daily as directed. If using a dip cup, wash daily or more frequently if contaminated.
9) Milk recording/ ICBF/co-op data
All 12 farmers in the group are milk recording and have access to the Problem Cow Report. This report identifies all cows in the herd that are currently, or have been at any stage, in their current lactation over 250,000 cells/ ml. An analysis of this report on one farm showed that removing the two highest SCC cows in the herd from the bulk tank would reduce SCC for the herd by 44% (from 260,000 to 147,000 cells/ml). Following each milk recording, the top five SCC cows are texted to each group member. Immediate action can be taken to treat the problem cows and discard this high SCC milk from the bulk tank.

All group members are signed up to HerdPlus. The Milk Quality Report is used to identify trends within herds in the group. The group use this to monitor SCC levels over the previous year and also identify the proportion of cows in each herd which are uninfected, recently infected, chronically infected or cleared of infection. This report allows a management plan to be drawn up for each farm.

Regular monitoring of co-op test results is a key element for each group member.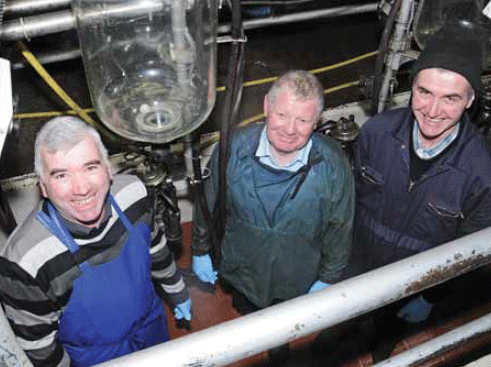 John Coyle, Alo Duffy and outgoing group chairman Colm Quinn.
10) Selective culling
All group members have agreed that selective culling of a small percentage of highest SCC cows will take place if the cow has a high average SCC over two lactations and where all other recommended practices have been put in place.
Benefits for the group
As well as the obvious gains from reducing SCC, Alo Duffy says that the group itself benefited. "When a group has been established for a number of years, a project like this can help rejuvenate interest. But it's vital that there is unanimous agreement that the project should go ahead."

John Coyle agrees: "You can only get the group really motivated if everyone is taking part. You also have to have plenty of trust in the group. If someone in the group has some very high SCC cows, they share that information at the monthly meetings and we will attempt, as a group, to identify where the problem is coming from."

The group is not resting on their laurels. "We want to build on our group success in reducing SCC by setting a new target of 150,000 cells/ml," concludes chairman Colm Quinn.

March 2012