Managing Dairy with Regard to Milk Quota
The reality of the Milk Quota situation in Ireland is that many producers will have to adjust how they feed their cows this spring to minimise your exposure to superlevy (28 cent/litre), not only for this quota year, but the next quota year too, writes John Donworth, Teagasc Animal and Grassland Research and Innovation Programme.

After calving the cow needs energy for milk production and maintenance. Most comes from what she eats but a small proportion can be drawn from body fat, resulting in a reduction in body condition score.

In early lactation, energy needs change almost daily due to changes in milk yield and milk composition.

What level of dry matter intake will the cow achieve in the first few weeks post calving? Work carried out in Teagasc Moorepark from 2007 to 2011 showed how grass intake varies in the cow with each passing week post calving.

Grass intake is relatively low in calving weeks one and two and then increases by a kg per week up to week eight. Dry matter intake then levels off.

Heifers calving for the first time follow the same pattern but on average consume only 75% of the quantity of grass of mature cows. So, cows and heifers have low grass dry matter intake after calving but at the same time, their milk production is rising. Dry matter intake doesn't meet energy requirements and 'something has to give'.

A 550kg dairy cow mobilises 20kg of her own body fat (approximately 0.4 of a condition score). Obviously, her body condition score must be such that she can afford to lose the weight. Weight loss tapers off at week 11 post calving.

Peak production levels for the type of cow described above were 1.93kg of milk solids (28 Litres). This occurred in week eight of lactation. Heifers achieved a peak yield of 1.48kg MS also in week eight of lactation. Even with fat tissue mobilisation (the cow milking 'off her back'), a significant energy deficit remains. The cow will need concentrate feeding for at least six weeks post calving, seven to be on the safe side.

For cows with higher milk production potential, the gap between energy supply and demand is greater, thereby increasing the need for supplementary feeding.

How much to feed? This depends on the grass intake and the energy requirements. If high quality grass is available (1.04 UFL/Kg grass DM and intakes of 12-13 kg DM are being achieved) then three kg of a high quality concentrate with a minimum of 0.94 UFL (fresh weight) should be provided to meet the energy requirements.

It's not necessary to offer a high crude protein concentrate (13-14% CP) once cows are at grass full-time. Of course not all grass will have a value of 1.04 UFL/Kg DM. Poor quality grass will only have a UFL value of 0.84 UFL/Kg DM. Such swards will contain dead material reducing potential intake.

Options
So, from a milk quota point of view, what are your options in supplementing cows this spring?
Grass in the cow's diet will be the most critical factor. Use spring rotation planner to allocate grass.
If you have the milk quota/cow and if your target peak yield is 1.8-1.9kg milk solids (28 litres) then you can achieve that with the following options:
»Scenario 1 – 13Kg DM grass, no grass silage + 3.5Kg concentrates.
»Scenario 2 – 12Kg DM grass, no grass silage + 4.5Kg concentrates.
»Scenario 3 – 8Kg DM grass, + grass silage + 6Kg concentrates (cows in by night).
If lack of milk quota is a problem and you wish to target a peak yield of 1.5-1.6 kg milk solids (22 litres), you can achieve this yield with the following three options:
»Scenario 1 – 14Kg DM grass, no grass silage + 1Kg concentrates
»Scenario 2 – 12Kg DM grass, no grass silage + 2Kg concentrates.
»Scenario 3 – 8Kg DM grass + grass silage + 4kg concentrates.
If grass has to be replaced with silage, high quality round bales are the obvious choice.
If weather conditions don't allow for grazing, then cows will have to eat more silage. The quality of this silage is important. If it is less than 70 DMD, then cows will need an extra 1-2 kg of ration.

An alternative to reducing concentrate feeding rate is to feed a ration with a low (12-13%) protein content. The fact that it is low in protein means that you won't get the same kick out of it, but neither will you lose ???? esh off cows. This is true when cows are indoors, but when grazing full-time the effect of dropping the protein in the ration on milk yield will be less.

Cows fed indoors on five Kg per day of a low protein ration with 72 DMD grass silage will drop approximately 2.5 litres of milk per day compared to seven Kg of an 18% CP ration. Milk protein can take a hammering depending on how good or bad the silage is. Keep an eye on cow condition. Dropping the protein in the ration while maintaining high energy will be important to help keep condition on cows.

Mineral levels should be increased to match the feeding rate, check with your feed supplier.

Once-a-day (OAD) milking.
Yes, it is certainly an option but should only be used in herds with an SCC level of under 150,000.

Research in Teagasc Moorepark on cows yielding 6,500 litres showed that milk yield dropped from 31.9 litres to 24.1 litres in the first four weeks of lactation.

This is a reduction of 24% in milk during that period. No concentrate feeding will be required where cows are milked once a day.

After the four week period on OAD, all cows were milked twice a day through the rest of the lactation.

Total lactation yields were down 9%. Milk proteins were higher and fats were similar. Mastitis was not an issue.

Feeding Whole Milk to Calves
In a calf ad-lib feeding system, forty calves can consume a little over 500 litres of whole milk daily.

Milk must be treated with acid or yoghurt to prevent scouring and it must be available at all times of the day.

It is important, however, to ensure that each calf is eating 0.75kg of concentrates per day at weaning; otherwise liveweight set-backs will occur.

Feeding whole milk to yearlings may be an option on some farms. Animals may be offered a maximum of 10 litres per day in three feeds; five litres of milk is equivalent to one kg of barley.

However, feeding management is critical and small groups are best for even intake.

Grass Dry Matter Intake in Early Lactation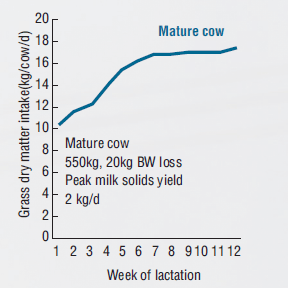 Energy Requirements Versus Intake (Grass)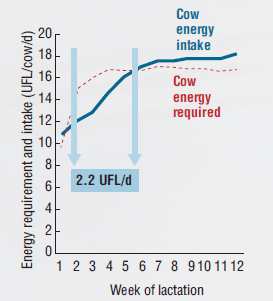 March 2012