DairyCo UK Dairy Market Update: Butter Markets Weaken
In Dairy Co's monthly update, farmgate milk prices in the UK are at a similar level to Actual Milk Price Equivalent and US producers are shifting to larger herds.
Butter markets weaken further
Latest UK wholesale prices continue to show the butter market weakening. A February price of £2,800/tonne is down £100/tonne (3.4%) on the previous month. This is also £700/tonne (20.0%) down on the previous year. Cream also saw a fall in price, from £1,230/tonne to £1,180/tonne.

Price movements have followed those on the continent with commentators suggesting that there is adequate supply. In addition, Private Storage Aid (PSA) has attracted less interest than anticipated after applications opened in the middle of February. One reason for this is likely to be market sentiment going into the summer. Some European futures contracts have listed prices for July at €3,200/tonne (approx. £2,700/tonne). With reduced rates for product going into PSA, there is a feeling that sellers will want to sell product now rather than store it and sell later in the summer.

As a result of the fall in butter and a £50/tonne fall in SMP, the Actual Milk Price Equivalent (AMPE) reduced by 1ppl between January and February to 28.0ppl, the lowest value seen since November 2010. The January Defra farmgate price of 28.84ppl was 0.13ppl less than the January AMPE. In June 2011, the average farmgate price was 8.54ppl less than AMPE.

In context

The Defra average farmgate price is now at a similar level to AMPE. While the farmgate price is likely to ease (due to seasonality), it is possible that the Defra average farmgate price for February could be higher than AMPE. This would be the first occasion since February 2010, when the farmgate price was 0.1ppl higher than AMPE. Prior to this, the last occasion was during 2009. Although wholesale markets are fragile, there is still plenty of competition amongst GB milk processors to secure milk supplies which should be positive in terms of the farmgate price.
US milk production shifting to larger herds
A report from the US Department of Agriculture and National Agricultural Statistics Service shows a shift in milk production towards larger herds. The number of dairy operations (any place having one or more milk cows) declined by 4% in 2011 compared with 2010 to 60,000.

Operations in excess of 1,000 cows saw an increase, from 1,680 in 2010 to 1,750 in 2011. As a result, herds with 1000+ cows now contribute more than 50% of total milk production. The largest increase was recorded in operations with over 2,000 cows; up by 5.3% to 800 in 2011. The largest decline was seen in farms with less than 200 cows, down 4.7% over the year, from 55,200 to 52,600 in 2011. Their share of milk production slipped from 26.5% to just 24.5%.

Similar trends have been seen in the UK, with herds of less than 100 cows declining, and larger herd numbers increasing. RPA data illustrates that in the 2000/01 milk year; 17,663 dairy farmers had quota of less than 0.5m litres, equivalent to a herd of less than 100 cows. This accounted for 30% of total quota. By the 2010/11 milk year, there were just 5,765 dairy farmers with a quota of less than 0.5m litres and these producers only made up 12% of total quota. Conversely, the number of dairy farmers producing more than 2m litres (equivalent to 250+cows) increased from 414 to 1,338 over the same period. This meant herds holding more than 2m litres of quota accounted for 29% of total quota. However, with many farms producing milk without full quota cover, this figure is likely to be much higher.

In context

This report has shown that the US has passed a milestone with the majority of milk now produced from larger scale farms. While there has been some movement towards this in the UK, it has not been straight forward. Environmental concerns have often constrained farm expansion.
2012 Guide to Milk Buyers published
The updated DairyCo Guide to Milk Buyers looks at how Britain's major milk buyers do business. It covers procurement, production, market performance and headline financial performance for the 2010/11 milk year. It provides an evaluation in the performance of major milk buyers and how they adapted and responded to market conditions during the year. It also provides a review of strategies followed by the companies allowing readers to gauge their potential to offer a secure future to their milk suppliers.

Some of the key trends identified in the review point to how milk buyers deal with the challenges and opportunities facing the dairy industry such as: procuring milk supplies; securing market access and; the methods used to enhance competitiveness.

Processors increasingly purchase milk direct from farmers to ensure they have access to delivery and quality features needed to meet the needs of the market. There is also a growing importance on developing long term relationships along the supply chain. Improved communication regarding market performance and on-the-ground support to direct suppliers is aimed at enhancing on-farm efficiency and profitability, which in turn should provide buyers with a stable supply base.

Securing access to key market sectors has also become increasingly important in order to ensure future growth. The strategies taken by milk buyers such as: direct investment, strategic partnerships or acquisitions to expand market access differ depending on the sectors they are involved in.

In context

Investments to increase capacity and production efficiencies are necessary although it should be aligned to market demand. Over-investment could be detrimental if it leads to excess capacity and increased price-competition in the market.

Investments need to be in those assets which provide processors access to markets which are growing and able to return sufficient margins for financial security and continued growth. The individual Company Reviews and the summary Guide to Milk Buyers can be downloaded from: www.dairyco.org.uk/datum.
Double cream leads the way
In the latest quarter, the total cream market has seen the value of sales grow by 8% year-on-year (YOY) to £84.7 million. Double cream represents a 41.7% share of value sales with strong growth of 12.6% YOY. Looking at volumes, 31.3 million litres of cream were sold in the latest quarter a 3.2% increase YOY. Double cream accounted for a 45.5% share of volume sales in the quarter with growth of 7.6% YOY. This is a share increase of 1.8% compared with the same quarter last year. The increased volumes are due to increased buyer numbers and shoppers purchasing more double cream more frequently.

Synthetic cream (such as Elmlea) is also seeing strong growth of 9.2% contributing an additional 412,000 litres to the category. The most significant losses are from whipping cream (-13.9%, -175,000 litres) and single cream (-3.6%, - 149,000 litres).

Like many food categories, the cream market has seen a significant increase in retail price over the last year. Overall the average price of cream has increased by 12p to £2.70 per litre in the latest quarter. Looking at sub-category level, sterilised and synthetic creams were the only types not to see a price increase. The most significant increase was for clotted cream (up 50ppl YOY) with single cream up by 22ppl YOY. Single cream is the third largest sub-sector of the cream market and has seen volume sales decline as a result of reduced buyers which could have been as a result of the price increase.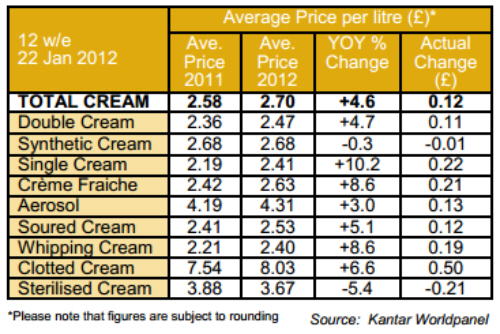 March 2012