February 2012 Global Market Update
The global economy is losing momentum amid concerns that the Eurozone is on the brink of a second recession in three years, according to the Dairy Situation and Outlook by Dairy Australia.
Global economy
Both the World Bank and International Monetary Fund have cut growth projections and warned that the global economy is potentially heading towards another crisis.

The IMF has lowered global economic growth forecasts, even in the emerging markets that have helped drive economic expansion, such as Asia and Latin America. Consumer demand is generally weak as highly indebted consumers in the West can no longer afford to fuel emerging markets' export-led growth.

Many emerging markets are export-driven, and highly sensitive to currency movements and commodity prices. Vulnerability to a second global crisis may be greater than in 2008, since developed nations don't have the fiscal resources they had previously to support their economies and maintain trade. Emerging market growth will slow in 2012 but still outstrip growth in developed economies.

Exports to the Eurozone from key trading partners such as China have shown double-digit declines in recent months, Given that Europe and North America are major trading partners of China, a slowdown in these regions will affect Chinese exports and growth, ultimately flowing through into Australian commodity exports.

In January, Standard & Poors cut its ratings of nine Eurozone countries including France, whose triple-A rating was downgraded to AA+. France had been rated AAA for the previous 36 years. This downgrade will increase the cost of debt for the government.

Should Germany's export orders slow, Europe's largest economy may also struggle to avoid a recession.

The US economy is expected to stagnate this year in the face of fiscal tightening, a likely European recession, and ongoing policy uncertainty around November's presidential election. US economic recovery is likely to remain feeble until the housing market shows signs of recovery. Another round of quantitative easing is a possibility, specifically targeted at the housing market. Retail and employment data is improving and the Federal Reserve is promising to keep interest rates low until late-2014.

China's export-oriented economy has been slowed by softer export demand and a big downturn in the property market. Combined with monetary tightening to gently slow growth, this has resulted in China's economy growing at its slowest pace in two years.

Japan is mired in deflation and struggling to overcome the economic shock of the earthquake and tsunami last March.

Interest rate cuts and expanding domestic demand should underpin growth in Brazil's economy. Brazil, which recently overtook the UK to become the world's sixth largest economy has boomed on the back of exports to China and the far east.

Turmoil in the Middle East is causing serious economic risks as regimes in Syria, Yemen and Iraq remain under threat, and tensions between Iran and the West continue. This ongoing instability suggests that high oil prices will continue, potentially curbing global growth.

Contribution to Global Growth 2000-2011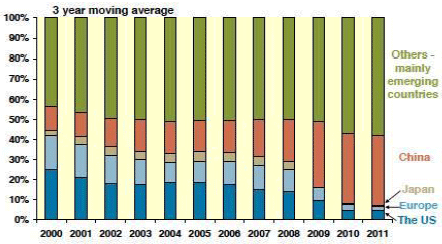 Global demand
While ongoing economic uncertainty has subdued demand growth, easing commodity prices have encouraged buyers to reenter the market, providing stability.

Global dairy export volumes slowed as the year progressed. For the ten months to October 2011, exports were 8.6 million tonnes, down 2% compared to the same time in 2010. Global WMP and SMP exports increased more than 150,000t to Mexico and Algeria for SMP and Algeria and China for WMP. However, global exports of condensed milk, protein concentrates and cheese decreased.

Trade data indicates most of the drop in global protein trade is due to a reduction in Brazilian milk protein exports to Europe, (which were being re-exported). Strong demand within Brazil has increased domestic prices and made export returns less attractive. Population and income growth are the driving demand growth in Brazil.

Dairy consumption in other South American countries is also growing. Consumption growth of 1-2% is expected in Argentina, and increased tourism is supporting consumption in Uruguay.

Chinese WMP imports slowed in the second half of 2011, finishing the year down 1.8% on 2010, to 320kt of WMP. However, Chinese total dairy imports increased more than 20% (almost 184kt) to a little over one million tonnes. WMP now comprises a smaller proportion of overall dairy imports, possibly because of a changing product mix and diversification of ingredient requirements. China will continue to import significant volumes of dairy product to fulfil its demand for dairy that is fuelled by increasing incomes, improved storage and distribution capabilities, and desire for Western style products.

The demand impact of the Arab Spring in the Middle East and North African region has been mixed depending on product category. However, trade data suggests that overall dairy imports have been steady.

China Qtly WMP Imports (Tonnes)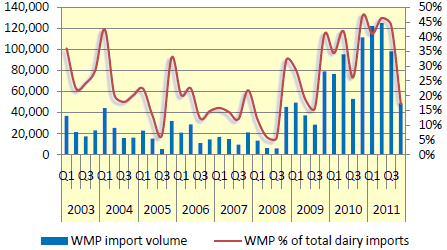 SE Asian demand is generally steady, however flooding in Thailand has closed some local dairy business. Thai demand is expected to pick up as manufacturing plants reopen and production resumes.

While a significant drop in dairy consumption in the EU has been a concern, it is yet to materialise. EU dairy consumption has been supported by consumer desires to consume 'natural' products like dairy.

US consumer demand continues to be largely unaffected by difficult economic conditions, consequently US retail prices are not decreasing as fast as wholesale prices.

In France consumption of cheese and fresh dairy products has increased while the ongoing trend of reduced butter and milk consumption has continued.

German consumption of cheese and fresh dairy products has also been steady due to low unemployment and strong exports supporting incomes.

Global supply
Europe
European milk production for the year to November 2011 was 123.3bn litres, up 2.1% on the same period 2010 (120.8bn litres). EU farm-gate prices remained strong for the year explaining the robust production in a number of key production regions.

Germany is the EU's largest milk supplier and it's production for the year to November 2011 was 2.4% above the same period in 2010.

France's milk production increased by 4.9% for the year to November 2011 compared to same period 2010.

The UK's first 11 months of production in 2011 was 1.6% above 2010 levels. These high levels are predicted to carry into 2012, with production forecast at around 1% higher than 2011.

The Netherlands is the fourth biggest EU supplier and it output for the year to November 2011 was 1.5% higher than 2010.

While cold conditions in Europe and quota concerns have the potential to constrain early spring production, milk deliveries are still expected to grow by 1.5 to 2.0% for 2012, which is a similar growth pattern to previous years.

Average EU 27 Milk Price and Milk Deliveries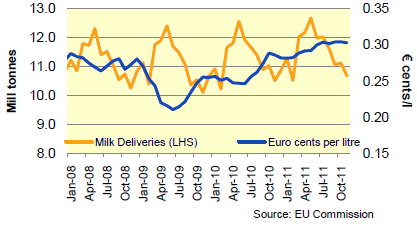 United States
Total US milk production for calendar year 2011 was 86.4bn litres, a 1.8% increase on the 2010 total of 84.91bn litres. The strong 2011 output growth was driven by an increase in the number of cows in milk as well as higher productivity per cow.

Production growth had slowed from April to July, but ramped up quickly as both cow numbers and cow production yields rose toward December. Policy factors may also influence production decisions, as farmers position themselves for possible changes in government support.

Despite the number of cows being culled increasing by 3.8% from 2010 to 2011 (the most since 1997), the US has an abundant supply of heifers. Over the course of 2011, the US herd increased 80,000 head to 9.2 million cattle. US milk production is forecast to increase a further 1.2% to 87.4bn litres in 2012.

Average US milk prices for January are still significantly above prices this time last year, but decreasing wholesale dairy prices signal a more negative farm gate milk price outlook in 2012.

US feed prices remain well above average. January hay prices were around US$170/t, - US$60/t higher than the same time last year. Corn prices were also up more than 10% compared with January 2011, maintaining pressure US farmer margins.

US Milk: Feed Price Ratio and Average Milk Price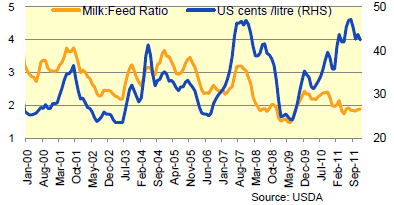 Australia
Australia's milk production is 3.6% ahead of last season for the six months to December 2011 at 5.6 billion litres.

The 2011/12 season started slowly with very wet conditions in southern Victoria. However, drier and warmer weather did arrive in mid-spring and milk production lifted strongly. The inland irrigation regions in northern Victoria and southern NSW are enjoying the best conditions for many years; while the Tasmanian milk flow has continued the strong growth trend of recent months.

DA's current forecast milk production is for growth of 3 to 4% to between 9.4 and 9.5 billion litres in 2011/12.

Dairying conditions are generally very positive around most of the country; with plentiful water, good quality pasture, and wellpriced grain available. On-farm hay and silage stocks are plentiful in many dairying regions, although quality varies. Milk prices remain relatively strong - the milk to grain price ratio is positive and expected to remain so for some time.

Milking cows remain in short supply, and continue to constrain production growth. Retention rather than export of 2011's spring calves will be critical to maintaining production growth into future years.

New Zealand
New Zealand milk production is tracking around 9% ahead of last season, (for the period June to November).

New Zealand milk production for the 2011-12 season is forecast to increase by around 8-10%, driven by strong growth in milking cow numbers and higher milk output per cow. Good rainfall across most of New Zealand has maintained soil moisture levels, promoting good pasture growth through the summer months.

The weather forecast for February-March is for normal rainfall levels for most of the North Island, and the far north of the South Island should be around normal rainfall or above.

South America
For the calendar year to November 2011, milk production in Argentina rose by 12.6% compared with the same period in 2010.

Milk production in Brazil grew 3.5% between January-September 2011. However, adverse weather conditions have hampered Brazilian dairy production. The country's southernmost state - Rio Grande do Sul – is experiencing a severe drought, whereas heavy rains are impeding leading dairy state, Minas Girais. Robust local demand coupled with production problems early in the season has restricted dairy exports from Brazil.

Uruguay's 2011 milk production is set to increase 19.7% over 2010. Chilean estimates are for the year to finish 5-6% ahead of last year.

China
Milk production for 2012 is forecast to increase by 4.5% in 2012, reaching 31.2 billion litres.

China's milk yields are typically lower than those in the West due to poorer quality dairy herds resulting from inbreeding and over-use of antibiotics.

The Chinese government plans to double internal milk production by 2020 to 62.14bn litres. However demand is likely to outstrip supply for the foreseeable future.

India
Milk production is forecast to be 118bn litres in 2011, which is up 4.9% on the 2010 figure of 112.6bn litres.

In 2012 production is expected to rise 4% year on year. This is in line with the average 4% growth per annum experienced over the last 18 years, and is unlikely to generate an exportable surplus.

February 2012