Global Dairy Outlook: Farm Returns Improved
The global dairy market will offer strong growth prospects in the coming five years, but the uneven spread of this market expansion and an era of elevated pricing will create as many challenges as opportunities for key players along the dairy supply chain. This is one of the key conclusions coming out of the Rabobank Food & Agribusiness Research and Advisory report, "Global Dairy Outlook: Show me the money".
A fair return for effort?
Most outside observers, and indeed many investors familiar with agricultural commodity price shifts, assume that dairy farmers must be making a killing these days. The truth is less spectacular, and certainly more nuanced.

Farmers in most regions are certainly receiving fatter milk cheques than they did before 2007. The boom in global commodity prices has fed through to higher milk prices in all regions (see Figure 3.1). This is the case regardless of whether milk is used to manufacture export products or is consumed locally in domestic markets, due to increased links between regional markets since 2006.

However, a significant share of the increased revenues seen by farmers after 2007 has been eaten up by a sharp increase in costs (see Figure 3.2). In particular, the costs of feed, fertilisers and oil have exploded in recent years, while the costs of regulatory compliance have continued to mount. This cost inflation has well outstripped productivity gains, pushing up the cost of producing each litre of milk.

Farmgate Milk Prices (USD Equivalent), Select Regions, Jan 2003-Oct 2011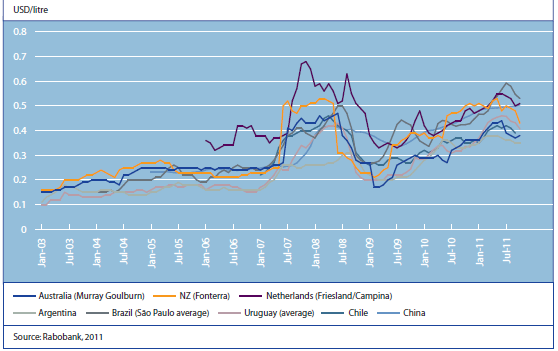 As a result, while few farmers have gone backwards in recent years, most have seen only modest improvements in operating margins compared to the pre-commodity price boom era (see Figure 3.3). With a strong increase in operating margins, New Zealand is a key outlier due to its low reliance on purchased feed (limiting operating cost inflation) and the particularly high returns its cooperatives have been able to extract from world markets.

Where operating margins have improved, the future benefit of this improved profit stream has been partly capitalised into the value of assets and particularly the value of land. As a rule, the greater the increase in profit margins in recent years, the greater the escalation of land prices.

Land value appreciation is clearly a good thing if you have owned land for some time and are looking to sell. However, for those who are looking to acquire more farmland or enter dairying for the first time, the amount of capital required is considerable: many will have to take on a lot of debt to finance it, and the profits they need to make on any given acre of land need to be higher to justify the higher land price.

Whether due to increased operating costs (common in intensive feed regions) or asset appreciation (common in pasture-based regions), most farmers have seen little improvement in their return on assets in the post-commodity price boom world. Moreover, the return on assets is reasonably modest in comparison to what investors would commonly expect from alternative asset classes over time.

The general lack of improvement in the ROA for dairy farmers is particularly striking given that other aspects of the investment look decidedly less attractive these days. For one, the volatility of profits is far greater, particularly in intensive feed regions, where feed price variability exacerbates the challenges of milk price volatility. The skill required to manage a dairy farming business is also significantly greater due to the market volatility, tightening on-farm regulation and increasing climate variability. Furthermore, the scope for and likelihood of capital appreciation of assets is far less certain given recent land price jumps and a new awareness of risk on the part of investors and their financial supporters.

Cautious engagement required
Land Price Changes, Selected Regions, 1998-2010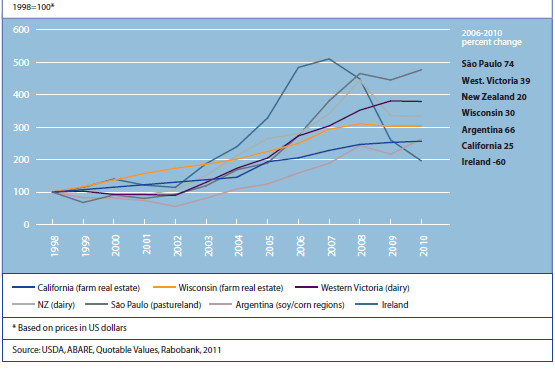 Several important implications can be drawn from the global dairy outlook and position of farmers in a high but volatile pricing environment. Demand growth in milk deficit regions will provide additional opportunities to expand beyond local market requirements in a variety of export regions. A narrowing of the differential between the costs of producing milk in different regions in recent years makes the performance of cooperatives, and hence the milk price they can pay, more crucial than ever to profitability. The risk/return trade-off for on-farm investments warrants careful assessment: there are profitable opportunities for farmers and/or investors, but supernormal profits are hard to find, and it is a harder business to manage than used to be the case. This reality will in turn affect the rate of on-farm investment around the world, whether by directly impacting farmers' appetites, or the appetites of financiers to support their investment plans.
Operating Profit Margin Measure and Return on Assets Measure, Selected Regions, 2006-2011e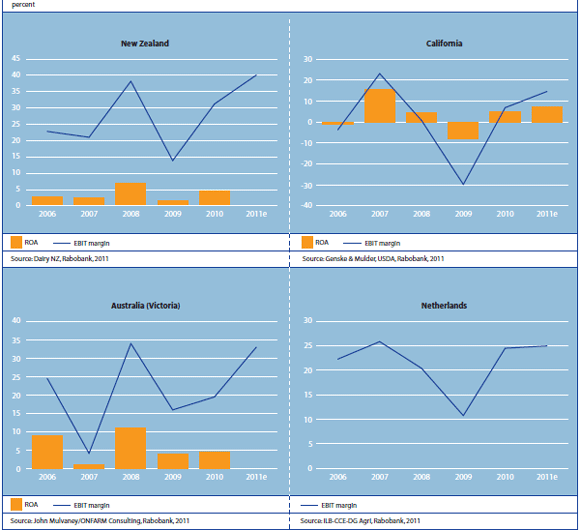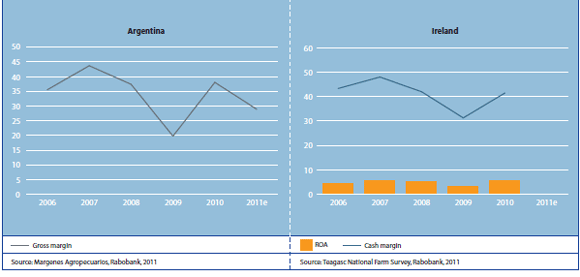 February 2012