Global Dairy Outlook: Attractive but Unbalanced
The global dairy market will offer strong growth prospects in the coming five years, but the uneven spread of this market expansion and an era of elevated pricing will create as many challenges as opportunities for key players along the dairy supply chain. This is one of the key conclusions coming out of the Rabobank Food & Agribusiness Research and Advisory report, "Global Dairy Outlook: Show me the money".
Solid global demand growth expected
At the global level, recent years have delivered a notably slower period for dairy consumption growth.

A variety of factors have been in play, some of which were broad based and economic, such as the rapid rise in the cost of dairy in 2007/08, the global financial crisis of 2008/09 and the subsequent slow economic progress in many regions since then. At the time of writing, many key markets in the developed world were again experiencing stagnation, if not contraction, as economic troubles and high retail prices bit.

Other factors that have slowed consumption growth in recent years were more localised and related to climate or food safety. Two notable examples are the Chinese melamine crisis of 2008/09 and the Pakistan floods of 2010.

The advent of such slow consumption growth in an era of elevated commodity prices reinforces a message that Rabobank has been outlining for some time: the destiny of the global dairy industry, at least for the medium term, is to see market growth constrained by supply availability and costs.

Even so, the events in China and then Pakistan sliced a huge chunk of growth from the market, and as 'extraordinary events', they arguably distorted what was going on in the market more generally. Trend growth in these countries from 2008 to 2011 would have seen far stronger global consumption during this period.

Rabobank expects a significant improvement in actual global consumption growth over the medium term (out to 2015), with a CAGR for sales volumes of around 2.4 percent in milk equivalent terms (see Figure 1.1).

As outlined in detail in previous reports,1 this assumes a combination of population growth and urbanisation, rising incomes, dietary shifts and government and corporate promotion. It also assumes no extraordinary events of the scale and impact seen in China and Pakistan in the last four years.

The forecast growth rate is not only an acceleration of that evident in recent years, but is to a large extent the envy of the food world—with most key categories of food and beverages likely to face slower growth. But while this represents attractive growth, it will be unbalanced, both geographically and at the product level.

Divergent prospects for developed and emerging countries
Global Dairy Demand Growth: Historic and Forecast CAGR, 2002-2015f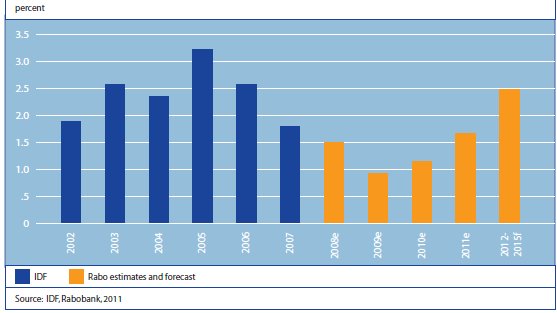 At the regional level, Rabobank foresees an increasing divergence in the prospects for developed and emerging countries (see Figure 1.2). Emerging countries will see strong annual growth in dairy consumption (commonly 3 percent to 5 percent), buoyed by population growth, rising incomes, urbanisation, westernisation of diets and government and corporate promotion. China, India and South East Asia will be the leading lights.

Developed countries will see low growth in dairy consumption (commonly 0 percent to 1.5 percent) as population growth slows, incomes stagnate or fall, and dietary shifts largely work against dairy, influenced in particular by concerns over the perceived and/or actual health impacts of high consumption levels.

Emerging countries will not only fill the ranks of the fastest growing consumption regions, but they will also account for the vast majority of all growth expected in the market in volume terms. Emerging regions are expected to contribute 82 percent of the growth in the dairy market over the next five years, with 40 percent from India and China combined.

Cheese will further mature
The growth profile of dairy in the coming years is also likely to be uneven in product terms. Of particular importance, Rabobank notes that cheese sales are likely to be slower over the next five years than the last and to underperform the market more generally in terms of volume growth.
Market Size and Forecast Growth by Region, 2010 vs. 2015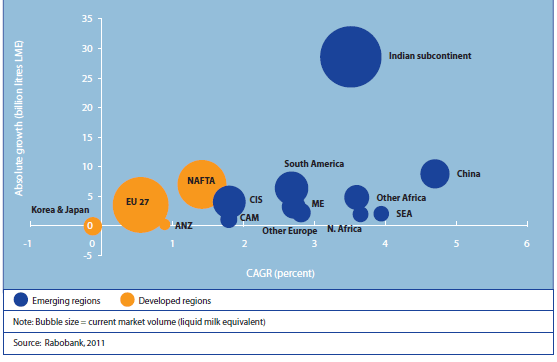 To a large extent, this is a case of being in the wrong place at the wrong time. Most of the world's cheese is still consumed in North America and western Europe. In these regions, growth in consumption has been slowing for some time, given heavy penetration levels, health trends, inroads by substitutes and a rapid escalation in costs. With population growth set to slow further and a period of economic stagnation ahead, the rate of sales growth is likely to be very modest over the medium term.

While emerging regions are expected to offer strong dairy demand growth in the coming years, it is worth recalling that dairy is a new addition to diets in many of these markets. Typically, the first dairy products to gain traction in such markets are liquid, powdered and/or condensed milk, dairy beverages, yoghurts and infant milk formula. Acquiring a taste for cheese typically comes later, and in many of these countries is still very rare.

There are nonetheless some exciting prospects for cheese growth in many of the world's developing markets. Several markets are expected to offer annual growth of 10 percent to 20 percent, with food-service use of cheese generally leading. The lack of cheese production facilities in many of these regions ensures that much of this will be imported. But such growth comes off a small base, and the volumes on a global scale are fairly small.

There are some key exceptions to this general rule—including Argentina, Brazil and parts of the Middle East—where cheese is popular, populations are large and growing and economies are on the rise. These will be coveted opportunities in the coming years.

With cheese use concentrated in slowing markets and yet to take off in most expanding regions, Rabobank expects global consumption to expand at only around 1.6 percent per annum out to 2015, compared to 2.5 percent per annum growth for all other dairy product lines combined (see Figure 1.3).

Expectations for modest growth for global cheese markets become particularly intriguing when compared to the prospects for whey, the former problem child turned prodigy of cheese manufacturing (see Box 1.1).

Demand will be heavy where milk is short
Another feature of the growth profile of global dairy demand in the coming years is that most of the additional product will be required in regions that are already short of milk, such as China, South East Asia and North Africa (see Figure 1.5).

In most of these regions, various combinations of inappropriate climate, reliance on imported feed and poor farming structures or techniques make it difficult to economically produce enough milk to satisfy 100 percent of local requirements. Efforts to import western farming systems into developing countries have often proved to be more difficult than anticipated.

Forecast Global Consumption Growth: Cheese vs. All Other Dairy (LME), 2008-2015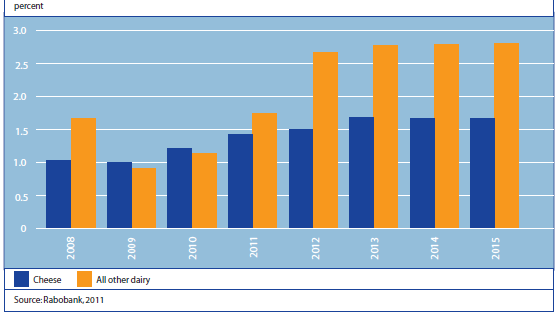 What if demand for whey grows faster than for cheese?

Rabobank expects to see strong growth for whey use over the medium term, particularly for higher end whey products (WPC80s, 90s, WPIs, etc). A variety of factors underpin our optimism:

Rising demand for nutritional products (including sports drinks and protein supplements), backed by health trends in the developed world and rising incomes and awareness of the benefits of dairy in the emerging world,
Product development by leading food and beverage manufacturers,
The nutritional and functional characteristics of whey,
Rising demand for infant milk formula (IMF), driven by rising incomes and rising female workforce participation in emerging countries,
The need for food and beverage companies to offer lower cost dairy products to unlock the demand potential of lower income regions, with whey ingredients one of the options to deploy.
While IMF is only one of many uses for whey products, comparing its recent and likely evolution with that of cheese highlights a key point (see Figure 1.4). Cheese and IMF markets expanded at similar rates in the early to mid-2000s, but these trends have diverged in recent years, with cheese (a predominantly developed country product) slowing and IMF (a predominantly emerging-country growth story) accelerating.

With demand for higher end whey products more generally likely to grow faster than cheese demand (and hence production) in the coming years, whey supply will be highly coveted. In the world's major cheese production regions, the EU and the US, around 80 percent of liquid whey is already further processed, with the balance largely uneconomic to collect. There are limited immediate options in other markets.

A significant share of this liquid whey is still used to make low value product. Sweet whey powder still accounts for 31 percent of liquid whey use in the US and 37 percent in the EU. This could in time be processed into higher value product, but is unlikely to occur quickly, and the extent to which it does only buys time. The whey market looks headed for a structural tightening.
Global Demand Growth: Cheese vs. IMF, 1999-2015f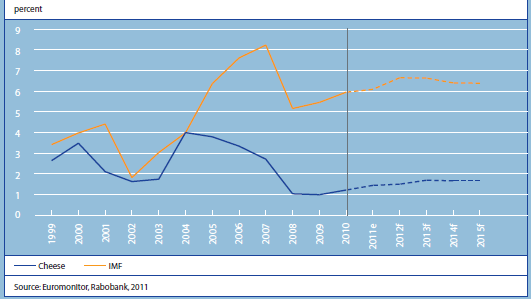 Market Size and Forecast Growth by Region, 2010 vs. 2015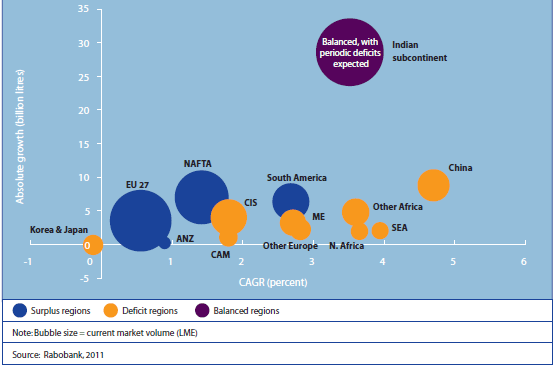 Supply constraints, rising costs of production and strong demand have driven the price of milk significantly higher in import regions in recent years (see Figure 1.6). As a result, in many cases, not only is local milk supply inadequate, but it is cheaper to import dairy products than to make them locally, even at recent commodity price levels evident on world markets.

With milk unlikely to become much cheaper in deficit regions in the coming years, demand for imports will rise further. Unfortunately for buyers, the costs of producing milk in export regions are also expected to remain high.

Farmgate Milk Prices (USD equivalent), Selected Regions, Jan 2005-Oct 2011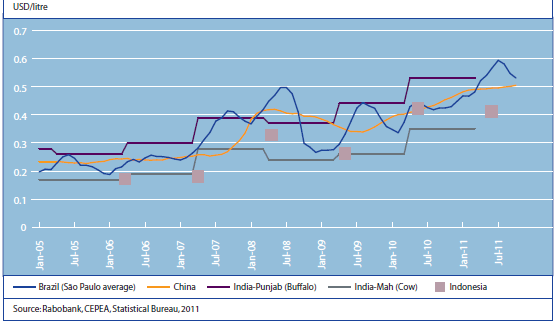 February 2012