Positive Outlook for Global Dairy
Fonterra foresees a positive outlook for global dairy markets. Long-term demand for dairy products is predicted to expand by 2-3 per cent per year. This year on year growth in demand is roughly equivalent to New Zealand's total annual production of dairy products.
Fonterra high level global market outlook
Beneath the strong global demand is a changing pattern of growth between markets. The developed country markets of North America and Europe are no longer the dominant drivers of dairy demand. Demand growth is now strongest in the emerging markets of Asia, the Middle East and Latin America. Fonterra expects approximately 160 million tonnes of additional dairy demand by 2020, but for only around 17 million tonnes of this to originate in the EU, US and Canada. Growth in dairy demand from India and China alone is predicted to be 4 times higher than that of the EU, US and Canada.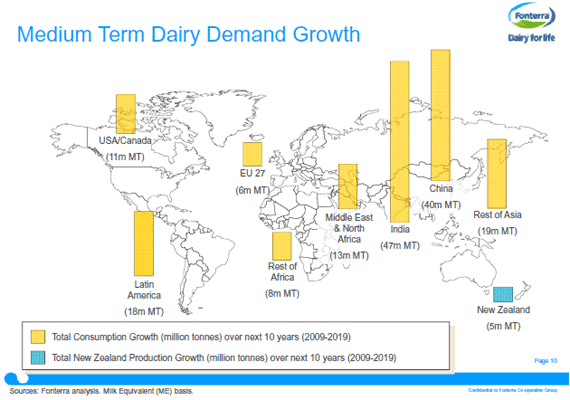 Meeting this demand growth will need both increases in local production and in expanded dairy trade. Opportunities will exist for competitive dairy producers.

Supply of dairy products from New Zealand is expected to expand in line with the long-term average growth rate of 2-3 per cent per annum. This growth rate will vary between dairy production years due to climatic influence. Global dairy demand growth will far exceed New Zealand's dairy supply growth. By way of illustration, the demand growth for dairy products expected in India in the next 10 months will exceed New Zealand's dairy supply growth in the next 10 years.

The challenges that sit alongside the growth opportunity
In recent years there has been a greater incidence of convergence in European, US and 'rest of world' dairy prices. At the same time, increased price volatility has become a feature of the world dairy market. This is expected to continue.

Increased price volatility is not unique to the dairy market. All commodity markets experience volatility. The volatility we see now in dairy prices is normal. It was previously suppressed by Government support policies, such as the use of export subsidies and production linked farmer support payments. The volatility smoothing effect of these policies came at a significant cost. In the 18 months since dairy export subsidies were last used we have seen the average dairy prices reset at a new, higher, average price point.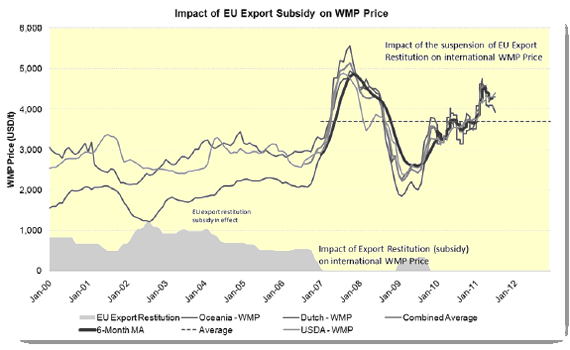 A degree of volatility is a healthy feature of agricultural markets. It is driven by imbalances between supply and demand. In line with basic economic theory, price fluctuations provide a price signal that market participants respond to, thereby enabling the market to rebalance. This drives not only short-term production and consumption responses but also efficient investment decisions.

Significant attention is being accorded to volatility in agricultural commodity prices. This attention comes from both policy makers and industry groups. Often the topic of agricultural commodity price volatility, and its impact on producers, is linked to food security concerns.

Fonterra considers that price volatility and food security are linked. The response we consider will best address volatility, will also address food security. This is a policy response that encourages investment in efficient food production to meet growing food demand; that supports food moving from areas of surplus to areas of shortage; that provides transparent market price signals to producers; and that supports the development of market-based tools to mitigate price risk.

Put more simply, Fonterra supports trade liberalisation and the development of marketbased price discovery tools and well functioning futures markets.

Significant steps were made to liberalise dairy trade in the context of the WTO Uruguay Round, but there is still a long way to go. Dairy remains one of the most highly protected sectors in world trade. The high level of protection is reflected in the fact that only 7 per cent of global dairy production crosses a border before it is consumed.

New Zealand long ago moved to fully embrace trade liberalisation and the global market. Would trade liberalisation also benefit efficient UK dairy farmers? We believe ultimately yes. Efficient UK dairy producers have significant potential to increase supply, but the growth in demand for this production is taking place beyond both the UK, and the EU borders. Concurrently, dairy market prices are already shifting to be global, and at a price point above the historic average.

Futures markets have also been blamed for driving price volatility. So why would Fonterra suggest they are a tool to support producers in managing it? We do not agree that there is a link between futures markets and volatility. There is significant discussion of the role of speculators. We prefer to think of these market participants as liquidity providers.

Fifteen years ago the monthly movements in dairy commodity prices were within a 50 dollar band. Today the price movement band for the same dairy commodities products can be up to 500 dollars. Faced with these potential movements sellers of dairy commodities are looking for a price risk premium when entering a three or six month supply contract. At the same time buyers look for a price discount. Futures markets and their participants operate between these two views; they share the price risk and facilitate sales occurring.
Fonterra's response
The picture outlined here is that there is strong dairy demand growth, which is largely happening outside of Europe and North America, which cannot be met by New Zealand production alone, and that price volatility is going to remain as an important, but healthy, challenge to market participants. So how is Fonterra responding?

The quick answer is by continuing to evolve our business strategy and by focusing on market signals.

Fonterra's New Zealand dairy production is increasingly complimented by non-New Zealand production. This supports Fonterra in meeting growing demand from global customers globally. It assists us in managing the impact of different climates and it enables Fonterra's dairy innovation knowledge to be leveraged in markets when exporting does not make sense. Alongside this more geographically diverse sourcing sits increased use of tools to manage price risks.

Bringing this back to the European context, Fonterra exports commodities to the European market in accordance with market demand for these products - changes in global market demand and price dynamics have made the pattern of these exports less regular in recent years. Fonterra is also working with European partners to export dairy products out of Europe. And we have recently formed a joint venture with FirstMilk, in the UK, focused on supplying manufacturing and selling whey proteins in Europe. This joint venture will combine the Fonterra and FirstMilk's manufacturing and product IP capabilities to meet demand for premium whey protein ingredients within Europe.

Why is Fonterra growing a functional dairy ingredient business in Europe when most of the demand growth is outside of Europe?

Europe is a sophisticated dairy market with changing consumer trends. Dairy is already highly integrated into European consumer diets and there is a strong understanding of the 'goodness' that dairy provides. At the same time consumer trends are changing. There is increasing appreciation of the dietary benefits of dairy proteins including for growth and development, for weight management and for healthy aging. Fonterra has expertise in this area and by combining our expertise with European dairy production we create value for our New Zealand farmer-shareholders, for European dairy producers, and for consumers.

Fonterra is also actively seeking to mitigate the price risks it faces by supporting improved price transparency and the development of well functioning, liquid, dairy futures markets. The globalDairy Trade Platform is increasingly recognised as an important a reference point for a range of dairy commodity prices. Fonterra is also actively using the risk management tools that futures markets, like the Eurex exchange, provide.
Final thought
It is a great time to be in dairy. The long-term holds significant opportunities for efficient producers. Success will be supported by a market orientated response.
January 2012