Effect Of DEMP On Fermentation, Digestion And Rumen-Stimulating Fermentors
G Harrison, M Meyer and K Dawson from Alltech looked at the effect of dietary escape microbial protein (DEMP) on the rumen, when replacing soybean meal (SBM).
Objective
Compare ruminal fermentation, digestion, and N flow in rumen-simulating cultures fed diets based on SBM or DEMP and formulated at 2 levels of ruminally degradable protein.
Experimental Protocol
Twelve (12) cultures were used in a 2 X 2 factorial design with 4 treatments and 3 replicates per treatment.
Cultures were charged with approximately 1000 ml of ruminal fluid strained through 4 layers of cheesecloth and collected from a heifer fed a 70 per cent forage diet (DM basis).
Cultures were fed 25 g (as fed) of experimental diets for 6 days.
The flow rate for modified McDougall's artificial saliva solution without urea (70 per cent buffer solution and 30 per cent tap water) was maintained at approximately 45 ml/hr.
Experimental diets and calculated nutrient composition is shown in Table 1.
Inclusion rate for DEMP was equivalent to 600 g DM at 22.7 kg DM intake and DEMP replaced primarily soybean meal.
Culture pH and ammonia concentration were measured immediately prior to morning feeding on d 4-6. On day 5, pH was measured and a 1 ml sample collected for ammonia at 0, 1, 2, 4, 6, and 8 h postfeeding.
Effluent samples were collected on d 4-6 with samples composited and freeze-dried for calculation of DM and NDF disappearance. Samples for VFA analyses were collected at the same time points.
Bacterial cells from each culture (separated by centrifugation) were freeze-dried and analyzed for DM, N, and purine. Freeze-dried effluent samples analyzed for DM, N, and purine.
Data were analyzed as a 2 X 2 factorial design using the GLM of SAS. Orthogonal contrasts were used to separate effects of RDP level and N source.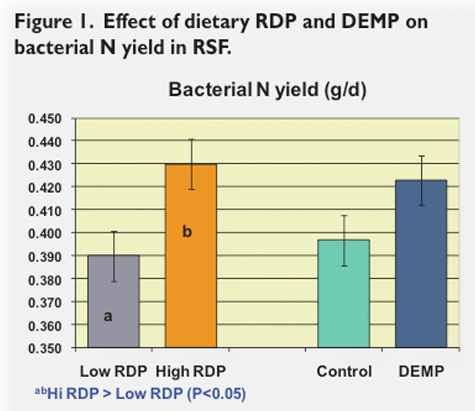 Results
Cultures fed DEMP diets had lower isoacid molar proportion (P<0.05) and lower ammonia concentrations compared to those fed SBM (P<0.10) (Figure 1).
Bacterial N yield tended to be greater in cultures fed DEMP (P<0.15) and efficiency of bacterial N production based on true DM digested was greater in DEMP-fed cultures (P<0.10).
RDP level did not affect digestion (P>0.10) but did alter fermentation and N flow.
Higher RDP cultures had more acetate (P<0.01), less propionate (P<0.05), and less isoacids (P<0.01) on a molar proportion basis.
Cultures fed higher RDP diets had higher ammonia concentrations (P<0.001) (Figure 2).
With regards to N flow measures, higher RDP diets produced more bacterial N (P<0.05), had higher proportion of effluent N from bacteria (P<0.05), and produced bacterial N with greater efficiency based on both truly digested DM (P<0.01) and fermentable CHO fed (P<0.05).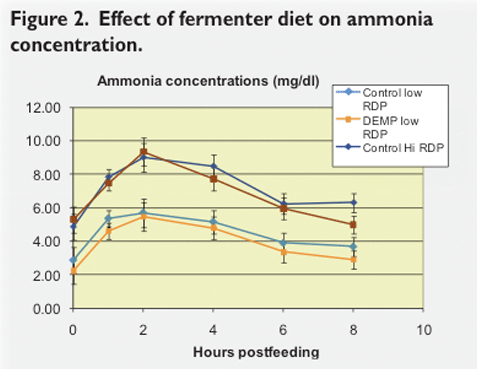 Summary
The primary objective of this experiment was to evaluate effects of DEMP replacement of SBM on ruminal metabolism in diets formulated for low or high RDP.
Replacing SBM with the equivalent of 600 g of DEMP had no impact on ruminal fermentation.
Replacement of SBM with DEMP resulted in numerical improvements in both low and high RDP diets (+5.1 and +7.4 per cent, respectively).
The increase in measured RDP was similar to the calculated dietary RDP and did translate into a 10.3 per cent increase in bacterial N in the higher RDP diets.
The inclusion of DEMP in higher RDP diets resulted in more protein degraded and a greater proportion of effluent N from bacteria compared to SBM-based diets. However, this was not the case when DEMP was fed with lower RDP (interaction; P<0.05). These interactions suggest that DEMP may have a more positive effect when fed in higher RDP diets.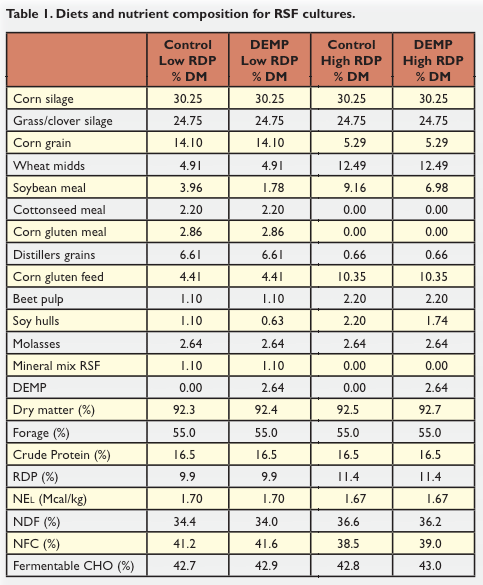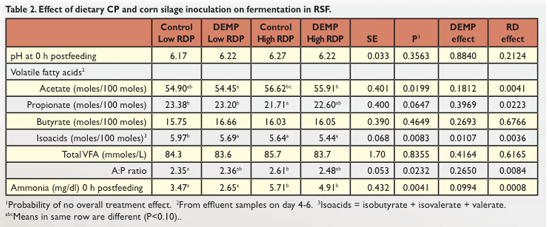 August 2011