TB & A Badger Cull: The Facts
Following a comprehensive consultation exercise, the Department of the Environment, Food and Rural Affairs (DEFRA) in the UK has announced a number of measures to control the spread of bovine tuberculosis (TB) in England. The most controversial being plans to license groups of farmers and landowners to carry out science-led, strictly controlled culls of badgers in the areas worst affected by TB.
---
*
"Eradication of TB is the ultimate long-term goal."
---
In this article, Charlotte Johnston, TheCattleSite editor summarises the policy already in place, the proposals and industry views.
Background
Nearly 25,000 cattle were slaughtered in England in 2010 because of bovine TB. This cost the country £90 million last year. This cost is set to exceed £1 billion over the next ten years in England alone. The problem is particularly bad in West and South-West England, where 23 per cent of cattle farms were unable to move stock off their premises at some point in 2010 due to being affected by the disease.

The number of new TB incidents in England rose in 2010, compared to 2009, and although still lower than seen in 2008 suggests the disease situation is not improving.

Figure 1 shows the number of tests carried out on herds and cattle across Great Britain (England, Scotland and Wales), and the number of animals culled over the last 14 years.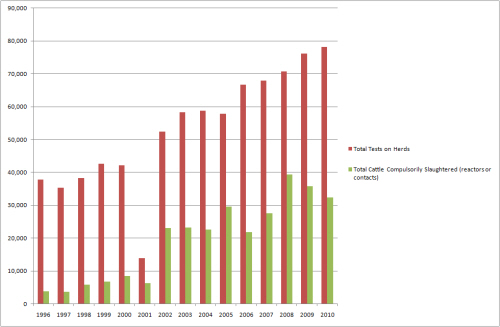 Figure 1: Herds tested and cattle slaughtered (1996-2010)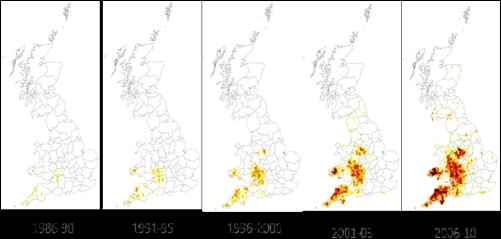 Figure 2: Maps showing spread of TB between 1986 and 2010
Ongoing cattle measures
A robust set of measures is already in place to tackle transmissions between cattle - including compulsory testing, slaughter of infected animals and movement restrictions on infected herds.

Measures recently introduced:
A significant expansion of the areas on more frequent (annual and two-yearly) routine TB testing;


Some higher risk Officially TB-Free (OTF) status suspended herds are now required to have two consecutive short interval tests (rather than one as before) before they can regain OTF status;


Extended use of gamma testing;


Clarifying TB breakdown terminology (moving to 'OTF status suspended' and 'withdrawn', instead of 'unconfirmed' and 'confirmed') so farmers better understand the disease risk and status of their herd; and


DNA tagging to prevent TB reactor fraud
Planned measures:
Reducing compensation payments for reactor animals from herds where TB tests are significantly overdue;


Strengthening enforcement of TB surveillance and control requirements; and


Removing some of the exemptions to the requirement to test animals before they move out of herds under annual and two-year routine testing.
Badger control
The general feel is that cattle measures and good biosecurity are not enough. However scientific evidence, taken from a randomised badger culling trial, says that culling badger can reduce the incidence of TB in cattle. If not done properly, culling can make matters worse.

Scientific evidence

The main body of evidence on the impact badger culling has on incidence of bovine TB in cattle is the Randomised Badger Culling Trial (RBCT). The results of this trial demonstrate that badger culling, done on a sufficient scale, in a widespread, coordinated and efficient way, and over a sustained period of time, would reduce the incidence of bovine TB in cattle in high incidence areas.

Culling strategy

The government has said that a farmer led approach will mean that farmers, rather than taxpayers, will pay the costs of these additional disease-control measures.

There will be two pilot areas in the first year, culling in these areas will be used to confirm the effectiveness and humaneness of controlled shooting, overseen by an independent panel of scientific experts. June 2012 is the earliest start date for the two pilot areas.

Licences

Badger control licences would be issued by Natural England under the Protection of Badgers Act 1992 to enable groups of farmers and landowners to reduce badger populations at their own expense.

Under existing arrangements farmers and landowners are already able to apply for licences to vaccinate badgers. Under the new proposal, they will be able to use vaccination either on its own or in combination with culling.

These licences would be subject to strict conditions and close monitoring would take place to ensure that the badger control measures are carried out effectively, and with high regard to animal welfare. Culling would only be permitted by cage-trapping and shooting and by controlled shooting of badgers in the field, carried out by competent operators.

In order to obtain a licence to cull badgers, applicants will be expected to satisfy a series of criteria to ensure that the cull is justified and is likely to contribute to controlling bovine TB in cattle in their area. It is expected there will be a single licence application for each culling area (of at least 150km2).

Licence criteria:
The area has high and persistent levels of TB in cattle
The licence area must be at least 150km2 in size
Culling will be carried out effectively and humanely by competent operators. Culling will be permitted by cage-trapping and shooting, and shooting free-ranging badgers
A commitment to sustaining culling over the area at least annually for a period of at least four years
A closed season to protect dependent cubs will operate during late winter/early spring
Before a cull begins there is comprehensive awareness and compliance with existing TB control measures
---
*
"It is very clear that TB cannot be tackled meaningfully unless all sources of the disease are dealt with."
---
Vaccinations
Defra has pledged to invest £20 million over the next five years to develop effective cattle and oral badger vaccines as quickly as possible.

However, despite the heavy research, Defra predicts that badger and cattle vaccines are still many years away from being deployed for use in the field.

Defra has invested around £18 million in the development of cattle vaccines and associated diagnostic tools.

The Badger Vaccine Deployment Project is set to continue and Defra intends to make up to £250,000 a year of new funding available to support farmers and landowners who plan to vaccinate badgers.

The first grants would be available to support any vaccination taking place from 2012.

Vaccination licences must also be applied for, and vaccination can only be carried out by veterinarians or trained lay vaccinators.
The Welsh Situation
Plans for a badger cull in West Wales were put on hold back in June 2012, after a change in government. The cull had been part of an attempt by the previous Labour-Plaid Cymru coalition government to combat bovine TB.

However the now run Labour government is conducting a review of the scientific evidence regarding the eradication of bovine tuberculosis (TB) in Wales, and has said that there would be no cull of badgers in the Intensive Action Area while the review is being carried out.

Both the National Farmers' Union (NFU) Cymru and the Farmers' Union of Wales (FUW) have welcomed the announcement of a badger cull in England.

"Given the importance of cross-border trade between England and Wales any moves to tackle this devastating disease in England are welcome," said FUW President Emyr Jones.

"While there has been an encouraging downward trend in incidences in Wales, in the proposed culling area of north Pembrokeshire incidences have not fallen despite the fact that the area has the strictest cattle control measures in the whole of the UK."

NFU Cymru President, Ed Bailey said that DEFRA's decision has further exasperated Welsh farmers' frustration and anger with the Welsh government.

"This makes it all the more disappointing to see our Government prevaricate and hide behind a peer review while another country and another Government has taken what we do understand is a difficult but undoubtedly the correct decision towards a policy that will get on top of a disease that causes suffering to countless cattle and wildlife and untold misery to farmers and their families."

Concluding he said: "How long will Welsh farmers blighted by bovine TB have to wait for the results of this review?"

Although Scotland is currently TB free, in reality Scotland's TB status remains under threat while the disease continues to affect parts of England and Wales.

Over in Northern Ireland, the Ulster Farmers' Union has called upon the Northern Irish Agriculture Minister to engage with the industry and put plans in place to address TB in badgers without delay.
---
*
"At the end of the day, as a dairy farmer there isn't anything more I can do. Strict cattle controls are already in place, and TB is still a problem. The next step is to confront the source of the problem, because until we have done that we won't make any headway in tackling TB in England."
Jono Rogers, dairy farmer in the West Midlands
---
Farmer view
Jono Rogers, a dairy farmer from Gloucestershire, England, has been affected by TB for years. Last year, in routine tests, 20 of his heifers reacted positively and were culled. Of these, five were third generation daughters from his best family.

Despite been culled, at slaughter the cattle were found to have no lesions, which Mr Rogers describes as extremely frustrating.

Although Mr Rogers received compensation, it was the average market price for cattle sold that week, which very rarely reflects the genetic value of the cattle.

Asked about whether he supported a badger cull, Mr Rogers said that it was the next step.

"At the end of the day, as a dairy farmer there isn't anything more I can do. Strict cattle controls are already in place, and TB is still a problem. The next step is to confront the source of the problem, because until we have done that we won't make any headway in tackling TB in England.

"TB is spreading all the time despite the strict cattle controls in place. Even if TB infected herds were completely wiped out, there would still be TB problems."

Mr Rogers runs a closed herd in Herefordshire. He sends heifers to grass keep, not far from the farm, but an area he believes is a nucleus to his TB problems due to nearby woods and subsequent wildlife.

Despite supporting a cull, Mr Rogers expressed sincere doubt about whether the proposals would go ahead. "It will be a great achievement if it does happen, due to public pressure."

He also expressed concerns over the management of the licences. Will the public be able to see who has applied for licences, and if so, will these farmers be targeted by animal rights groups?

Mr Rogers has said that he will not be able to apply for a licence, as he does not hold a gun licence. But he will consider contracting someone in to shoot badgers.
Industry views
Opposition
The RSPCA has described the decision to go ahead with a badger cull, as a "black day for badgers". The organisation has said that it is devastated, that at least 70 per cent of the badger population in specific areas of the country will be killed.
The decision has caused a rift between the hung government, with Andrew George, spokesperson for the Liberal Democrats warning that the proposed badger culling pilots risk making animal disease worse.
"If the Government goes ahead with the pilots then they will have to make sure that they're thoroughly and rigorously evaluated before rolling the project out. A decade ago it was failure to adopt effective cattle movement control measures when restocking after the foot & mouth outbreak that worsened the problem. Destabilising the settled badger population threatens to make the problem even worse."
---
*
"Farmers in the pilot zones must be protected from unwanted attention."
---
Support

Whilst the Royal Association of British Dairy Farmers has welcomed Defra's decision, it says that further consultation could hinder or at worst completely stifle Defra's proposals.

"Whilst we understand that there is a need for a final nine week consultation, that period will create more time for those highly organised groups who oppose a badger cull to get their act together and attempt to delay or even prevent any further action," said Vice-President Ian Macalpine.

The National Beef Association (NBA) has warned Ministers that limited badger culling in the first year puts immense pressure on the initial two pilot zones. The NBA is seeking assurances that farmers who take part will be protected from unwanted attention.

John Fishwick, President of the British Cattle Veterinary Authority said: "An industry-led cull will be an enormous undertaking for everyone involved and it is vital that we get the detail right from the outset; for the sake of cattle, wildlife and industry."
The next step
Defra is now consulting key stakeholders on a detailed proposal. All responses will be considered before a final decision on the policy of badger control is made in autumn 2011.

Key stakeholders can comment on how the proposed policy will take effect, ie. how Natural England should issue licences to allowed controlled culling and vaccination of badgers in areas of high incidence of bovine TB. Click here to respond.

The Eradication Programme has been drawn up in partnership with the industry and veterinary profession, through the Bovine TB Eradication Group for England (TBEG).
July 2011