Italian Dairy Produces Novel Products
To many people milk is just milk, but one Italian dairyman is thinking outside the box, reports Stuart Lumb for TheDairySite.
Mr Pino Cerri manages the family dairy business, along with his brother, which is located in Buronzo, just over an hour's drive west of Milan.

The plant processes 100,000 litres of milk daily and Mr Cerri is up every day at 4am to oversee deliveries. "Most European dairy farmers are complaining about low milk prices, but in this region there is a healthy demand for cheese which of course we produce and so we can afford to pay our dairy farmers 41c / litre, explained Mr Cerri.

Naturally much of the dairy's output is sold for liquid consumption, to the supermarkets. This is a cut throat business as many of the supermarkets are buying milk from France, Germany and even Poland. Consequently the Cerris have had to look at developing other products which will yield a better margin.

One such product is an easily digested milk, which is organic and UHT. This type of milk is sold under the ECOR brand label.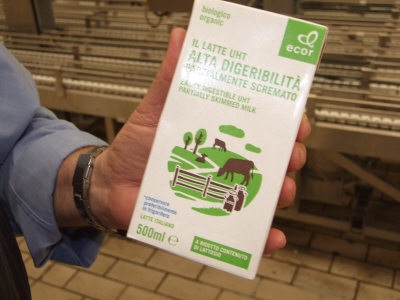 ECOR - easily digestable milk
Unknown to many people this part of Italy is noted for growing rice and the Cerris also produce rice as part of the farming division of their business. It's possible to make milk from rice, the bonus being it's low fat, and so it's hardly surprising that the Cerris produce rice milk which has found a good market in Spain. Seemingly ice cream made from rice milk is popular as well.

Another niche product the Cerris have developed is a special whipping cream. Whipping cream needs to be long life and many products achieve this status by the use of preservatives. The Cerris are very proud of the fact that their cream's longevity is achieved by natural means with it containing no artificial preservatives.

No doubt the Cerris have other novel products in the pipeline, to keep them one step ahead of their competitors.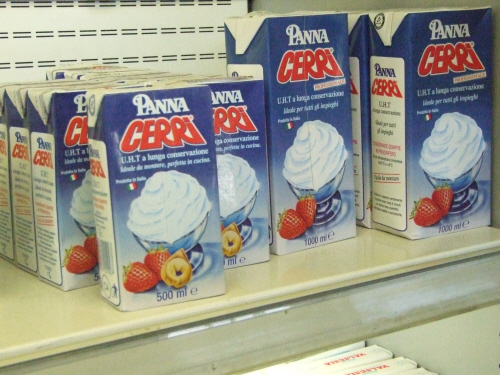 Long life whipping cream
June 2011