Somatic Cell Counts: Friends Or Foes
Speaking at a recent Pfizer press briefing on somatic cell counts (SCC), Dr Ynte Hein Schukken from Cornell University said that somatic cells are a crucial part of the normal function of a healthy cow. Written by Charlotte Johnston, TheCattleSite junior editor.
What is a somatic cell count?

SCC is the number of cell in milk. It is expressed as cell per milliliter of milk and is used worldwide as a criteria to determine the quality of milk.

Table 1 shows that in normal milk there are less than 100,000 cells/ml, however in mastitis milk this can increase to anything over 250,000 cells/ml.
Cells in Milk
Cell type
Normal milk
Mastitis milk
Total cells
<100,000
>>250,000
White blood cells
>85%
>99%
Of which:
-
-
Macrophages
>35%
-
Neutrophils
>25%
>99-100%
Lymphocytes
>25%
-
Epithelial cells
<15%
<1%
Friends or foes

Macrophages steer the immune response in the mammary gland. When bacteria enter, macrophages attack them and send out messages, which causes neutrophil cells from the blood stream to enter the mammary gland.

Hence when a cow has mastitis, the amount of neutrophils in the milk rise, increasing the cell count.

The neutrophils engulf the bacteria and break it up.

"Therefore are cells not friends, as they fight the bacteria?" asks Mr Schukken. Without cells in the milk, cows wouldn't be healthy. Which is why it is important not to simply reduce SCC levels are far as possible, he said.

"Cows cannot live without somatic cells. A fully healthy cow will have approximately 50,000 cells per milliliter of milk and this number varies between 5,000 and 200,000 in fully healthy and normal cows."

However, there are cows who constantly return high SCCs. These are cases where the bacteria has survived in the neutrophils, and these cows are those with chronic mastitis. The management of these cows is critical for herd health.

When cell counts are persistently high, producers must intervene, either by culling, treating or segregating the infected animal.

SCC depends on stage of lactation and age of cow

Figure 1 is data taken from a study on healthy cows (SCC<200/ml) in the Netherlands. It shows that the number of cells changes during different stages of lactation and increases as the cow gets older.

Cows in their first lactation are more likely to have higher SCCs in the first few days after calving, but after the first 50 days in milk, their SCC will drop to below 100 SCC/ml.

Figure 1 also shows that half way through lactation, SCCs in older cows increases.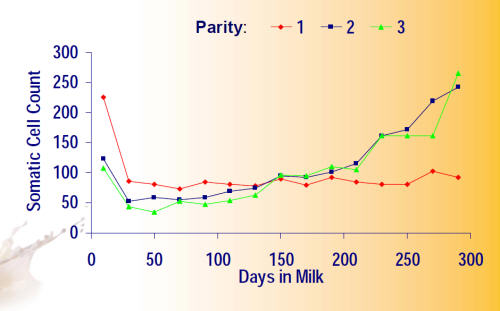 Figure 1: Upper limit of SCC in uninfected quarters of healthy cows.
Management

Milk with high cell counts isn't unsafe to drink, however the consumer doesn't want to drink it - which is why it is important to identify cows with high cell counts and separate the milk.

Bulk tank somatic cell count testing is now available to EU dairy farmers universally and many also have access to SCC data at an individual cow or quarter level – but are they making the most of the data that is available?

"Short term increases in SCC are completely normal, however the milk must be separated," Mr Schukken said.

"The key is to use the data available and identify cows who are making SCCs increase in the long-run and effectively manage these animals."
September 2010