Australian Dairy Commodities
Australian farm-gate milk prices are forecast to rise by 3.2 per cent in 2010–11 to average 38.5 cents a litre, as a result of a continued recovery in global demand for dairy products.
Australian milk production
Opening prices for manufacturing milk set by dairy processors in Victoria for the 2010–11 season averaged around 34 cents a litre. This is well above the opening price of 26 cents a litre for the 2009–10 season.

Australian milk production is forecast to rise by 2.6 per cent in 2010–11 to 9250 million litres in response to higher farm-gate milk prices and higher per cow yields as a result of favourable seasonal conditions. The capacity of the Australian dairy industry to increase milk production is strongly linked to seasonal conditions, the availability of water for irrigation and the cost of feeds. Above average autumn and winter rains in 2010 were received in the main dairying regions of south-east Australia and, given the seasonal outlook for spring, there is expected to be favourable spring and early summer pasture growth. For irrigation-dependent farms in the Murray–Darling Basin, water levels in the main storage dams have improved considerably and water availability is expected to be well above that of recent years. The price of traded water has also declined, reducing the cost of water purchased by irrigators. With purchased grain and concentrates accounting for around one-third of the cash costs of dairy farmers, forecast higher domestic feed grain prices in 2010–11 have the potential to constrain milk yield increases and temper the expected rise in milk production.
Australian dairy export earnings to increase in 2010–11
The value of Australian dairy product exports is forecast to increase by 8 per cent in 2010–11 to $2.23 billion. The value of butter and cheese exports is forecast to increase by 17 per cent and 8 per cent to $248 million and $772 million, respectively. The export values of skim milk powder and whole milk powder are forecast to be $404 million and $311 million in 2010–11, 13 per cent and 5 per cent higher, respectively, than in 2009–10.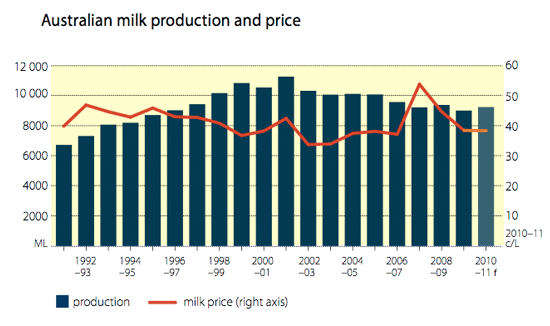 Dairy outlook
2008 - 09
2009 - 10 S
2010 - 11 F
% Change
Cow numbers
000
1676
1630
1630
0.0
Milk yields
L/cow
5602
5531
5675
2.6
Production
Total Milk
ML
9388
9016
9250
2.6
-- Market Sales
ML
2229
2269
2310
1.8
-- Manufacturing
ML
7159
6747
6940
2.9
Butter
kt
148
128
133
3.9
Cheese
kt
343
345
354
2.6
Whole Milk Powder
kt
148
126
127
0.8
Skim Milk Powder
kt
212
190
198
4.2
Farm-gate milk price
Ac/L
42.5
37.3
38.5
3.2
Value of exports
A$m
2679
2066
2231
8.0
World Prices
Butter
US$/t
2485
3477
3700
6.4
Cheese
US$/t
3281
3748
3880
3.5
Skim milk powder
US$/t
2333
2948
3072
4.2
Whole milk powder
US$/t
2546
3221
3350
4.0
September 2010