Mycotoxins in dairy cows: a menace to cows, farmers and consumers!
The primary objective of dairy farmers is to optimize milk production and remain profitable over the long term. This isn't simple given the volatility of the feed markets, milk prices, changing consumer preferences, and other constraints.
Dairymen work to keep their cows healthy and productive, which again, isn't always easy. Naturally occurring toxic contaminants in feedstuffs, which can adversely affect animal performance and health, are an ever present threat.

That mycotoxins suppress the immune system and affect the normal functioning of major organs including the rumen, intestinal tract, liver, kidneys, reproductive system, nervous system, etc. is well documented. Down on the dairy farm, the incidence of diseases such as displaced abomasum, ketosis, retained placenta, metrites, mastitis and fatty livers increases with mycotoxin exposure. Mycotoxin induced diseases seldom respond if at all to veterinary therapy and result in increasing losses if only veterinary solutions are pursued. Furthermore, ration adjustments and management changes (grouping, cow movement, stall allotment, etc.) are of little value although they may be a factor in predisposition to mycotoxicoses. Initially, mycotoxins, such as aflatoxins and trichothecenes, act on the immune system (number of macrophages, lymphocytes and erythrocytes) reducing the animal's response to challenges. At higher levels they affect rumen (reduced concentration of microorganisms, decreased rumen motility) and other organ functions (gut, liver, kidneys, reproductive system, neural tissue, etc.) which can be exhibited as ketosis, fatty liver syndrome, reduced dry matter intake, reduced milk production, and by making the animals less responsive to treatments.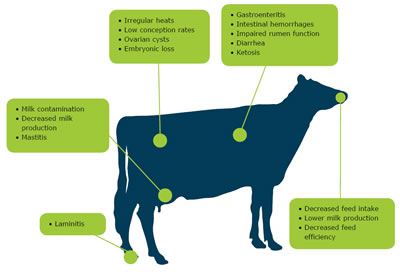 Figure 1 - Mycotoxins impact in dairy cows
Another aspect that should be taken into account is the higher incidence of lameness on dairy farms contaminated with mycotoxins. Lameness alone in dairy farms already causes large financial losses due to a decreased milk production, impaired reproductive performance and higher culling and veterinary costs. In a study conducted in 2005 by Özsoy S, et al., a positive relationship was established between aflatoxin contamination of feed, lameness (subclinical laminitis) and impaired fertility (cystic ovaries).
For these animals with a completely developed forestomachsystem, the rumen fluid content is, for certain mycotoxins such as ochratoxin A, zearalenone, T-2 toxin, diacetoxyscirpenol and deoxynivalenol, a detoxifying barrier with protozoa being significantly more active than bacteria. For this reason, it is often thought that ruminants are protected against the harmful effects of mycotoxins due to the action of ruminal microorganisms. However, other aspects should be taken into account before disregarding mycotoxins' hazardous effects in ruminants. First of all, for some of these toxic compounds namely aflatoxin and zearalenone, metabolic by-products are as toxic as or more toxic than the original molecules. Secondly, it should always be considered that mycotoxins will adversely impact rumen environment and activity even before having an effect on the animals themselves. Decreases in ruminal motility, on DM, ADF and starch digestion and on microbial growth are some of the impacts seen in animals fed mycotoxin contaminated diets.
To continue reading this article
click here