Adding Value To Your Milk
With fluctuating milk and grain prices, there may be uncertainty over future profits for many producers. Taking things into your own hands may be one way to solve this. Charlotte Johnston, TheCattleSite junior editor, speaks to dairy farmers, who have added value to their milk by producing cheese.
Martin Moyden decided to produce cheese in 2004. Knowing he wanted to return and work on the family farm, Mr Moyden also wanted something more. "I didn't like the disjointed approach of tankers collecting milk and mixing it all together. Instead I wanted a more personnel approach and the ability to communicate with customers." Mr Moyden produces four different cheeses from his 40 British Friesians in Shropshire, UK.

Alyce Birchenough started producing cheese as a hobby for home consumption in Alabama. However after discussions she decided to develop a family business and as well as being the President of the Raw Milk Cheesemakers' Association in the US, she milks 15 Guernseys and makes 11 different types of cheeses.

John Fiscalani's family migrated from Switzerland to California, US. In 2000, he became determined to add value to his milk and decided to do so by getting in touch with his roots. A trip to Switzerland encouraged Mr Fiscalani to use the milk from his 1500 cows to produce cheese.
Where to begin?
If you are considering producing cheese, Mr Moyden recommends experimenting at home before investing in any equipment. There is the also the issue of food hygiene to address. All countries will have specific food hygiene regulations. The Specialist Cheesemakers Association, in the UK, recommend that farmers seriously considering raw milk cheese production should contact their local Environmental Health Enforcement Officer at the local government offices. In the US, the American Cheesemakers' Association or the Food and Drug Administrative will be able to help. Ms Birchenough contacted her local dairy inspectors.

Buildings will also need to meet Environmental Health Standards, involving Environmental Health Officers at an early stage reduces the chances of problems further down the line.

Ms Birchenough, produced cheese at home long before any was sold to the public and so had time to adapt and change her recipe to suit her milk. Mr Moyden as well as experimenting at home, also attended a course at Reaseheath College, Shropshire in basic cheesemaking. He says that this course taught him all the basic information needed he also gained information on recipes, who to contact regarding planning, environmental health and second hand equipment.

If you are interested in attending a course on cheesemaking in the UK then contact Christine Ashby, AB Cheesemaking on 01949 842867 or email [email protected]

In the US, a number of the local cheesemakers' guilds and universities run a variety of courses, either contact your local guild or university, otherwise try the American Cheese Society or the Raw Milk Cheesemakers' Association.
Buildings and equipment required
When Mr Moyden knew he wanted to produce cheese, he converted an old cow shed into a production room and a small store room. Initially he invested in a 50 litre cheese vat, and began creating recipes. He still now has the same production room, in which cheese is cultured, mixed, salted and pressed. Only when the cheese is ready to mature is it taken to the store room. In the last year, Mr Moyden has developed a further store room.

Ms Birchenough expanded from the kitchen to a small parlour, sales room, vat and pressing room, brining room and store room. Mr Fiscalani developed a cheese plant to his current dairy facility.

All producers bought second hand equipment, Ms Birchenough produces 150kg of cheese a week in a 800 litre vat, using 100 per cent of milk produced. Mr Moyden upgraded to a 700 litre vat and makes approximately 140kg of cheese a week, using a third of his total daily milk production. Mr Fiscalani produces 3600kg of cheese a week, using 5-10 per cent of his total milk.

Mr Moyden's 50 litre stainless steel vat cost him about £2000, while he says a second hand 700 litre vat could cost up to £5000. Luckily for Mr Moyden, the building development was done by himself with the help of his father. Mr Fiscalani says that his start up costs were $500,000, ten years ago, while Ms Birchenough says that for a small operation start up costs could be $100,000.
Adding value
Despite the somewhat large start up costs, all producers agree that they have added value to their raw milk. Mr Moyden suggests that producing cheese could equate to receiving around 40 pence per litre (average UK milk prices are around 22 pence per litre). Whereas Ms Birchenough believes she has increased the value of her milk five times.

On top of that, all producers enjoy what they are doing.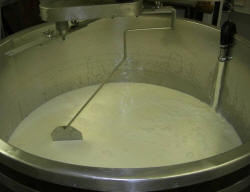 Cheese vat used to add culture and rennet to the milk
How is cheese made
Milk comes straight from the parlour (at around an temperature of 30 degrees), before entering the vat, milk is filtered. Starter culture is added to the milk to help acidify the bacteria. After an hour (this can vary depending on the recipe) rennet is added to help the mixture solidify. As it turns to curd, cheese knives cut through the mixture a number of times to separate the curd from the whey (fluid). The more the curd is cut, the harder the cheese will be. The mixture is then scalded and stirred to firm up and develop the curd.

Once the mixture has reached the desired consistency, the whey is drained off. Whey is a by-product of cheese. Mr Moyden, gives his whey to a local pig farmers who uses it as feed. Ms Birchenough spreads the whey on her land, and Mr Fiscalani puts his whey into a methane digester.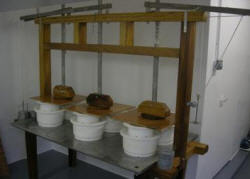 Cheese is placed in moulds and then pressed to ensure all whey is expelled
Once the whey is drained off, the cheese is packed into moulds and pressed to get rid of further whey. Cheeses are salted and then matured in a controlled atmosphere for 60 days or longer. Mr Moyden stores his cheeses at 12 degrees and 80 per cent humidity. The mould is often then washed off and rinds are brushed in oil and ready to eat!

Cheese is also cut and packed ready to be sold on these farms.
What else do you need to know?
All of the above producers graze their cows for at least part of the year, when the cows have been to grass, Mr Moyden believes this makes the cheese sweeter and richer, whereas in the winter, the cheese is more savoury flavoured.

For all producers it takes a number of years for them to perfect the recipes. It is particularly difficult when using raw milk, as each batch of milk is different from the last. When the cheese is finally ready to sell, it can be a hard job marketing the product.

Mr Moyden approached local delicatessens, restaurants and farm shops, who all were keen to sell the finished product. This year he has sold more cheese than ever before, and is hoping to increase production, eventually opening a new dairy.

Ms Birchenough initially advertised her product locally, however now she has no need to advertise. Through word of mouth, her products market themselves.

Mr Fiscalani said it was very difficult to market his products, however through lots of hard work he was successful, and now many sales are word of mouth.

None of the above producers would say that developing their product and adding value to their milk has been an easy process. However, all would agree it has been a rewarding experience.
December 2009