Rotary Milking
Claiming to significantly reduce milking time, improve yields and herd health, Charlotte Johnston, TheCattleSite junior editor goes to find out the true benefits of the rotary parlour.
There are approximately 220 rotary parlours in place in the UK, 150 of which are Westfalia. Last year, the company installed 16 parlours nationwide. Despite claiming to have a number of interested clients lined up Colin Reece, Westfalia West Midlands manager expects interest to be slightly lower this year due to the fluctuating milk prices seen last year.

"For a rotary parlour you really need 250 cows minimum," explains Mr Reece. There are internal and external rotary parlours. External tend to be seen on larger herds found in the US and New Zealand, whilst internals are common in the UK due to smaller herd size.

Internal rotaries found are commonly 36 or 40 points (meaning 36 or 40 cows can be milked at one time). However parlours can be customised and there is a 48 point one in the UK.

"Working at maximum efficiency a 36/40 unit should milk 220 cows per hour," according to Mr Reece. However, he does warn that this will vary depending on milk yields, slow milkers etc.

The benefits of an internal parlour are that the handler has full access of cows whilst they are been milked and when they are entering and exiting the parlour. If problems are identified, it is easy for the stockman to resolve the problem as he has easy access to all cows.

An external parlour could milk anything from 300 cows to 8000. With a 40 point the smallest available, 80 point is the largest standard size available. Mr Reece says that externals tend to be a bit quicker than internals.

Standard additions include an ICAR milk recorder, milk meter or indicator, automatic cup removers and pedometers. Segregation gates, automatic foot baths and automatic teat sprays are other options available.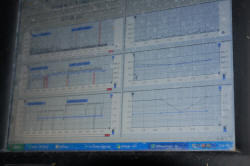 ICAR system
The ICAR milk recorder is a touch screen computer in the parlour. It is accessible to the stockman throughout milking time and stores information on cattle health, milk quality etc. The milk meter or indicator measures conductivity of flow, picking up high cell counts or other issues which may arise. Automatic cup removers (ACRs) are what they say they are, by registering a reduction in milk flow, ACRs stop suction allowing the cup to fall off.

The pedometer is the cows automatic ID. When the cow steps into the parlour, the ID registers and all information on that cows milk flow through to health is available on the ICAR. The pedometer also monitors cow activity, helping stockmen know when cows are bulling or if there are problems. The ICAR can produce reports for individual cows or for the herd on anything through from activity to cell counts to yields.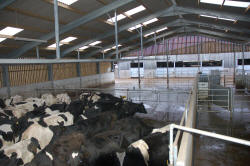 Backing gate and collecting yard
Collecting yards are fitted with a backing gate which gently pushes cows forward encouraging them to enter the parlour. This automated gate saves handlers the job of pushing cattle up. Once the rotary is installed, staff will stay on site to help the new users.

Mr Reece says that the first few weeks are the hardest for both cows are operators. Time has to be taken to train cows to enter the parlour and the operator needs to get used to the system.

"Once the first few weeks are out of the way things will start to pick up pace and benefits will be seen. However it may be a year before the rotary is running efficiently," says Mr Reece.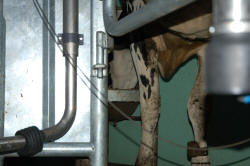 Cow fed in parlour and automatic ID on right front leg
Steve Cox from Staffordshire, England works with his children, Tom and Rachel on the family farm where they milk 350 Holsteins. The family has just installed a 40-point internal rotary parlour. The new building which houses the parlour also consists of a collecting yard, race, rotary parlour, dairy and tank room, power room, chemical store, wash area and farm office.

The farm totals 700 acres with a further 200 acres rented. Maize and a variety pf cereals are grown for forage.

Previously milking on a 14 side DeLavel herringbone parlour, the family spent nearly nine hours a day in the parlour. With the 15 year old parlour constantly failing them, Mr Cox decided to embrace the enthusiasm of his children and invest in a rotary.

It hasn't been an easy haul for the family, who like many others have been restricted by bovine tuberculosis (bTB). With bull sales coming to a halt all calves are reared on the farm. However there have been a number of successes at showing pedigree Holsteins (and Suffolk sheep) at agricultural shows - most recently the Newport Show in Shropshire.

Cows are targeting a more than healthy 12,000 litres a year with 4.6 per cent butterfat and 3.6 per cent protein and are lactating for an average of four years.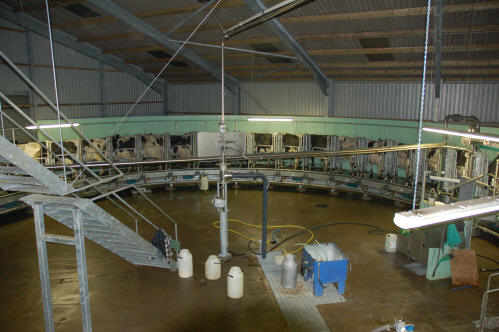 Rotary parlour
&It is fair to say that Mr Cox was and still is somewhat dubious of the rotary parlour. However he is confident that there is a positive future for the dairy industry and his family is determined to succeed.

"Milking time has already dropped to five hours a day and will drop further," explains Rachel Cox, as she stops the rotary parlour to let new heifers enter. "Cows are becoming used to the parlour and so are the staff," she says. "Everything is much more relaxed, cows and staff are under a lot less stress."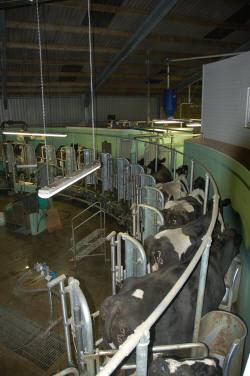 Rotary parlour exit
Despite his scepticism, Mr Cox agrees saying that there are no crowds of cows pushing, which has led to levels of lameness improving. The number of cows with mastitis has also improved as cell counts have fallen. He says the extra couple of hours a day has meant that they can focus more on fertility.

This is helped by the addition of a new race, which cows go through on exiting the parlour. The single race has made the handling of cows much easier and increased labour efficiency, says Mr Cox. With this simple adaption, cows are now pregnancy tested every two weeks.

Mr Cox also says that the average UK heat detection is 49 per cent, on farm with the help of the pedometers they are seeing 80 per cent accuracy in heat detection. As well as this, the family has been able to cut one labour unit and are paying staff less overtime.

He admits that there have been difficulties - it has taken two years from start to finish to complete this project. On top of a new parlour, the Cox's installed new cattle housing and a slurry storage for up to six months worth of muck.

Despite this the family sees a bright future, and hope to increase the herd to 500 cows. There is also the opportunity to increase cow accommodation. With young and older generations full of enthusiasm and commitment it seems certain a rotary parlour will benefit the family in the long run.
February 2010