The Story Behind Numbers: Australian Shipboard Mortalities
In response to industry and public concern, Australia's 2008 national livestock export industry shipboard performance report has been published, detailing animal mortalities throughout the year. Adam Anson, writing for TheCattleSite, examines the facts, figures and concerns.

The report, prepared by LiveCorp and Meat & Livestock Australia says that over 99 per cent of all livestock exported in 2008 arrived fit and healthy at their destination. Unfortunately, this figure does not apply to live cattle exports.

Live cattle export is big business in Australia, making a significant contribution to the Australian economy whilst providing employment in many supporting services. But, due to the isolated global position of the country and the long journeys live shipments must therefore undertake, welfare issues are of immediate concern.

The conditions of these journeys can cause high and prolonged levels of stress for cattle. Sometimes, animals are overcome by the heat and resulting onboard mortalities are not uncommon. Animal welfare is of paramount importance on these journeys to keep the animals comfortable, but associated costs of welfare must also be taken into account.

According to LiveCorp CEO Cameron Hall, Australian stockmen are on board all voyages, alongside accredited Australian vets on all vessels to the Middle East, to monitor and care for the livestock along with a crew. Their role is to ensure all animals are well fed, watered and in good condition.

"The pens the animals travel in provide enough room for all livestock to move around, lie down and access the constantly available food and water. Any animal that is sick or injured is placed into a hospital pen and given extra care."

Industry stakeholders, government, animal welfare groups and the general public have a keen interest in monitoring performance in different sectors of the livestock export trade. In light of this, the purpose of the 2008 national livestock export industry shipboard performance report is to summarise the performance of the livestock export industry in terms of mortality levels of sheep, cattle and goats exported by sea from Australia during 2008.

"Our industry is committed to transparency," said CEO Cameron Hall. "We want the people of Australia to see how we're doing in terms of animal welfare and the good outcomes we're continuing to deliver for Australian livestock."
A Closer Look at Shipboard Performance
Since 1995, the number of cattle exported annually has varied from approximately 450,000 to 960,000, and the annual mortality has varied between 0.10 and 0.42 per cent. The trend for numbers of cattle exported has been slightly upwards. However, a closer examination shows that exports have almost doubled since a low point in 1995. In 2008, the number of live cattle exports approached previous highs witnessed in and before 2002.
Number of cattle exported by sea from Australia to all destinations since 1995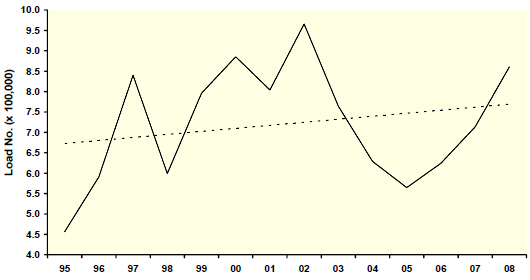 According to figures attained by the audit, since 1995, the trend for annual mortality has been in gradual decline. Whilst the overall mortality rate among the 0.86 million cattle exported from Australia in 2008 was - at 0.12 per cent - higher than the 0.10 per cent mortality rate observed in 2007, by comparison with other years it is relatively low. Significantly though, 2008 showed a high ratio of cattle deaths at discharge. Mortalities during the voyage were as low as at any time over the last 15 years.
Annual mortality of cattle exported by sea from Australia to all destinations since 1995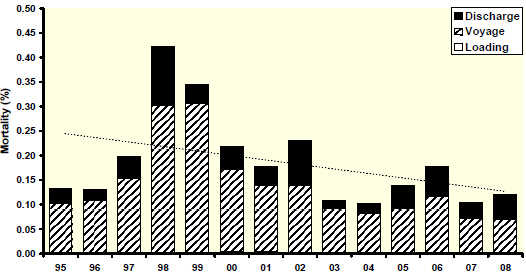 During 2008, the highest overall mortality rate on a regional basis was 0.29 per cent for exports to the Middle East/North Africa, while the lowest overall mortality rate was 0.06 per cent for exports to North-East Asia. The overall mortality rate on voyages to South-East Asia was 0.09 per cent, similar to 2007.

According to the report, the live cattle trade from Australia in 2008 was characterised by the large number of ports of loading in Australia and the regions to which the animals were shipped. This is in contrast to the live sheep trade where there were only three main ports of loading, and virtually all sheep were shipped to the Middle East.

Previously, exports to South-East Asia were characterised by small consignments on short voyages. More recently, larger ships have been introduced, which have involved loading and discharging at more than one port. The number of voyages to the region in 2008 was similar to 2007 (219 and 205 respectively). Exports to North-East Asia were mainly steers exported to Japan and dairy cattle exported to China and Eastern Russia.
What Can be Learned
In contrast to exports of sheep, live cattle are exported from many ports around Australia to destinations in South-East Asia, North Asia and the Middle East. Investigations on voyages to the Middle East showed that the main causes of cattle mortalities were heat stroke, trauma and respiratory disease (Norris et al 2003).

All of the mortalities from heat stroke were in Bos taurus breeds and occurred in the latter half of the voyage. The research also showed that the risk of mortality on voyages to the Middle East was three times greater among cattle exported from southern ports in Australia compared to northern ports.

The likely reason is the higher content of tropically-adapted Bos indicus cattle in northern Australia and their ability to handle the heat and humidity encountered during the voyage, in contrast to the Bos taurus breeds from southern Australia.

"We're investing in ongoing improvements in Australia, onboard vessels and in overseas marketplaces and we're really making a difference," insists CEO Cameron Hall. "Animal welfare is a priority for our industry – and we are renowned as being the best in the world at what we do. That's something to be proud of."

However, many animal welfare organisations say that the loss of animals and the associated stress endured during these long journeys is unnacceptable and live export trade should therefore be banned. The Royal Society for the Prevention of Cruelty to Animals warns consumers not to believe the live export lobby's claims that this is an entrenched Australian tradition. "It isn't," they say. "Live exports represent just another market opportunity."

According to the RSPCA there are alternatives that have proven to be far more lucrative than the trade in live animals. "Our meat exports are seven times more valuable to the economy and they keep jobs here in Australia," stated a press report following the publication of the audit.

But Livecorp and Meat & Livestock Australia argue that the livestock export trade provides important support for the sheep and cattle industries of Australia and is the only market outlet for producers in some areas of the country.
Further Reading
| | | |
| --- | --- | --- |
| | - | You can view the full 2008 national livestock export industry shipboard performance report by clicking here. |
July 2009