Compensation – It's More Than a Paycheck
Employee compensation is a topic everyone wants to talk about, but no one wants to talk about, writes Chuck Schwartau Extension Educator-Livestock, University of Minnesota.
It is like land rental rates. Everyone wants to know what the neighbor is paying or being paid, but no one wants to truthfully tell what they are paying or being paid for fear their rates are significantly different from the rest of the market.

The topic becomes even more complicated when one realizes employee compensation isn't just a paycheck. There are different kinds of compensation. For some, the real value is established by the recipient, not the payer.

The first is direct compensation based on an hourly wage, an annual salary figure, or a contract for specific services. This is the amount from which taxes are withheld and on which other taxes may be levied.

Indirect compensation is a highly variable item. Some indirect compensation is mandated such as social security contributions. Other indirect compensation includes benefits like health insurance, retirement program contributions, moving allowances, auto and travel allowances, professional or association memberships, etc. These normally have a cash cost to the employer but the employee may not realize or know the cash value.

Finally, there is non-monetary compensation. This type of compensation is often difficult to assign a monetary value. Use of a farm vehicle and tools, continuing education opportunities, produce, meat and milk from the farm may be examples. All these items reduce an employee's personal cost of living, but are difficult to assign a dollar value.

These all have value and the employee should be made aware of that value.
What Do Employees Expect in Fair Compensation?
Employees will have different motivations for working and what they want to earn, but Gregario Billikopf, University of California, has identified four basic expectations of employees:
Cover basic living expenses
Keep up with inflation
Some for savings or recreation
Increase over time
What it takes to achieve those goals will vary by the competition for labor in a given market, but an Iowa State study gives some indications of the market.

The Iowa study surveyed 168 farm employees who had an average of 15 years experience and 9 years on the same farm. The average cash wage paid (gross) was $28,258, but this was only 81% of their total compensation. The average value of other fringe benefits was $5,374 and incentive or bonuses of $1,010, so the total value of the compensation package was $34,640.
Source of Compensation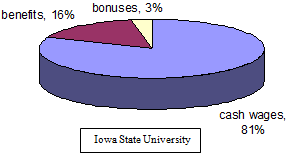 In 2005, the National Hog Farmer ran a series of articles on labor issues. While they focused on employees of swine operations, the skills necessary to succeed in a swine unit are similar to those needed in a dairy. The swine operations are also a competitor for the same employees dairies employ, so the data should be relevant. Their findings follow:
Base Salary Reported by Employees (2005)
Salary Range
Percent
$10,000 or less
5.9
$10,000 – 15,000
3.1
$15,000 – 20,000
3.3
$20,000 – 25,000
11.5
$25,000 – 30,000
16.9
$30,000 – 35,000
16.7
$35,000 – 40,000
12.4
$40,000 – 50,000
14.5
$50,000 – 60,000
6.5
$60,000 – 75,000
3.6
$75,000+
5.7
Kliebenstein, Hurley, Orazem, Miller, and May. National Hog Farmer, 2005.
Take note that 30% of the employees received over $40,000 per year. These are not just low paying jobs in the community.
What About Other Compensations?
Fringe benefits are a highly discussed topic in all industries, and agriculture is no exception. The National Hog Farmer survey listed 18 different benefits that were available to employees. The top five were:
Employees Indicating the Availability of a Benefit in 2005
Benefit
Percent
Medical Insurance
65.6
Paid Vacation
71.8
Paid Holidays
57.3
Paid Sick Leave
44.1
Pension/Retirement Plan
54.1
Kliebenstein, Hurley, Orazem, Miller, and May. National Hog Farmer, 2005.
Regardless of the non-cash benefits you offer your employees, be sure to calculate their value and make your employees aware of the value in their total compensation package. That value is usually tax-free income to them.

Remember, non-cash compensation really has its value established by the employee, not the employer. It takes time to find out what has meaning or value to employees, but it could pay good dividends. You may find out your employees really would like items that are relatively low cost but have meaning to them. Internet access may have little value to them, but a low cost phone card to call family at home may be greatly appreciated.
Summary
A compensation package needs to be developed and presented to the employees as a full package. Be sure to calculate the value of non-cash benefits to employees. These must be shown as part of the total package.
March 2009