Milk and Milk Products: A Global Market Analysis
World food prices have fallen farther and faster than can be explained through production gains alone. Underlying the price slide are other important factors, including the financial crisis, the halving of world crude oil prices. Here, the FAO Food Outlook market analysis describes how milk and milk products are performing on this global stage.

Prices
How far will prices fall?
By September 2008, the FAO index of dairy product prices (base 1998-2000=100) had fallen to 218, down almost 28percent from its all time high of 302 in November 2007.A high degree of price uncertainty was noted in the May Food Outlook, particularly with weather related production problems in the key exporting countries of Australia and New Zealand, which affected their exportable supplies in early 2008.However, by July 2008, international dairy product markets started to weaken. This tendency accelerated as a result of increasing milk product availabilities on the international market, appreciation of the United States Dollar and, in particular, the general downturn of the global economy. The impact of the recent contamination of milk supply in China (see Box) is so far unclear, but it likely contributed to the reduction of demand for milk products.However, it must be noted that dairy product prices still are some 20percent above their trend average (see Figure 45), and production costs remain high.The important question is how much more they may fall from what has been, by far, the most significant price spike in the recent history of international dairy markets.

Prices for milk protein products have displayed the greatest weakness.Skim milk powder (SMP) prices (basis Oceanic ports) fell to USD 3025 per tonne in September, 41percent below their peak in mid 2007, and whole milk powder prices to USD 3262 per tonne, 34percent below their previous peak.Meanwhile, butter prices have fallen 19percent since December 2007 to average USD 3375 per tonne in September 2008.Cheese prices fell to USD 4375 per tonne, down 20percent from their previous record of late 2007.An important issue will be if prices decline much further, as export prices for the European Union may again fall below intervention levels and induce a reinstatement of export subsidies (see Figure46).Previous experience suggests that if this were to occur, price declines could then accelerate as other exporters try to compete with subsidized product.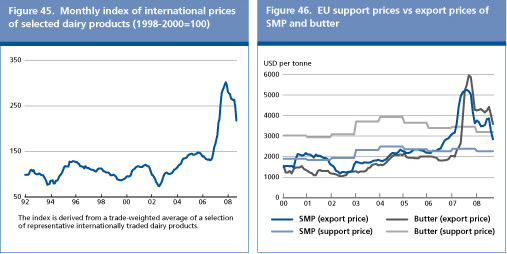 Production
Global milk production growth slows down
Global milk production is now estimated to expand by 2.2percent to 693million tonnes in 2008 and by another 2.5percent to almost 710million tonnes in 2009, a far slower pace than in recent years. Growth prospects have been affected by a number of factors as international markets have been responding to the historically high international price levels of the past two years.On balance, prospects for the world's six major milk product exporters, which supply 77percent of global trade, have improved somewhat in recent months. Their milk production is now expected to amount to 280million tonnes (or 40percent of global production) and to grow 1.5percent in 2009.A recovery in production is now evident in Oceania, as more favourable weather has been experienced since the start of its 2008-09 marketing season.But production growth is slowing in some regions, due to high feed prices and high opportunity costs for pasture. In some areas, new issues have surfaced that may affect consumer demand.In particular, food safety concerns are currently clouding the dairy outlook.

Milk production is now expected to rise by only 3.5percent in Asia.This reduced rate of growth is largely caused by a sharp slowdown in China, where production may only expand in the 5-6percent range in 2008 and 2009, considerably lower than the 20percent annual average witnessed in the previous decade. The reduced speed reflects increasing production limits, related to water and feed supplies, as well as the fact that the size of the production base has increased substantially; China is now the world's fourth largest dairy producer.The reduction of production growth in China may be critical in the longer term for world dairy markets. If domestic demand continues its pace, imports could grow significantly. However, the discovery in mid 2008 that melamine had been blended into a significant portion of the Chinese milk supply to enhance the protein content of watered down milk has cast severe doubts over China's dairy sector, including its growing product export potential, but also suppressed consumer confidence worldwide, especially in developing countries. It is unclear at this stage what will be the final effects of the scandal, but certainly, it will result in slower China's production and demand growth and potentially boost the country's milk product imports from reliable suppliers. Elsewhere in Asia, strong output growth is forecast in the large traditional milk producers: India is expected to sustain its normal growth of about 3percent, while Pakistan looks set to increase production by 6percent in both 2008 and 2009, as high internal prices have stimulated investments in the sector. However, all of Pakistan's increased production will be absorbed domestically.

South America will again be the fastest growing milk production region in 2008. Argentina's milk production is expected to increase to 10.3million tonnes, or by 5percent in 2008.Production growth has been limited by lower returns due to large export taxes on milk products, whereby taxes are adjusted to maintain lower domestic prices. This policy has induced some milk producers to participate in national strikes and blockades in early 2008.Milk production in Brazil may increase to 31.2million tonnes, or by 8percent, and this will help widen its net export position for milk products.In milk equivalent terms, Brazil may soon be the second largest exporter in the region, or even the largest if current trends continue over the next several years.Milk production in Uruguayisnow expected to increase by 1.2percent in 2008.In other parts of Latin America and the Caribbean, Mexico, one of the world's largest importers of milk powders, will post limited milk production gains given high feed costs and a shortage of domestic available feed.

Milk production in Africa is anticipated to advance 1percent in 2008, consistently below world average growth, showing weaker supply response to the price spike. South Africa should, however, display continued response to higher prices and grow by almost 3percent in 2008.Production in Algeria, which is by far Africa's most significant importer of milk products, is also expected to advance by 3percent as a result of the support of high prices and programmes designed to encourage production.In Kenya, where milk production and distribution was down sharply during the social unrest early in the year, growth has regained momentum and production in 2008 should reach the level attained in 2007.

The United States' dairy sector has responded significantly to attractive internal and external prices in the last two years and is expected to post production gains of 2.2percent in 2008, to a level of just over 86million tonnes. However, this growth is lower than expected, due to the downturn in profitability experienced so far this year, as indicated by the milk to feed price ratio (see Figure 47). This has limited milk yield growth and have induced higher culling of cows.In addition, the recent appreciation of the United States Dollar has lowered the competitiveness of the United States' industry on international markets compared with the situation of a year ago. In Canada, higher feed costs have induced yet higher target prices, and this has limited domestic market growth; production is expected to remain stable at 8.1million tonnes for 2008.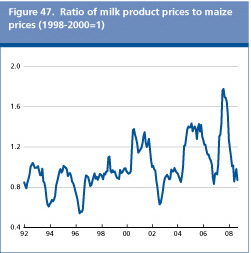 In Europe, the European Union's milk production increased robustly in the early months of this year, as a result of strong prices in 2007 and as expansion in member countries production quota, but under tight feed supplies, it started to fall off by mid year.Milk production for 2008 is now expected to total 153.3million tonnes, about 1percent higher than in 2007. Production in a number of key producing states has started to adjust to expanded quotas, although high input costs are limiting expansion in other states. Production is expected to gain another 1percent in 2009, but much will depend on the evolution of prices. Milk production in Ukraine is expected to decline again in 2008, to 13.1million tonnes, down now 7percent from its peak level in 2002 of 14.1million tonnes, as problems have plagued the industry in supplying exports to the RussianFederation, its largest external market.Belarus will expand its production to 6.1million tonnes, up 4percent on the previous year.Belarus is still a relatively small milk producer but is emerging as an important regional exporter. Milk production in theRussian Federation should increase 1.5percent to 32.7million tonnes in 2008.This growth is less than was expected due to high feed costs.

After difficult marketing years in 2007-08, milk production in both Australia and New Zealand has started to improve significantly. While milk producers in both countries have enjoyed record prices in the past two years despite their significant currency appreciation, weather conditions have limited their production response.Australia's milk output is now expected to increase to 9.4million tonnes in marketing year 2008-09 (ending June), the first yearly increase for four years.However, this level is still 19percent below its peak level achieved in 2001-02. In its 2007/08 marketing year (June-May), milk production in New Zealand fell 4.5percent compared with the previous season. However, improved weather conditions and strong profitability in 2008 are spurring a recovery. As a result, in the 2008-09 season, milk production could increase by 8 percent to 16.2million tonnes, or 8percent higher than the previous season, which would help the country restore depleted stocks of dairy products and increase its exportable supplies.
Trade
Export supplies expand but import demand weakens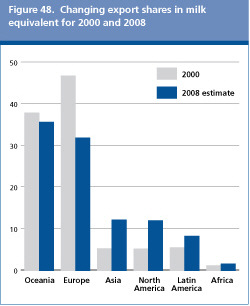 Global exports of key milk products, in milk equivalent terms, may reach 40.4million tonnes in 2008, up almost 3percent from the previous year. The turnaround in trade is largely due to strong increases in exports from the United States, which may grow by over 50percent, to 4.5million tonnes. Deliveries from South American countries may rise by 9percent to 2.9million tonnes, led by Brazil and Argentina. Exports from Oceania and the European Union are anticipated to decline in 2008, but the drops are likely to be more limited than previously expected.Aggregate exports from Asian countries are forecast to fall on account of China, which has been barred access to trade partners' markets, following the melamine contamination incident. Global trade in 2009 may rise by another modest 2percent, largely sustained by increased deliveries from Oceania and from South America. However, prospects for a slowdown of world economic growth are adding considerable uncertainty to the present outlook.

Regional trade shares are changing, and this may mark the new emerging structure of the world dairy market.Europe's role as a major source of supplies for trade has diminished significantly, as has that of Oceania, while those of the America's and Asia have grown (see Figure 48). The United States may export more than 5million tonnes of product in milk equivalent in 2009, increasing its trade share to 12percent, its highest level in recent history.Conversely, the trade share of the European Union is set to fall to 21percent, its lowest level in recent history.
The product mix of trade is changing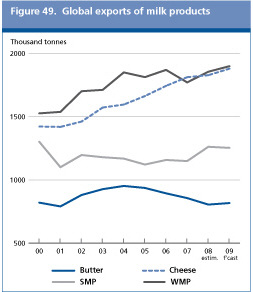 Global exports of butter may be in the order of 806 thousand tonnes in 2008, down 6percent from the previous year.Butter exports from the European Union are expected to fall to 150 thousand tonnes, which will be its lowest level in decades; they may fall further in 2009. New Zealand's tight supply of milk and low stock levels in early 2008 could also lead to lower butter shipments this year, but, as milk production increases in the current marketing year, they will likely recover in 2009.Exports from Belarus are forecast again to increase, reflecting its mounting surplus, with the bulk destined for The RussianFederation, which is the largest importer of butter.

Skim milk powder exports are now expected to rise to 1 263 thousand tonnes in 2008, up almost 10percent over the previous year, particularly due to increased exports from the United States, whichhave been larger than expected, at record 400 thousand tonnes. Exports from New Zealand, Australia and the European Union are anticipated to decline marginally in 2008, but are higher than previously expected.Imports to both African and Asian countries are expected to increase, stimulated by much lower prices.Imports by Mexico are expected to continue at previous levels, given the importance of and support for its social feeding programmes.

Global exports of whole milk powder are expected to rise in 2008, and again in 2009, as global milk supplies expand.Whole milk powder remains the key milk product exported by surplus milk producing regions to growing developing country markets.New Zealand, the largest whole milk powder exporter, is set to increase sales both in 2008 and 2009.But the largest increases will come from the European Union, as its milk production increases.Deliveries by Australia and Argentina are expected to remain near 2007 volumes.Algeria and Venezuela are the two largest importers of whole milk powder, and while imports in the former have declined considerably, those of the latter have remained firm, despite high prices.Milk production in these two countries has been increasing, under efforts to replace imports.

International cheese trade continues to grow and is by far the highest value market for milk products; exports are expected to reach 1829 thousand tonnes in 2008, up modestly from 2007 levels.Exports from the European Union are expected to fall. While the United States has increased its exports of cheese and has reduced its imports during the recent price spike, it is uncertain whether this situation will be sustainable as its dairy sector slows under falling domestic prices and high feed costs.On the import side, most of the growth in trade has occurred within the Russian Federation and the growth of this market will depend on how the country fares in the current economic conditions.
Box: Melamine Contamination of Dairy Products in China
On 8 September 2008 the Chinese authorities notified that infant formula sold by the Sanlu Group, one of the largest milk processing companies in China, had been contaminated with melamine. Over the next several weeks, it became apparent that the milk supply had been intentionally contaminated with melamine in order to deceive nitrogen based testing of protein content in milk diluted with water.It appears that the melanine addition had been ongoing for some time and had affected a complete range of milk products, involving some 23 companies, sold for both domestic consumption and export.

Four infants have died, and over 50,000 have been hospitalized.For more information and updates concerning this incident readers are referred to http://www.who.int/foodsafety/fs_management/infosan_events. While it is too early to discern the market impacts of the incident, several key parameters may affect the outcome. In the past decade, China's milk production increased in the 20percent range, annually, enabling China to become the fourth largest dairy producer. Net imports of milk products, however, satisfy currently some 3percent of demand, and while during the recent high price spike in dairy markets, China's exports increased significantly (see chart), they represent a smallpercentage of global supply.

These facts mean that changes in China's dairy product trade, following the imposition of bans on its exports by trading partners, are unlikely to have major impact either on the domestic or international markets. On the other hand, three critical variables are uncertain.One is how domestic demand in China will respond over time. In the month following the notice of contamination, dairy product demand apparently fell significantly. Will consumers prefer international product imports, or will they shift consumption out of dairy products? Secondly, the domestic supply chain has been seriously affected, in terms of processing supply. Sanlu has been closed down, and dairy products on the shelf have been recalled.

International firms, which have assisted in the rapid development of China's dairy industry, have also been affected. These factors may have a bearing on China's longer-term import demand for dairy products and, hence, on international markets. Finally, the incident may affect consumer confidence internationally, especially in developing markets where inspection systems may be less vigilant; this incident may therefore lower global demand for dairy products.The recent high price spike for milk products may have increased incentives for delivering diluted milk to market, without sufficient inspections systems to assure safety and quality.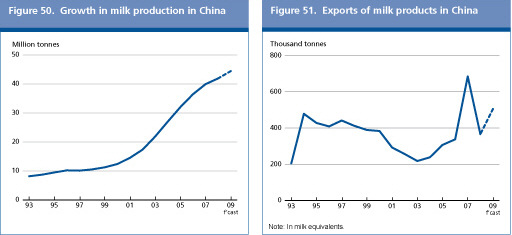 Table 12. World dairy market at a glance

2007

2008

estim.

2009

f'cast

Change: 2009 over 2008

million tonnes milk equivalent

%

WORLD BALANCE

Total milk production

677.7

692.7

709.7

2.5

Skim Milk Powder (SMP)

24.1

24.6

25.0

1.6

Whole Milk Powder (WMP)

22.0

23.5

24.0

2.2

Butter

61.4

63.3

64.5

1.9

Cheese

84.2

85.4

83.3

-2.5

Other products

486.1

495.9

512.9

3.4

Total trade

39.3

40.4

41.0

1.6

SUPPLY AND DEMAND INDICATORS

Per caput food consumption:

World (kg/year)

102.6

103.8

105.1

1.3

Developed countries (kg/year)

245.4

246.9

249.6

1.1

Developing countries

(kg/year)

64.0

65.5

66.9

2.1

Trade – share of prod.

(%)

5.8

5.8

5.8

2006

2007

2008

Change:
Jan-Sept 2008

over
Jan-Sept 2007

FAO Dairy Price Index

%

(1998-2000=100)

138

247

262*

14

* Jan-Sept 2008
Table 13. Major exporters of dairy products

2007

2008

Preliminary

2009

Forecast

Thousand tonnes

WHOLE MILK POWDER

World

1 772

1 856

1 900

New Zealand

678

688

710

European Union *

362

432

440

Argentina

102

110

115

Australia

116

107

114

SKIM MILK POWDER

World

1 150

1 263

1 254

United States

255

400

450

New Zealand

282

257

231

European Union *

196

190

141

Australia

134

112

108

BUTTER

World

857

806

818

New Zealand

360

334

340

European Union *

210

150

135

Australia

66

56

48

Belarus

50

55

60

CHEESE

World

1 813

1 829

1 880

European Union *

595

570

551

New Zealand

310

310

320

Australia

218

211

220

Belarus

92

101

110

1 Excluding trade between the European Union member states.
November 2008