Iodine Supplement Shows Important Benefits
Clinical trials on the reproductive performance of cattle herds and research into deficiencies in trace elements in cattle, led vet John Cook to two important discoveries, writes TheCattleSite Senior Editor, Chris Harris.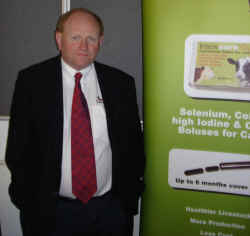 Dr John Cook: Research showed surprise increase in milk yields.
The study, as part of his research for a Royal College of Veterinary Surgeons DCHP diploma, Dr Cook, who is currently technical director with Genus ABS, showed that there was a lack of iodine in cattle in general in cattle herds in the UK.

His research followed trials using a bolus from Animax, Tracesure, in which he studied four herds of cattle on commercial farms in North Cumbria.

In all 425 Holstein Friesian dairy cows were embraced by the study averaging 100-150 cows per herd with average milk yields of between 7,000 and 7,500 litres.

The trials were conducted on routine visits over four years.

"I did not know if there was any iodine deficiency in the cattle, but I wanted to see how the boluses worked," said Dr Cook.

The 55g boluses, containing 3,400µg of iodine, 500µg of cobalt and 500µg of selenium, have a release period of five to six months.

Dr Cook said that the large amounts of iodine in the boluses helped for a maximum response and had not detrimental effect on the animal. The selenium is included to aid the uptake of the iodine.

Iodine supplementation has traditionally been used to prevent stillbirths, weak calf syndrome and aid fertility, although much of the evidence for this is anecdotal.

Herds selected for this study had previously shown low or marginal plasma inorganic iodine levels (PIi) within a range of 22µg/l to 109µg/l. No corrections to mineral balance had been made by the use of in feed minerals or other supplements. Whole blood assays had shown normal glutathione peroxidase (GSHPx) levels within a range of 40.5iu/g to 106.6iu/g haemoglobin.

Dr Cook said that the levels of iodine in the blood should be around 105µg and he was surprised to find that in what he had considered perfectly healthy cattle that the levels were down to very low levels of between 30µg-40µg and at times down to single figure levels.

Two boluses were given to each of the test animals in the herd at the point of drying off. The dosage for the boluses is one for cattle up to 550kg bodyweight and two boluses for cattle over 550kg.

The first of the four herds had 52 test animals and 48 controls, the second, 62 test animals and 76 controls, the third, 48 test animals and 48 controls and the fourth herd had 41 test animals and 50 controls.

All farms undertook fortnightly veterinary fertility visits and used DAISY (Dairy Information System, NMR/ Agrisoft, Chippenham, UK) for recording herd health and fertility data with defined methods. Cows were presented for veterinary examination at routine visits in accordance with the schedule displayed (Table 1).
Table 1 Veterinary Examinations Carried Out.
Post-natal checks were carried out on all cows between 3-17 days post-calving.
Cows detected by the farmer as having abnormal vulval discharges at any time
Cows not observed in oestrus by 45 days post-calving.
Cows were examined for pregnancy from 30 days post-service and a normal size embryo with a visible heartbeat taken as a pregnancy. A normal size embryo was defined as between 10 -20mm diameter for an embryonic age of 30-40 days.
Cows showing irregular return to oestrus.
Cows diagnosed as not pregnant which failed to show oestrus within 14 days of diagnosis.
Cows receiving three or more services.
Dr Cook said the study found that the boluses had no effect on fertility. No significant differences were found between groups in calving to conception interval, calving to first heat interval or calving to first service interval.

However, analysis indicated a significant reduction in the incidence of retained foetal membrane in the treated cows. (Table 2)
Table 2. Retained Foetal Membranes on Each Farm.
Farm
Treatment
Control
1
1/52
4/48
2
4/62
6/76
3
3/48
6/48
4
1/41
7/50
All Farms
9/203
23/222
"While I found that there was no effect on fertility, I did find there was an effect on post-natal disease," said Dr Cook.

"I found just nine cases of retained foetal membrane in cows that had been treated, but 23 cases in the non-treated, control animals."

This was a reduction of 70 per cent overall.

However, Dr Cook said there was another startling result from the trial, which had not been expected.

One of the herds with 138 cows - 62 treated and 76 control - had thorough milk records.

On examining the records they showed that over the 305 production cycle milk yield had risen to 7,724kg from 7,397kg - a rise of 327kg.

However, Dr Cook surmised that the boluses had been effective for 100 days of milk production and that the greatest rise in yield would be when the boluses were effective.

He showed that during these 100 days milk yield rose to 2,996kg from 2,771kg - a rise of 225kg.

"It was therefore the influence of the boluses that were increasing milk production," he said.

"This was the first time that such benefits could be shown in production terms.

"Not only was there a reduction of retained placenta, but a definite increase in milk production in the first 100 days."

According to the manufacturers of the boluses, this adds up to a 10:1 financial benefit.

However he added that whether it was an effect of having healthier cows or an effect to milk production in the udder could not be determined.
September 2008