Dairy Herd Health
Researchers at Moorepark Dairy Production Research Centre have recently started a new herd health programme, which aims to prepare Irish dairy farmers for the biosecurity challenges of herd expansion. This article, a product of the Irish Agriculture and Food Development Authority, was published in the T Research magazine Volume 3, Number 3, Autumn 2008.

With EU milk quotas due to end in 2015, and world demand for dairy products outstripping supply, Irish dairy farmers are preparing to expand their dairy herds to avail of the opportunities this new market will present.

A recent Teagasc study estimated that 50% of dairy farmers intend to expand their dairy enterprise by 10-15%, and that a 40% increase in milk production is achievable through increased stocking rates, animal production and greater specialisation. The scale of the dairy enterprise was identified as one of the major factors influencing these variables. The availability of dairy replacement heifers to upscale will be the first limiting factor to expansion in the post-quota era. This is reflected in the current high prices for such stock.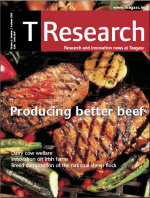 However, a Teagasc SWOT analysis has identified that with this upscaling comes a threat to herd health. Given our current national disease status, farmers, vets, advisers and the dairy industry will need to address the biosecurity risks of herd expansion. Infectious diseases that present a threat to expanding herds include bovine viral diarrhoea (BVD), Johne's disease and salmonellosis, among others.

In addition, the current somatic cell count and clinical mastitis status of our dairy herds present a real challenge for the larger dairy herds of the future.

In order to address these issues, two new herd health research projects have commenced at Moorepark, which will address the knowledge gaps constraining progress towards better understanding and control of these economically important infectious diseases.

Two new veterinarians have been employed to work on these projects. One project is focusing on mastitis and milk quality issues, and the other is focusing on infectious diseases. These are collaborative projects with the Centre for Veterinary Epidemiology and Risk Assessment in UCD, the Department of Agriculture, Fisheries and Food, and the University of Wisconsin in the US, among other national and international partners.
Biosecurity on dairy farms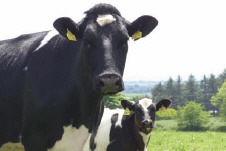 Biosecurity refers to the prevention of disease entry (bioexclusion) and spread (biocontainment) on a farm.
Biosecurity refers to the prevention of disease entry (bioexclusion) and spread (biocontainment) on a farm. The most recent study to have examined aspects of biosecurity on Irish dairy farms was carried out over a decade ago.

The attitudes, behaviours and actions of dairy farmers, their veterinarians and agricultural advisers in relation to biosecurity have not been documented since then. With the impending expansion of the national dairy herd, it is essential now to carry out such a study. Such a study will raise awareness of biosecurity and its benefits, and orientate agricultural stakeholders towards preventive rather than curative animal health strategies. Input is required from all contributors to dairy herd health in order to establish the awareness of biosecurity and, more importantly, to determine the likely future attitudes of these sectors to the concept of on-farm contingency planning using biosecurity.

The data generated in this study can be used to benchmark the uptake of biosecurity strategies in future studies. The first task in this new research project is to conduct national biosecurity questionnaire surveys of dairy farmers, their veterinarians and agricultural advisers. The first of these surveys, of Teagasc Business and Technology (B&T) dairy advisers, has been successfully completed. Preliminary results highlight an excellent awareness of the importance of biosecurity in minimising disease on farms among Teagasc dairy advisers. Only a minority of advisers (less than 15%), however, stated that dairy farmers regularly request biosecurity advice from them.
Infectious disease prevalence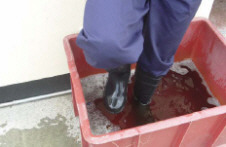 Footbaths are an effective biosecurity measure that can be employed on all farms to reduce the risk of disease spread.
The prevalence of the regulatory infectious diseases (e.g., brucellosis and tuberculosis) in Irish dairy herds is known and monitored closely by the Department of Agriculture. However, there are no recent national data on the prevalence of the non-regulatory infectious diseases in Irish dairy herds. Recent diagnostic developments, coupled with the use of pooled blood, ear notch and bulk tank milk sampling, now enable screening of large numbers of herds. Hence, a second aspect of this herd health project will be to carry out national serosurveys to benchmark the prevalence of the economically important nonregulatory infectious diseases. Such diseases include BVD, salmonellosis, leptospirosis, Johne's disease, IBR and neosporosis.

Emerging diseases, such as mycoplasmosis, may also be included. In addition to estimating their prevalence, the risk factors associated with disease occurrence will be assessed through biosecurity risk profiling. The economic impact of such diseases on herd production, fertility and health will also be quantified to allow identification of key performance indicators in relation to herd health on Irish dairy farms.
Mastitis control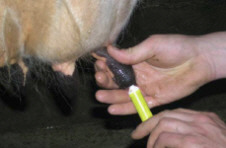 A team-based approach to mastitis control should reduce the requirements for mastitis antibiotic therapy.
Producing high quality milk is every dairy farmer's goal; a goal that is made all the more challenging in an environment of increasing demands from the consumer and, consequently, the milk processing companies, thereby increasing input costs and reducing available time and labour. In Ireland, average bulk tank somatic cell counts (BTSCC) have risen annually by 5,000/ml since the start of this decade.

Farmers are losing financially through penalties imposed due to milk quality issues, such as somatic cell count (SCC), bacterial content and residues and direct costs associated with clinical mastitis cases. There are also indirect costs, such as labour, culling, mortality, etc. Lost opportunities also exist when cows are not maximising potential production as a result of subclinical disease.
"MilkMoney"
At present, the farmer may seek help and advice on milk quality issues from several sectors of the industry, but with very little collaboration between these advice sources. Each of these stakeholders has particular strengths and skills; combining these skills on a team could maximise their impact.

The idea of using a team-based approach to solving milk quality issues is one that the University of Wisconsin has explored with great commercial success. Their "MilkMoney" programme has been instrumental in defining clear milk quality goals, creating clear action plans and adopting best management practices.

The Teagasc team-based milk quality/mastitis control plan is presently being designed at Moorepark. It is based on some of the key concepts of the US approach, namely team-based, involving realistic targets, identifying strategic management changes, accountability and regular re-assessment.

It will commence with a pilot programme involving 20 farms, to see how the programme works in an Irish situation. The teams will be made up of Teagasc advisers, manufacturing outlet milk quality advisers, vets, milking machine technicians and the host farmer. Ultimately, however, it will be the farmer's choice as to who he/she wishes to include on their working team.

Preparation for the pilot will include training workshops for all parties involved aimed at improving the skills required to work through milk quality issues on farm, and team-building exercises. Farmers are currently being recruited for participation in the pilot programme, which will run for a period of nine months.

There will also be the involvement from a social scientist who will study the dynamics of the teams, look at why some teams may have more success than others, and also look at farmers' response to the project. The purpose of this research is to study what influences the uptake of advice or suggestions, and whether we as advisers can present knowledge in a more 'palatable' fashion that would allow easier uptake by farmers.

The findings from these research projects will underpin future voluntary herd health accreditation or HACCP programmes on the Irish dairy farms of the future.

Funding for these research projects is provided by Dairy Levy research funds.

John F. Mee, Finola McCoy, Riona Sayers and Bernadette O'Brien are researchers in the Moorepark Dairy Production Research Centre. E-mail: [email protected]

September 2008