US Cattle Outlook Report - August 2007
By U.S.D.A., Economic Research Service - This article is an extract from the August 2007: Livestock, Dairy and Poultry Outlook Report, highlighting Global Cattle Industry data.

Beef/Cattle
Crops, Hay, and Pasture Conditions

Despite recent scattered showers in many areas of the United States, dry conditions persist in the Southeast, Southwest, and parts of the Corn Belt and are spreading. Some rains fell in Mississippi and Western Alabama during mid- to late-July, 2007, providing scattered local relief, but dry conditions persist in the western parts of the Southeast. At the other extreme, flooding occurred in Central Texas. Feed-grain crop progress is well ahead of last year and/or 5-year averages with respect to benchmark growth stages, and pasture and range conditions are well ahead of last year at this time for all but the Southeast, Southwest, and Corn Belt. As a result, grain prices have moderated somewhat, with the monthly average price for No. 2 yellow corn, Central Illinois, in the $3 per bushel neighborhood for the first time since October 2006.

Current Cattle Cycle Stalls

The Cattle inventory report released by NASS on Friday, July 20, 2007 showed a total July 1, 2007 cattle-and-calf inventory of 104.8 million head (400,000 head below the July 1, 2006 inventory), including 33.35 million beef cows (100,000 head below 2006) and 9.15 million dairy cows (unchanged from 2006). The report indicates that cattle inventory growth has stalled, at best, or peaked, at worst, for the cattle cycle that first expanded in 2005, up from a cyclical low cattle and calf inventory of 103.6 million head on July 1, 2004 (including a low total cow inventory of 42.4 million head). The last cycle with a short expansion phase occurred during the cycle that began from a low point on January 1, 1979, peaked in 1982 after only 3 years of cattle inventory expansion, and ended at a low point in 1990 after 8 years of liquidation.

July 1, 2007 inventories of steers and bulls over 500 pounds were down from July 1, 2006, which indicates the potential for reduced beef production next year. Male calves, of which about 95 percent or more are steers, are virtually all fed for beef— most of the other 5 percent are bull calves retained for breeding.

July 1, 2007 inventories of heifers for cow replacement were down by 200,000 head from July 1, 2006 inventories. This was a net change that consisted of 300,000 head fewer beef cow replacements, a 6-percent year-over-year decline, and 100,000 head more dairy cow replacements, a 3-percent increase. However, July 1, 2007 inventories of other heifers were 200,000 head larger than in 2006, a 3 percent increase. While these other heifers are likely to be placed on feed at some point during the next year, some could be diverted to replacement status.

The Cattle on Feed report released on July 20 also provided information on heifers on feed on July 1. Heifers accounted for 36.6 percent of cattle on feed, up from about 34 percent on July 1, 2006 and 2005. This number is consistent with the reduced beef replacement inventory in the Cattle report. These numbers should provide some support for fed cattle and beef prices over the short run, despite the remaining potential for a seasonal price bottom.

Despite the positive outlook with respect to inventories, cattle feeders' costs have been high recently, in the mid- to upper $90 range, again because of summer weather/crop issues and ethanol-driven demand for corn. As a result, some cattle feeders were losing $50-$80 per head in July.

Heifer retention is one of the keys to future slaughter and beef production. As heifers are retained, they become unavailable for slaughter as fed beef. This reduces fed cattle slaughter and beef production over the succeeding couple of years. Shortened supplies of fed cattle persist until heifers enter the breeding herd and have their first calves, and until those calves grow to slaughter weight. This process is usually a period of at least 2 years. In addition, as retained heifers are withdrawn from cattle feeding and the slaughter mix, their absence results in increased average slaughter and dressed weights because steers, which put up heavier weight carcasses, make up a larger share of total slaughter.

If heifers are not retained, then the opposite situation occurs, and beef production increases for the short run. Shortrun increases in beef production can put downward pressure on prices, which, in turn, can result in additional cow slaughter and, subsequently, more beef and lower prices.

During a cyclical expansion phase in cow inventories, which usually lasts about 6 years, heifer retention for herd building results in the heifer share of total slaughter falling below about 30 percent or 31 percent; during the liquidation phase, heifer retention declines and the heifer share of total slaughter rises to above 31 percent. After about 2 years, heifers' calves begin entering the beef production chain, and beef production begins to increase. Based on these trends, the July 20 report was generally neutral in the short run and positive for prices over the next couple of years.

During several of the last few months, relatively larger numbers of heavier cattle have been placed on feed. Because they remained on pasture longer, a response to higher grain prices fueled by competing demand for corn due to increasing ethanol production, these heavier feeder cattle will generally be fed for shorter periods, consuming less feed. Stocker or backgrounding operations, in which cattle usually are raised on pasture, but occasionally on a growing ration in drylot, is an intermediate phase between calfhood and fed cattle slaughter. Length of time in a stocker program can depend on the relative prices of feed grains and pasture. Generally, higher grain prices result in calves remaining on pasture until they reach heavier weights before being placed in feedlots. Lower grain prices can result in calves moving to feedlots at lighter weights or being backgrounded in drylots where they may be fed growing rations. Of course, dry weather or drought can force producers to move cattle off pasture at lighter weights and into feedlots, as happened during the dry conditions in 1996 and in 2005/06.

After increasing somewhat in April and May 2007, calf slaughter weights have again declined recently. This is a response to the dry conditions in the Southeastern United States—as the dry conditions result in sales of cow-calf pairs, calves are separated from their dams at auctions and sold as veal calves. Selling these lightweight calves for veal lowers the average slaughter weight of all calves slaughtered. Another signal that this may be occurring is that monthly commercial calf slaughter in June 2007 was 61,000 head, 4.3 percent above 2006 slaughter. Meanwhile, average dressed weights for other commercially slaughtered cattle have increased recently, consistent with their typical seasonal pattern in which weights increase from a low in April-May to a peak, usually in September and October. There is also a long-term trend increase of about 4 to 5 pounds per year in average dressed weights. Average dressed weights for all cattle in June 2007 were more than 14 pounds per carcass heavier than the May 2007 average, but almost 11 pounds below June 2006.

The average July 2007 monthly retail price of Choice beef was $4.14 per pound. This was 1.7 percent below the June 2007 price, but still 6.8 percent above the July 2006 average. The overall farm-to-retail price spread in July 2007 was $2.24 per pound from June 2007. The wholesale-to-retail spread narrowed by about 1 cent from June to $1.96. Packers also gave up margin as the farm-to-wholesale spread declined to 27.4 cents from 34.9 cents per pound in June. The byproduct value was about unchanged.

U.S. beef exports in June 2007 totaled 132.3 million pounds, carcass weight equivalent, up 25 percent from June 2006. Imports of beef and veal into the United States during June 2007 were up almost 3 percent from June 2006. Cattle imports into the United States in June 2007 were up 5 percent from June 2006.
Dairy
Global Demand for Dairy Products Could Keep Prices High in 2008 Despite Increased Production

Milk production for 2007 is projected at 184.3 billion pounds, unchanged from July. Growth in cow numbers is expected to continue for the remainder of 2007 and into 2008. July's Cattle report showed 3 percent more replacement heifers on farms. The 2007/08 season-average corn price is forecast to average $2.80 to $3.40 a bushel and the soybean meal price is forecast to average $200 to $230 a ton. Alfalfa hay prices could remain high, as alfalfa producing-regions of the country are experiencing dryness. Higher milk and product prices have overcome the higher feed prices this year. The milk-feed-price ratio will likely climb to nearly 3.5 by the end of the summer and could average about 3.0 for the year. The higher expected feed-price ratio indicates a change in the milk production outlook in the second half of 2007. Higher feed prices and lower-than-expected rBST use could keep output per cow below trend this year.

In 2008, the milk-feed price ratio should still signal expansion at over 3.0. Production is forecast to reach 188.6 billion pounds as cow numbers are expected to increase each quarter and average 9.15 million head for the year compared with 9.13 million head in 2007. The outlook for higher milk prices should encourage some additional retention.

The greater availability of milk, both for the balance of 2007 and into 2008, is expected to moderate prices, but precipitous declines from 2007 price levels are unlikely next year. Robust demand, both domestically and, especially, internationally, will keep prices high. Sales of fluid milk through April have been about 2 percent above previous year's levels in Federal Market Order areas and California. This represents a change in the downward trend of recent years. Low fat and skim milk product consumption has grown faster than whole milk. Organic milk sales have climbed at double-digit rates, albeit from a small base. Higher prices at retail could limit gains for the balance of the year, making more milk available for manufacturing.

Commercial disappearance through May for butter, American style cheese, and nonfat dry milk (NDM) are ahead of 2006 totals for the same period, with butter leading the way at a nearly 9-percent year-over-year rise. Strong demand for cheese and butter will keep prices high. The average cheese price is expected to be $1.690 to $1.710 per pound this year. World supplies of butter are tight and the United States may commercially export butter this year. Butter price is expected to average $1.385 to $1.425 per pound. Next year, increased production could lower prices slightly. The cheese price is expected to average $1.565 to $1.665 per pound and butter $1.310 and $1.440 per pound

Commercial disappearance of NDM and whey dipped below year-earlier levels earlier this spring, mainly because high domestic prices, driven by high international prices, rationed supply. However, it is global demand for NDM and other dry milk products and whey that are supporting U.S. prices and constraining disappearance. Exports of NDM and whey have soared since 2005 (see figure), and exports are expected to continue at least through 2008 as world demand continues to outstrip supply. The NDM price is expected to average $1.675 to $1.695 per pound in 2007, with only a slight drop to $1.605 to $1.675 per pound anticipated in 2008. Whey price is projected to average 65.5 to 67.5 cents per pound in 2007 and drop in 2008 to average 59.5 to 62.5 cents per pound. Demand for products will keep milk prices high both this year and next. Class IV price is projected to average $18.30 to $18.60 per cwt in 2007 and decline slightly to $17.45 to $18.55 in 2008. Likewise, Class III price is expected to average $18.00 to $18.20 per cwt this year and soften to $16.40 to $17.40 per cwt next year. The all milk price will average $19.15 to $19.345 per cwt in 2007. A decline to between $18.25 and $19.25 is expected in 2008.
U.S. dairy exports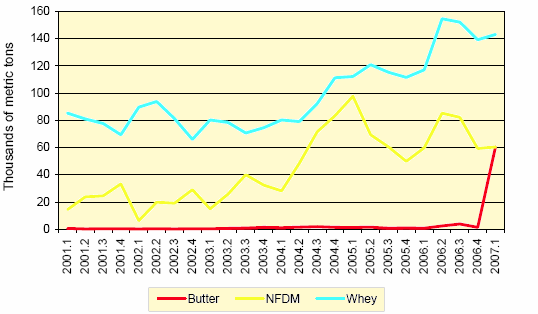 Source: USDA/Foreign Agricultural Service.
Further Information
For more information view the full Livestock, Dairy and Poultry Outlook - August 2007 (pdf)

August 2007