Global beef, veal production to remain unchanged in 2024 - GAIN
Production forecast at 59.1 million tons
Global beef and veal production in 2024 is forecast virtually unchanged at 59.1 million tons as increases in Brazil, China, and India are offset by declines in the United States, Argentina, Canada, and the EU, according to a recent US Department of Agriculture (USDA) Global Agricultural Information Network (GAIN) report.
Brazil production is expected to rise 3% to a record 10.8 million tons as economic recovery supports domestic demand. China production is higher due to a marginal increase in cow inventory while India production is driven by rising slaughter to meet increasing international and domestic demand. Argentina production is forecast lower as slaughter returns to levels closer to recent history after drought-induced liquidation in 2023. Contraction in the Canadian herd is forecast to continue with cattle inventories dropping to the lowest level in the past 35 years. EU production continues to be confronted with high input prices and a complexity of regulations, which combined are pressuring profit margins and disincentivizing investment.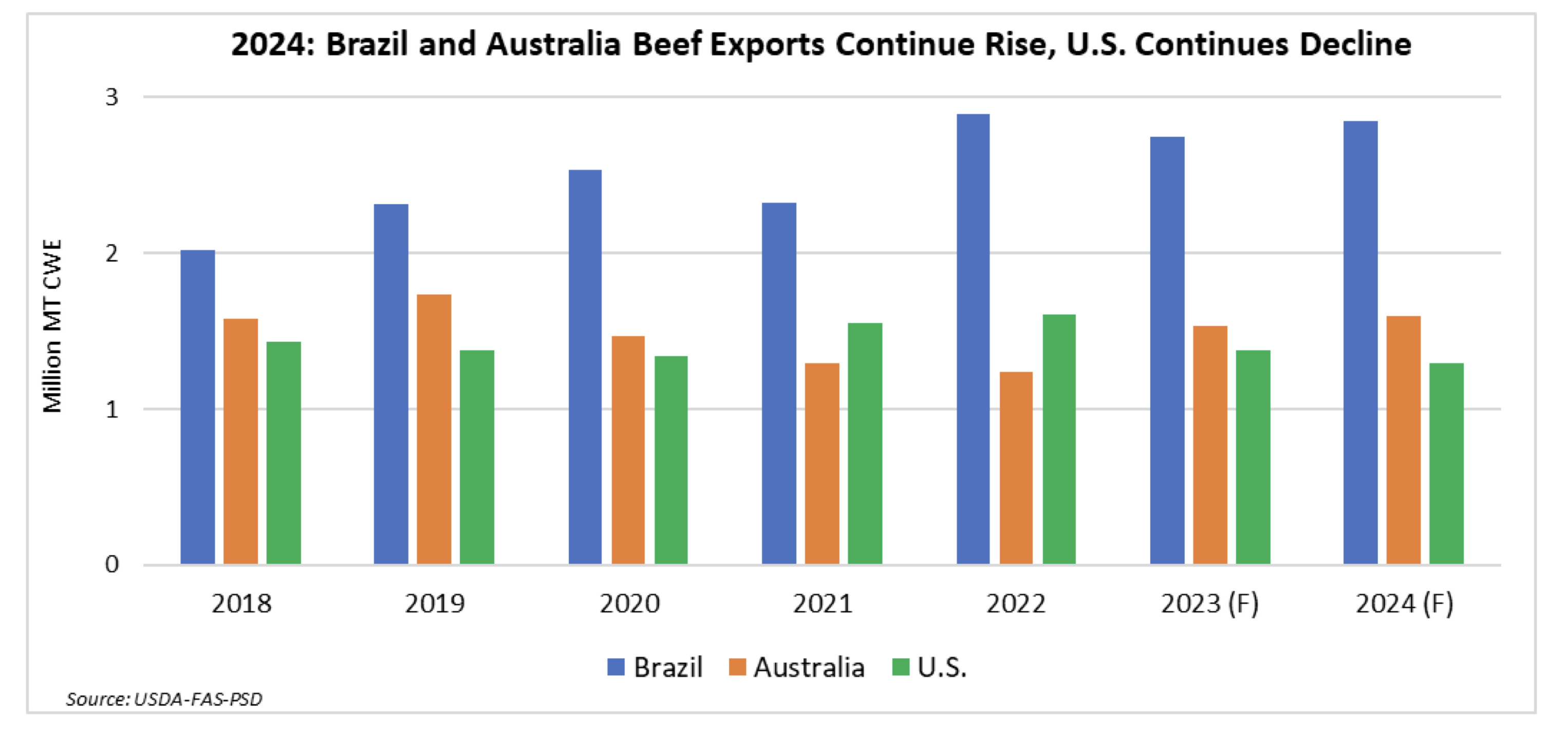 Global exports in 2024 are forecast up 1% to 11.9 million tons due as greater shipments from Brazil, Australia, and Argentina more than offset lower exports from the United States, Canada, and the EU. Brazil and Australia will both see a significant portion of increased production moved to foreign markets where demand is relatively firm. The world's two leading exporters will capture increased market share, particularly in those countries such as the United States where beef production is expected to decline. South American competitors Paraguay and Uruguay are also forecast to make gains. Although China demand is forecast to wane in 2024, global demand will be supported by small gains by several markets.
US beef production is forecast down 6% on tighter cattle inventories. The decline in production coupled with increased supplies in Australia will spur growth in imports and a decrease in exports. Imports are forecast at 1.7 million tons, a level only achieved in 2004. Exports are forecast 6% lower to 1.3 million tons, constrained by lower domestic production and price competitive supplies from other key suppliers (Australia and Brazil).