Gene Chips for Cows
US - Applying cutting-edge genomics techniques to cattle might produce more milk and tastier beef.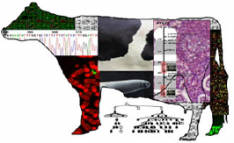 Agriculture nucleotide polymorphism (SNP) genetic markers simultaneously using an IlluminaBeadStation.
This Bovine BeadChip will be used to genotype over 10,000 cattle samples representing at least 10 different breeds in a collaboration including scientists at the University of Missouri and University of Alberta. The resultant genomics tools developed will be used to allow accurate prediction of genetic merit for dairy cattle at birth, and these efforts will serve as a model for improved breeding of other agricultural species.
This project has been made possible through the award of a USDA Natural Research Initiative grant and cooperative research and development agreements with the National Association of Animal Breeders, Columbia, MO, and with Merial, Inc., Duluth, GA. For more information, contact Dr. Van Tassellat
[email protected]
Exhibit Bovine Genotyping-In a new partnership with Illumina, Inc., San Diego, CA, BARC scientists Drs. Curt Van Tassell and Tad Sonstegard, both of the Bovine Functional Genomics Laboratory, will develop a new assay design to genotype over 50,000 single
For more information you can also read the press article at http://animalgenomics.missouri.edu/illumina_USDA_UA_UM_press_release.pdf
TheCattleSite news desk