Consumer price indexes for US animal products higher in 2021
The consumer price index for food increased at less than the overall inflation rate, 3.9%
The US Department of Labour's Bureau of Labour Statistics released consumer price indexes (CPIs) for 2021 on 12 January, 2022. The chart below compares the 2021 and 2022 CPIs for all products and for food, beef, pork, poultry, eggs, and dairy products. The CPI for all items, a measure of inflation, increased 4.7% from 2020 to 2021. The CPI for food increased at less than the overall inflation rate, 3.9%. The inflation rates for beef and veal, pork, and poultry all exceeded the general inflation rate. The CPIs for eggs and dairy both increased less than the general inflation rate.
Beef/Cattle: USDA's 2021 commercial beef production forecast was raised slightly from last month to 27.950 billion pounds on higher non-fed cattle slaughter and heavier carcass weights. Fed and feeder steer prices were raised in 2022. November's beef imports totalled 297 million pounds, up 27% from a year ago. The 2021 annual forecast for beef imports was increased by 40 million pounds from last month to 3.355 billion pounds. The 2022 beef import forecast was unchanged from last month at 3.265 billion pounds. Beef exports in October were up 298 million pounds, 8 percent above last year. The annual forecasts for 2021 and 2022 beef exports were unchanged from last month at 3.455 and 3.270 billion pounds, respectively.
Dairy: While November 2021 milk production fell below November 2020, domestic use in November was above November of the previous year, and dairy exports have continued to be robust. From the week ending December 11 to the week ending January 8, wholesale prices increased for all dairy products reported in the USDA National Dairy Products Sales Report. Recent dairy export prices of major global competitors have been relatively high. Due to the recent increase in dairy product prices, stronger expected demand, and expectations for only a modest increase in the global milk supply, wholesale price forecasts have been raised for major dairy products. The all-milk price forecast for 2022 is $22.60 per hundredweight, $1.85 higher than last month's forecast.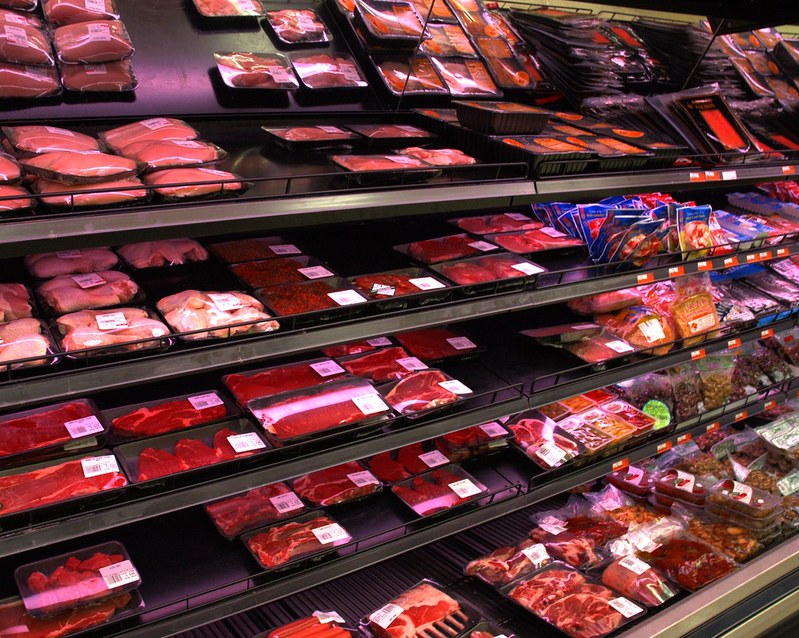 Pork/Hogs: Among the information in the December Quarterly Hogs and Pigs report, three take-aways are notable: that US breeding inventory's decline may have ended; that litter rates will continue to increase, at times achieving new records; and, that there will likely be fewer animals available for processing in 2022. Pork production this year is expected to be 27.5 billion pounds, about 1% below production in 2021. US quarterly pork export forecasts for 2022 are reduced as China's pork import demand declines in response to rebounding domestic production, with the country's African swine fever effects appearing subdued. US pork exports in 2022 are expected to be 7 billion pounds, about 1 percent below export volumes in 2021, based largely on expectations for strong shipments to Western Hemisphere nations.
Poultry/Eggs: Based on recent data, broiler production was adjusted up in the fourth quarter of 2021 and the first quarter of 2022. Ending stocks for 2021 were adjusted down. After a major revision in 2021 data, broiler exports in 2021 are projected to be about even with 2020, and 2022 exports were adjusted down to 7.45 billion pounds. Based on recent strong price data, the broiler price forecast was adjusted up to average 112 cents per pound in 2022. Fourth-quarter 2021 table egg production was revised down due to recent production data. Fourth-quarter 2021 table egg production was revised down due to recent production data.
First-half 2022 forecasts for wholesale egg prices were revised up based on higher-than-expected fourth-quarter 2021 average prices. Egg and egg products export forecasts for fourth-quarter 2021 and the first half of 2022 were revised down based on lower-than-expected October and November shipments.
Turkey production was left unchanged in 2021 and 2022, while ending stocks for 2021 were adjusted down to 190 million pounds. Turkey exports were also adjusted down on recent data to 550 million pounds in 2021. Turkey prices were adjusted up on strong data and are forecast to average 125.5 cents per pound in 2022.
TheCattleSite News Desk


IMPORTANT NOTE: I am not a futures broker and do not manage any trading accounts other than my own personal account. It is my goal to point out to you potential trading opportunities. However, it is up to you to: (1) decide when and if you want to initiate any traders and (2) determine the size of any trades you may initiate. Any trades I discuss are hypothetical in nature.
Here is what the Commodity Futures Trading Commission (CFTC) has said about futures trading (and I agree 100%): 1. Trading commodity futures and options is not for everyone. IT IS A VOLATILE, COMPLEX AND RISKY BUSINESS. Before you invest any money in futures or options contracts, you should consider your financial experience, goals and financial resources, and know how much you can afford to lose above and beyond your initial payment to a broker. You should understand commodity futures and options contracts and your obligations in entering into those contracts. You should understand your exposure to risk and other aspects of trading by thoroughly reviewing the risk disclosure documents your broker is required to give you.