New guide showcases the benefits of tree planting for beef and dairy sector
RSPCA Assured has launched a new online tree planting guide for the ruminant sector, aimed at benefiting livestock and helping to contribute to net zero emissions on farms.
It brings together a wealth of independent research and practical advice in one accessible guide, following calls from the NFU for the whole of agriculture in England and Wales to reach "net-zero" emissions by 2040 and the UK Government's legally binding target for "net zero" by 2050.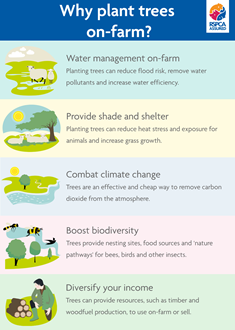 Aside from the benefits of tree planting in combating climate change, research shows that trees can directly benefit livestock welfare, including supplementing diets, providing scratching posts and improving overall well-being in animals.
The UK has one of the lowest levels of tree cover in Europe. With trees known to be an effective way of removing greenhouse gases from the atmosphere, more tree planting by livestock farmers could have a beneficial impact.
The guide includes practical advice backed up by research from the Woodland Trust and Forestry Commission. It covers a range of topics including:
Why is tree planting so important?
What are the benefits of planting trees on your farm?
Which trees should you plant on your farm?
What should you check before planting trees on your farm?
What support is available to help you plant trees on your farm?
Commenting on the launch of the new guide Joe Bailey, Head of Farming at RSPCA Assured, said:
"Tree planting is a long-established practice amongst many of our laying hen producers and is well known in the industry for its benefits to welfare, as well as its favourable environmental impact. We would like to see the same level of commitment to planting trees from our ruminant members. And we hope this guide will encourage many to take the plunge, if they haven't already done so".