AHDB: EU cattle prices remain firm
Finished cattle prices on the continent have continued to rise since January 2021, having been on an upward trajectory since July last year., writes Bethan Wilkes, analyst at AHDB.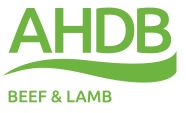 Prices in most selected EU countries have enjoyed recent price gains, although Poland and Germany have seen prices ease in recent weeks.
GB cattle prices have also been firming in recent weeks, continuing to hold a premium over those on the continent. In euro terms, GB cattle prices have lifted 8.67c/kg in the latest three weeks, standing at €4.67/kg in the week ending 5 July 2021. These gains have been aided by the recent strengthening of the Pound against the Euro.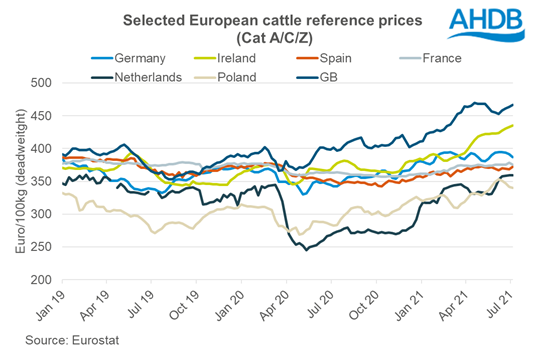 Similarly, Irish prices have seen particular growth in recent weeks, standing at €4.35/kg in the week ending 5 July 2021. This brings the gap between UK and Irish prices to 31.6c/kg. Tighter cattle supplies both domestically and on the continent have contributed to this increase.
As seen in our latest Beef Market Outlook, lower cattle availability in both Ireland and the UK have supported the elevated prices seen, with this trend expected to continue for the rest of the year. Strong domestic retail demand throughout the pandemic has been key to supporting domestic prices. However, as restrictions ease, foodservice demand is anticipated to increase, albeit considerably lower than pre-pandemic levels.
We know imported beef tends to do well in the foodservice market, and with GB cattle prices at a considerable premium to those on the continent, we could see an increase in demand for EU beef, and this may lessen the support for domestic cattle. On the other hand, exports are likely to be less competitive.