Farm Health Guardian expands team to support US business
Farm Health Guardian welcomes Kyle Thomas to its North American team to support the company's growth and expansion in the United States.
As the Business Development Representative, Thomas will oversee the expansion of Farm Health Guardian from his Tiffin, IA, office to support livestock operations as they enhance their on-farm biosecurity. He is a go-to biosecurity advocate who brings more than 20 years of livestock production experience to the Farm Health Guardian team.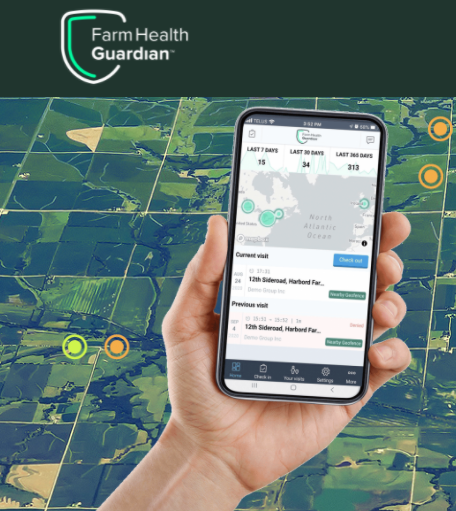 Farm Health Guardian is an industry leading, real-time disease prevention software system. Using an advanced contact tracing system, the platform enables farm owners to monitor personnel and vehicle movement on their farm properties to reduce the risk of disease transmission and efficiently respond to the threat of disease outbreaks. Farm Health Guardian was launched in October 2020 in North America, Europe and the United Kingdom and is a product of Be Seen Be Safe Ltd.
"The need for innovative, on-farm biosecurity solutions is growing as our industry continues to face new and increasingly serious disease risks that can wipe out entire livestock herds or poultry flocks," says Thomas. "This is why I look forward to introducing Farm Health Guardian as a solution to manage risk, protect our animals and the people that work on our farms and in our food system."
"Our farm clients are expanding and we are glad to have Kyle on the team, with his extensive knowledge of animal health and disease control, to provide on the ground support," says Tim Nelson, President and CEO, Be Seen Be Safe Ltd. "Our growing team will support customers, their families and employees as they use this contact tracing platform to monitor disease transmission, cost effectively manage disease threats and efficiently shut down outbreaks."